As a content creator on YouTube, you may decide that you want to add an aspect of musical inspiration to your video to make it appealing and engaging to your viewers.
After making that decision, the main questions now beg:how to add music to your YouTube video? Are there any restrictions to this from YouTube? Or better yet, will you be violating any copyright terms in doing so?
In this article, we will address these issues plus many others – we will basically tell you everything that you need to know about adding music to your video.
Can I add music to YouTube video?
Of course, you can! However, in doing so, you need to be very careful, not to violate any of their policies, especially with regards to copyrights and licenses. You see, YouTube is very strict when it comes to copyright issues, whereby copyright infringement would result in your video being taken down or worse – suspend your account.
So, to avoid this, you better familiarize yourself with the YouTube policies first. Now, based on the first rule of copyright on YouTube, content creators should only upload original videos or ones that they have been authorized to use.
This means that any video that they themselves didn't make, or one that contains content that someone else has copyright to such as snippets of other copyrighted videos or programs, or music tracks and don't have necessary authorizations is prohibited on YouTube.
This doesn't mean that you can't add music to your YouTube video, it means that you will need to seek permission from the original creator first before using it on your video.
Moreover, since you can't always keep messaging artists for permission to use their songs on your video, YouTube created an Audio Library that contains royalty-free tracks you can use without violating any rules and regulations.
Now, what if the music you would like to use is copyrighted, is there a way to legally use it? Well, yes! And here is how;
Select work that's in the public domain

Seek permission, in terms of a license from the original owner

Select tracks from videos that have a Creative Commons license on YouTube – these are licenses that simply authorize other people to use content from such videos.
How to Add Music to YouTube Video by YouTube Video Editor
As we've already mentioned, adding music to your YouTube video will increase its entertainment value, given that it captures the viewers' attention or sets the mood of the video. You can say it drives the pace of the video, which is why it is very important.
When it comes to adding the music to the video, obviously many content creators do it during the editing process, but not when shooting the video. Other than using a third-party app to add the track to your video, which is done before uploading the video on YouTube, you can also use YouTube itself to do it.
With the YouTube Video Editor, you will not only be able to add music to YouTube video, but you will also be able to edit the video to your liking for the benefit of your viewers. Having said that, here is how you can add that track into your video using YouTube video editor;
Step one – You first need to sign in to your YouTube account. You just need to click sign-in found in the upper corner of the YouTube page.
Key in the login details, and once you are in, you will see your profile picture, which is where you will click in order to access the Creator Studio function. Click the button.

Step two – This is the step where you select the video that you are looking to add music to from the ones that you've already uploaded.
You can do this either by clicking the Video Manager feature found on the left bar of the page or by clicking on the Video Tab found on your profile page.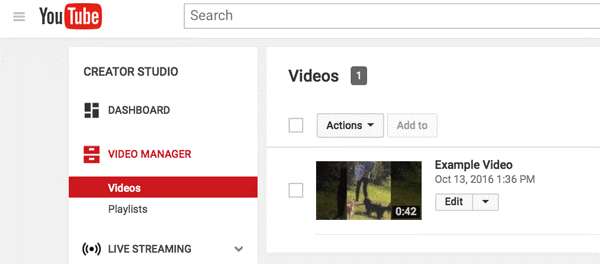 Step three – On the video that you want to edit, click Edit which will open the online YouTube video editing tool. There you will find several commands that you can execute when editing your video, including enhancing your video, adding audio, including subtitles, adding copyright, creating cards, and putting annotation.
For your case, you just need to click the Audio option, which will take you directly to the list of royalty-free tracks in the audio library.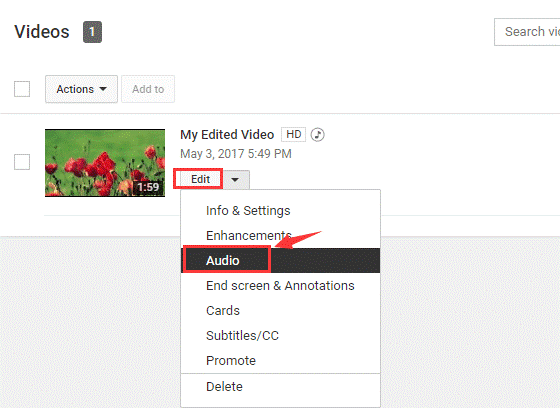 Step four – This step is all about getting the right tracks to add to your video. Here we are talking about ensuring that the track fits the mood and length of the video.
You might have a track in your head that you want to use, or you can just tap Top Tracks to find the best one. Remember, you can also add multiple songs to your YouTube video.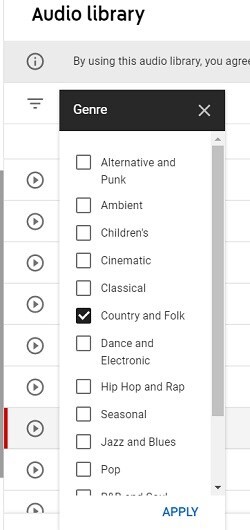 Step five – Once you find the appropriate track, just click 'Add To Video,' to integrate the song into your video. You can then edit the track to how you want. For starters, the track will appear under the video, where you will also find a few other tools that you can use.
You will see the Position Audio function which will allow you to customize and position and also trim the track, to flow with the video. You will also see the Only Music function at the left side of the Position Audio, which will help you when you want to adjust the volume of the track.

Step seven – Once everything is done and feel that the video is ready, you can save the video, either as a separate video, or overwrite the existing one.
How to Add Music to YouTube Video Using iMyFone Filme
iMyFone Filme is arguably the best and the most versatile video editing software used by Mac and Windows users. It is the best software for anyone working with video clips – whether beginners or skilled video editors or in our case, content creators.
By using this software to edit your YouTube video, you can be sure that the end result will be super impressive.
Features:
You are able to add tracks from the software's library

It makes it possible to add other effects, transitions, filters, stickers, and text to your YouTube video

It has an amazing voice changer, which enables one to change their voice in real-time and that of your audio

The software allows you to export the video files in any desired format you want – of course, the format needs to fit YouTube.
Pros:

Easy for beginners to use and understand

Fast video mode

Free trial options

Able to export over 15 video formats

Has advanced video options

Offers various effects for video editing
Cons:

No available free version
Using Filme to add music to YouTube video
Step one – For starters, open iMyFone Filme, and then click on File, then New Project. You will need to set the ratio that you are comfortable with.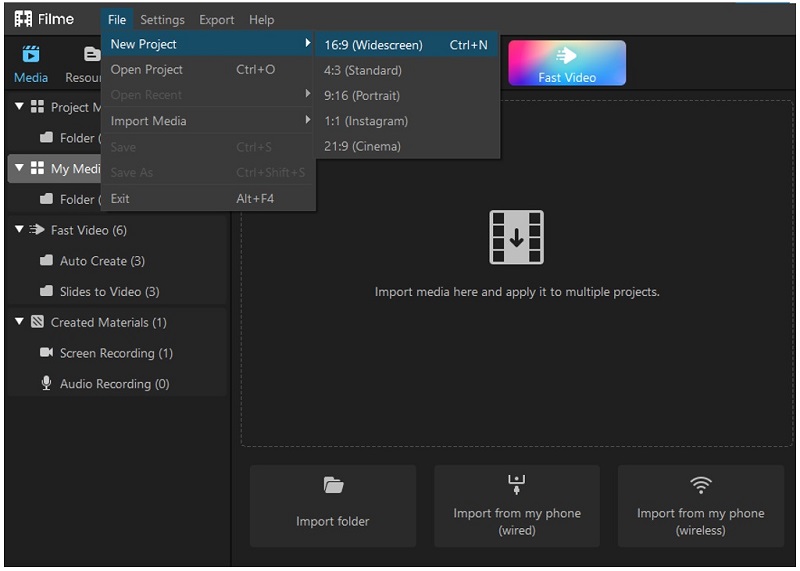 Step two – Import the video file you are looking to edit. You can also include the music you want to integrate.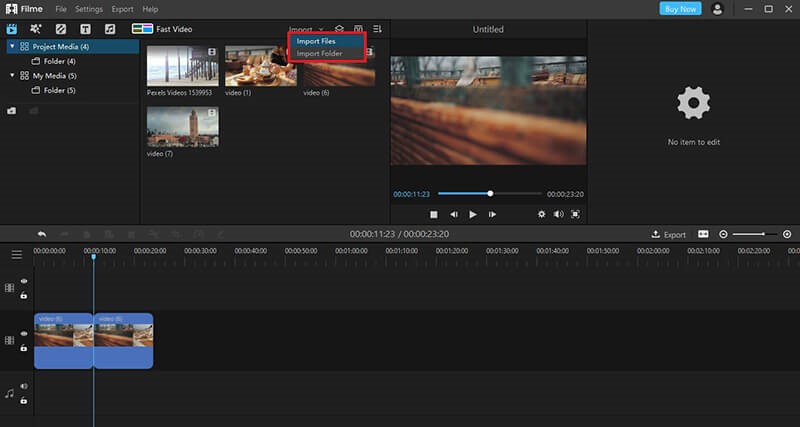 Step three – After that, then drag the video to the timeline, and then after that the music that you want to add. You can trim the files as you would like.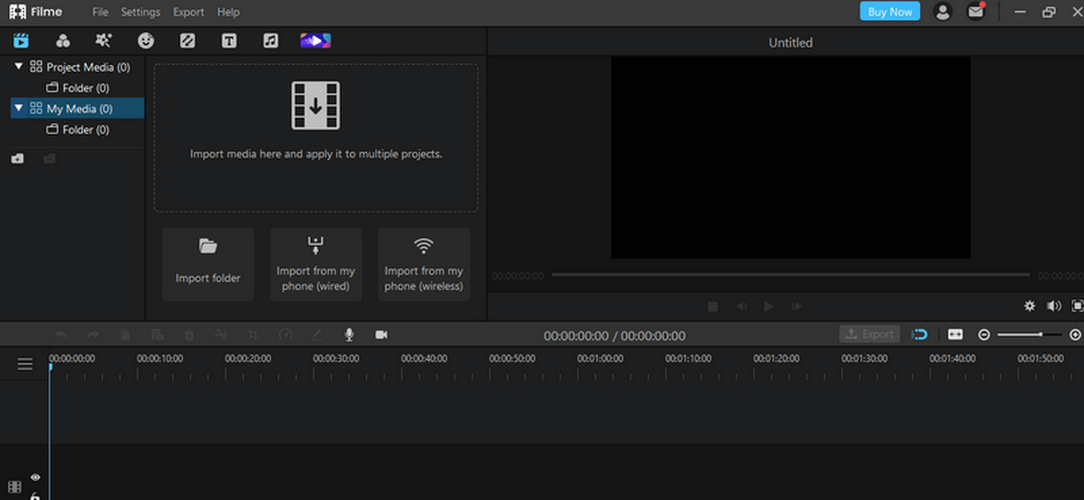 Step four – If there are any more changes that you would like to make, this is the stage in which you do it. Could be effects, transitions, or anything else that you would like.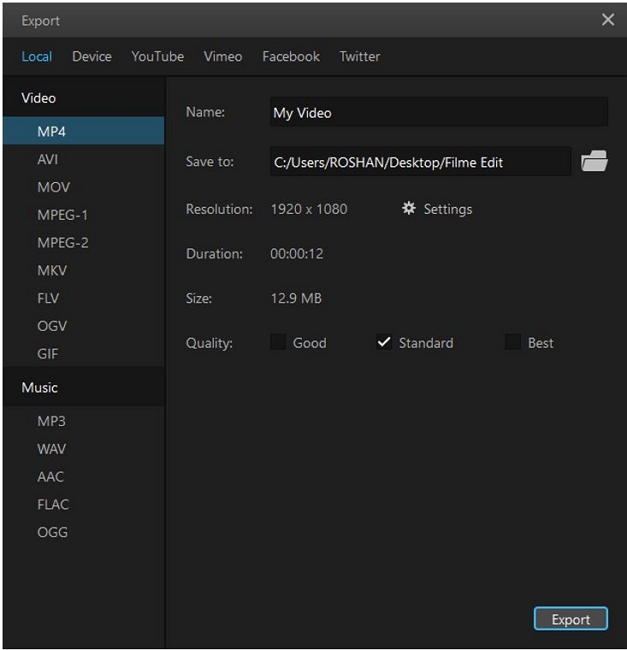 Step five – Once you are done, you can now save the file to your device by clicking Export. And with that, the file will be ready for YouTube.
Where to Find Best Music to Add to YouTube Videos
Let's face it, finding high-quality music to add to your YouTube video can be a huge challenge. Other than YouTube Audio Library, there are many other websites from which you can get royalty-free songs to use on your video. Each website is different in terms of search functionalities, music experience, and licensing options.
Here are the top 3 websites:
Directed by WFMU, Free Music Archive is a prolific website where you can get music and sounds to use on your YouTube video. All the tracks on this website are cleared for use, meaning that they are not restricted by copyright laws. All the songs are in the public domain & Creative Commons licenses, which means content creators are free to use them in their YouTube videos.
By public domain, we mean that the music is not protected by copyright, and can therefore be used by anyone without restrictions. As for the Creative Commons licenses, it allows free distribution of copyrighted work but ensures the licensors are credited for their work.
This got to be one of the best websites where you can get high-quality tracks for your YouTube video. With an easy-to-use search functionality as well as music offerings, you are able to find the right music for your video almost instantly.
Epidemic Sound's licensing is Royalty-free, which is also a plus. Anyone who knows about music licensing knows how tricky it can get. But basically, with such a license, you are able to use copyrighted music without violating any YouTube terms. For royalty-free, the buyer only needs to pay once for the music license, and the music can be used for as long as you want.
For starters, the music on this site is under royalty-free licenses. Secondly, Amazon offers over 56 thousand tracks that you are free to use on YouTube videos, all organized by genre, making it easy for you to get the song that you are looking for.
And as we already mentioned, Royalty free music allows the content creator to use the copyrighted tracks without having to pay royalties. The license is paid for only once, and the content creators are free to use the music for as long as they wish.
FAQs
Can I put music in my YouTube video?
Yes, you can! However, you got to pay attention to YouTube policies with regards to copyrights when doing so. This means that you are not allowed to put music that is copyrighted without permission from the original author.

Don't Miss: Post a Video on Facebook with Copyrighted Music: Everything You Should Know
How can I add music to my YouTube video without copyright?
To avoid violating copyright rules, opt for royalty-free tracks that you can get either from YouTube Audio Library or from the websites mentioned above. On these platforms, you will find songs that are copyright-free that you add to your YouTube video. Once you get the song, you can either use YouTube video editor or iMyFone Filme to integrate the song into the video.
How can I add my own music to YouTube video?
When it comes to your music, the copyright rules won't apply since, you know, the music is yours and you don't need anyone else's permission to use it. The process of adding your own music to YouTube video is the same one as adding any other music only that this time you won't have to search for copyright-free music. But the rest of the process remains the same.
Conclusion
As we conclude, we have to emphasize of iMyFone Filme, and how it can actually make your work easier. With all its video editing features, you can expect more than just add music to YouTube videos. To content creators, things have never been this great. Take full advantage to make your videos more engaging, entertaining, and appealing to your viewers.