Mirroring a video is quite simple, and you can do it within a few clicks. We will guide you on how to mirror a video using Windows Movie Maker. Moreover, we will also share some other tools that you use instead of Windows Movie Maker, like iMyFone Filme, an all-in-one video editor to help you not only flip video fast, but also edit video fabulously to share on platforms like facebook, vimeo, youtube with single click. You can download iMyFone Filme on PC to create stunning videos for Tik Tok, Youtube, Instagram and amaze your friends and fans.
How to Flip a Video Using Windows Movie Maker
Windows Movie Maker is a discontinued video editor, which was discontinued in 2017. You won't find it in your latest version of Windows because it has been replaced by Video Editor. The new video editor of Windows has very limited tools and features, and Windows Movie Maker was much better than that. Therefore, people still love to use it. Fortunately, you can still download Windows Movie Maker from various authentic sources, and it works on Windows 10.
Windows Movie Maker is an amazing and beginner-friendly tool. It is a go-to tool for many video editors, and you can do basic edits by using it. People who have been using it for a long time love it and still use it to edit their videos. It can be used for basic edits, audio editing, effects & animation, text, and various other purposes.
You can also flip a video using Windows Movie Maker, and it is very simple. You just need to follow a few simple steps to do that.
Step 1: Download the App
Windows Movie Maker is available on various trusted websites that offer old tools and software. You can download it and install it on your computer.
Step 2: Import Media
Open Windows Movie Maker. It is a bit different video editor compared to others. The timeline of Windows Movie Maker is actually the left portion; it is not at the bottom. The timeline will be empty, so you need to import the video. On the ribbon, you will see Add Videos and Photos. Click on it and select the video from your computer. The video will be added directly to the timeline.
Step 3: Flip the Video
In Windows Movie Maker, there is not a separate tool for flipping a video. There is an effect that can do the same. For that, you need to go to the Visual Effects tab. You will see some options on the ribbon. Click on the down arrow to see more. You will have the Mirror option there. There will be two options; one is for the horizontal flip, and the other is for the vertical flip. Choose any effect you like. It will flip the selected video.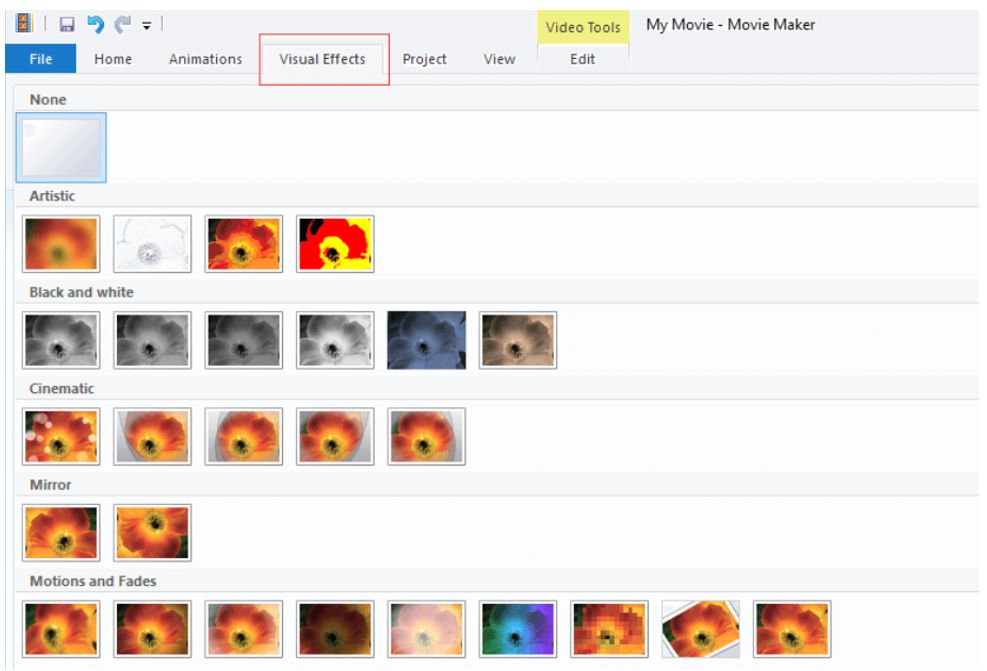 Step 4: Export the Video
Your video is ready. If you need to make other changes, such as music, animation, or anything else, you can do that at this stage. After all, click on the File menu, go to Save Movie, and select the desired format to save the video.
Note
Windows Movie Maker does not work on all versions of Windows 10, and you might encounter various issues. Therefore, we recommend using Filme as it is a user-friendly and simple tool and will work on Windows and macOS.
How to Flip a Video using iMyFone Filme: The Easiest Way [Windows & Mac]
iMyFone Filme is one of the simplest video editors on the market that can help you edit your videos professionally. You can easily get familiar with the video editor and its tools, and there is no experience required. You can make almost any type of changes to your video and make it more appealing and engaging by using Filme.
Filme is not only a video editor, but it is a voice changer, video/audio converter, slideshow maker, audio editor, PPT to video converter, and screen recorder. Thus, it is a versatile video editor that can help you make any kind of video. With Filme, you can create videos for social media platforms, such as Facebook, YouTube, TikTok, Snapchat, Instagram, Twitter, and Vimeo. You can also make slideshows, party invitations, video resumes, video presentations, and a lot more.