Subtitles of the video are important materials that make your videos more accessible, easy to convey the message you want to send to viewers. If you want to popularize your video to all audiences, subtitles will become an indispensable element in your videos.
All you need is video editing software to add subtitles to video. This article will show you how to add subtitles to video quickly and automatically with iMyFone Filme and other online tools. Let's check it out!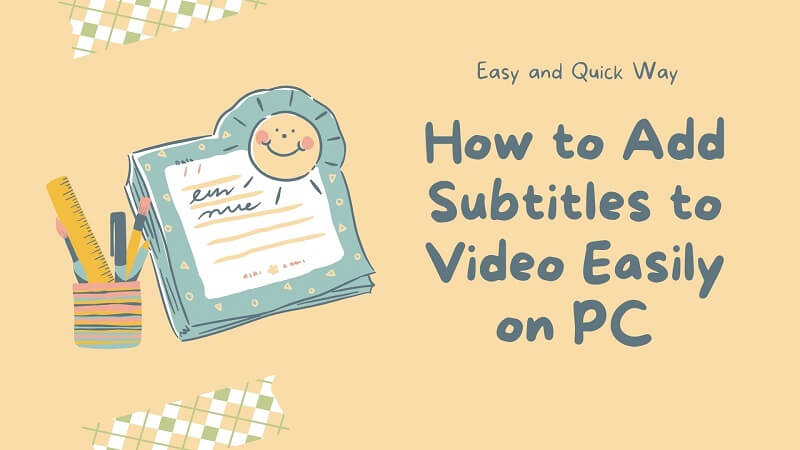 Part 1: Automatically and Quickly Create Video with Subtitles
Mutex, a type of video consisting of images, text, and some transition effects, is increasingly popular today because of its ability to convey information quickly and effectively.
To create a mutex video and other similar types of this video quickly, but still attractive, a tool to help you automatically and quickly create videos with subtitles is essential. Luckily, the Text to Video function of iMyFone Filme will help you with it. Let's check out how to add subtitle file to video permanently through the detailed guide below:
Step 1: Click the Text to Video
iMyFone Filme is available on both Mac and Windows devices, so you can easily download and install Filme on your device. Just head to the iMyFone Filme official website, download and install it. Launch Filme, you will see the Text to Video function on the started screen. Click on it to start.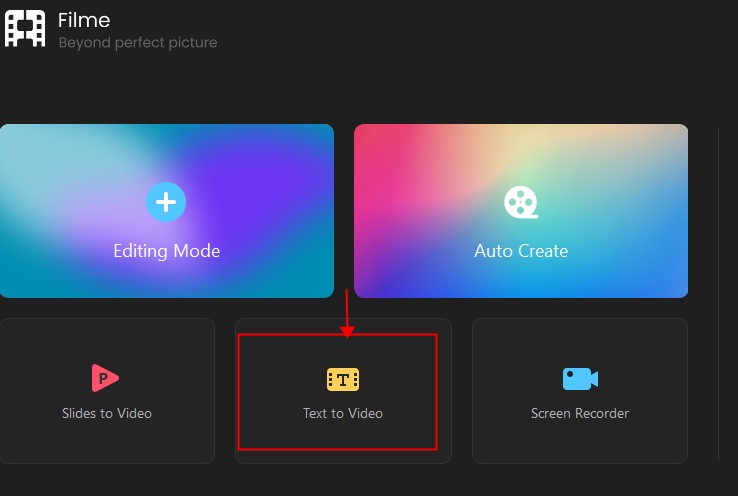 Step 2: Enter Subtitles
At this step, you need to prepare subtitles and paste or type them into Filme. After input your subtitles, you have many further options:
Choose Font and Color:There are hundreds of fonts and colors for you to choose from.

Auto Split: You can press Enter to split the subtitles or use the Auto Splitfunction of Filme to save time. It will help you smartly and automatically split the subtitles.

Choose a voice: You can also choose a voice to automatically read your subtitles in your video.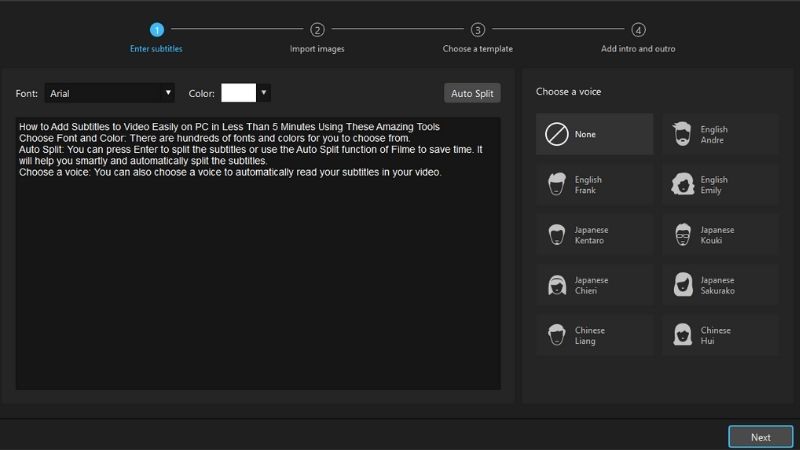 When finishing inputting your subtitles and choose your settings for subtitles, click on Next.
Step 3: Import Images
To import images to your project, you just need to choose the '+' button on the screen > Choose your images > Click on Open.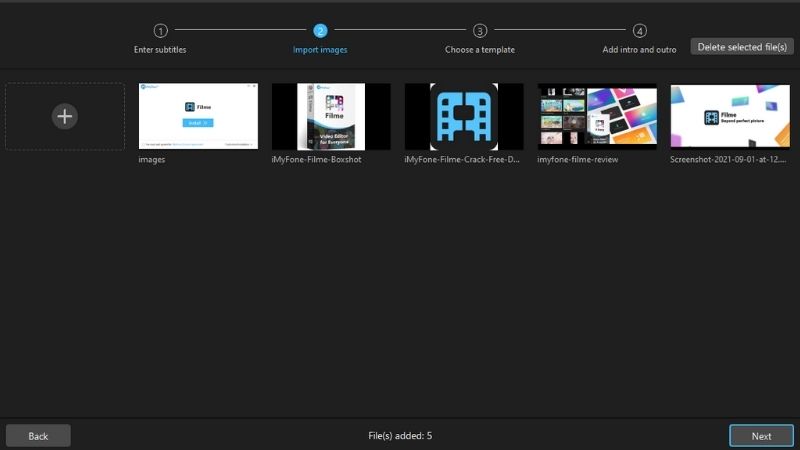 To delete the imported images, choose the images that you want to delete > Click on Delete selected file(s).
When you have imported all the images for your video, click on Next.
Step 4: Choose a Template
At this step you can have 2 options:
Choose an available template: You just need to choose the template for your video at the Template The designed factors and effects will be automatically applied to your video.

Customize your video: You can also set up your video frames and effect by yourself at Customize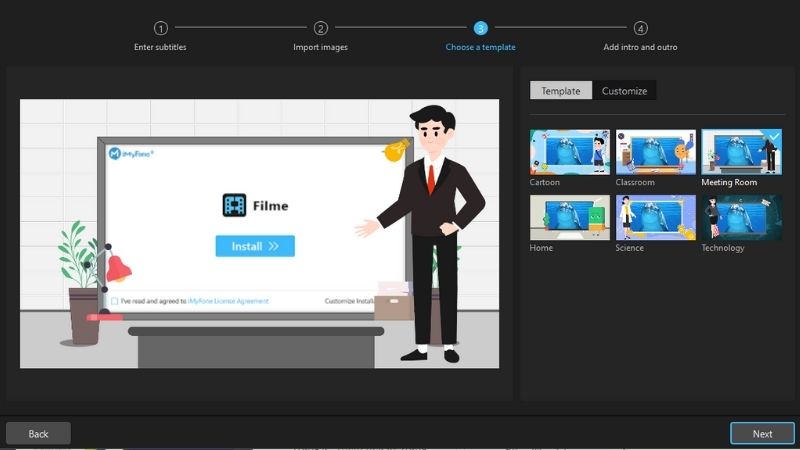 Then, click on Next to move to the next step.
Step 5: Add Intro and Outro
At this step, you can add intro and outro for video based on your video theme. Then, click on Done to finish setting up.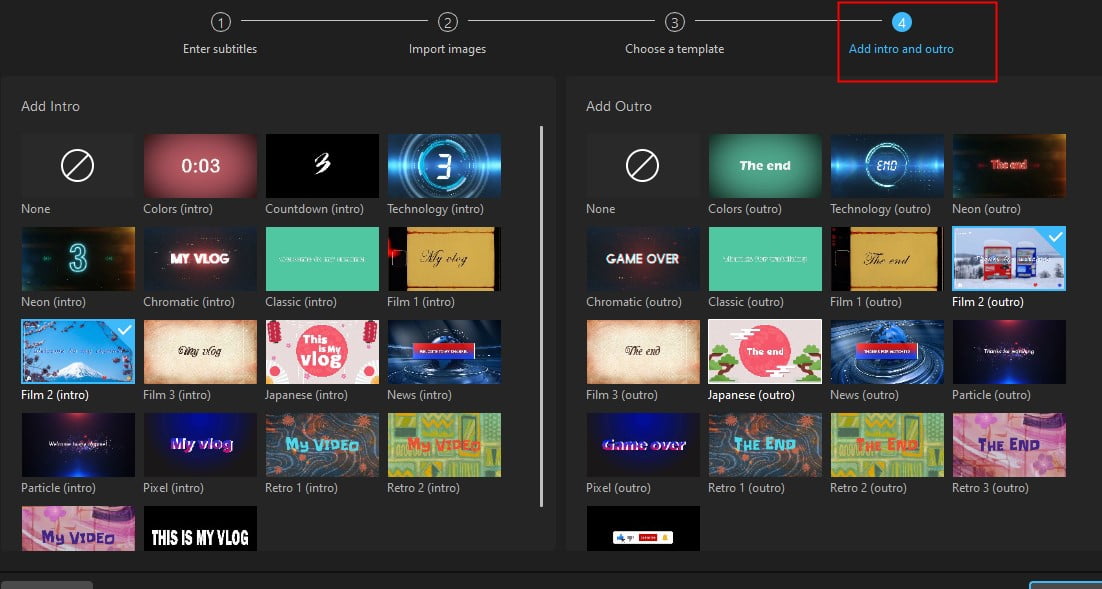 Step 6: Further Editing
At this step, you can do further editing like cut, crop, add effects, transitions to your video.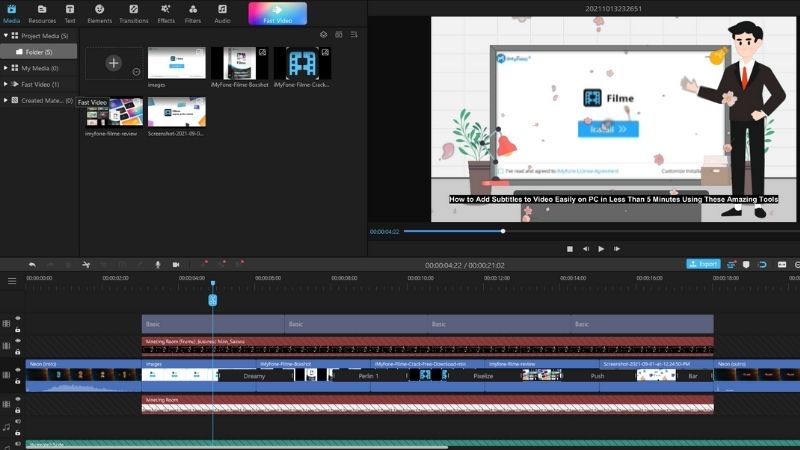 Part 2: Add Subtitles to Your Video Online
If you do not want to install software to add subtitles to your video, you can try it by many online tools. Although online tools don't have many editing functions, it brings convenience and time saving for adding subtitles to videos.
Easy and Best Online Subtitle Maker
Here are some tops of easy online subtitle makers that you can refer to: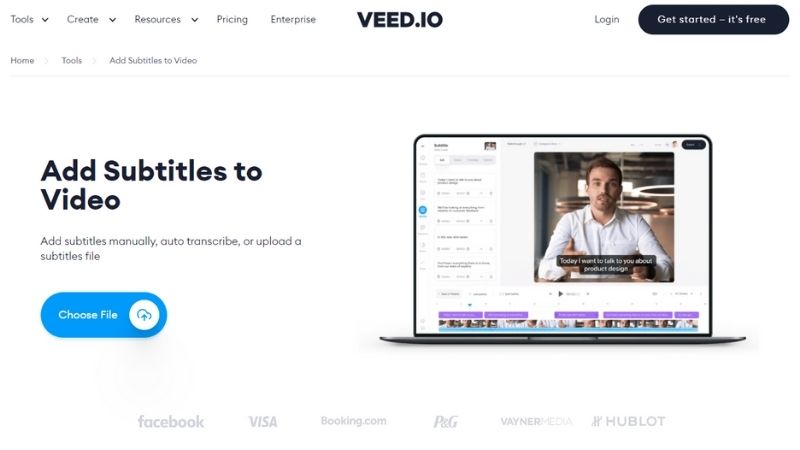 Veed.io is a video editor that allows you to produce video content online. It has a lot of options for video subtitles and transcripts. You have the option of uploading an SRT file, manually typing subtitles, or using the built-in function to automatically produce subtitles.
It includes a good set of settings for properly synchronizing the subtitles on the timeline, which shows both subtitles and video. Split subtitles, translate, add two languages, style the text, and more are all available on Veed.io.
Pros:

Many functions support adding subtitles to video.

Easy to split and sync subtitles on the timeline with a live preview.

Save the video up to 720p quality.
Cons:

Create only 10 minutes of video in the free plan

The final video has a watermark in the free plan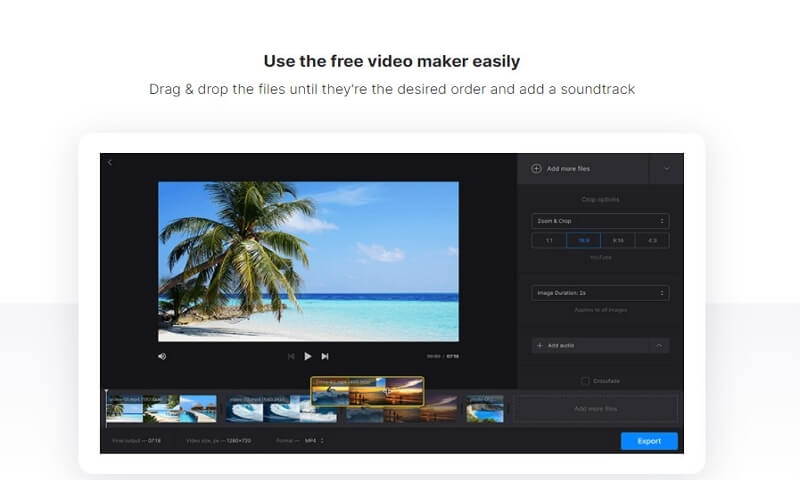 Clideo has a large selection of online video editing solutions for a variety of purposes. On this website, you may add subtitles to the video. You have the option of manually typing the subtitles or uploading an SRT file.
You can also sync the subtitles with the video by dragging and dropping them into the video timeline. You may then add subtitles and download the completed video in this manner.
Pros:

Free to use.

Clieo's UI is incredibly basic and user-friendly, making it ideal for novices.

You may edit videos on your phone using this app.
Cons:

Free processing is limited to files under 500 MB.

Video editing tools for adding subtitles are quite basic.

There is a watermark on the finished video. If you wish to get rid of the watermark, you'll need to upgrade to Clideo Pro.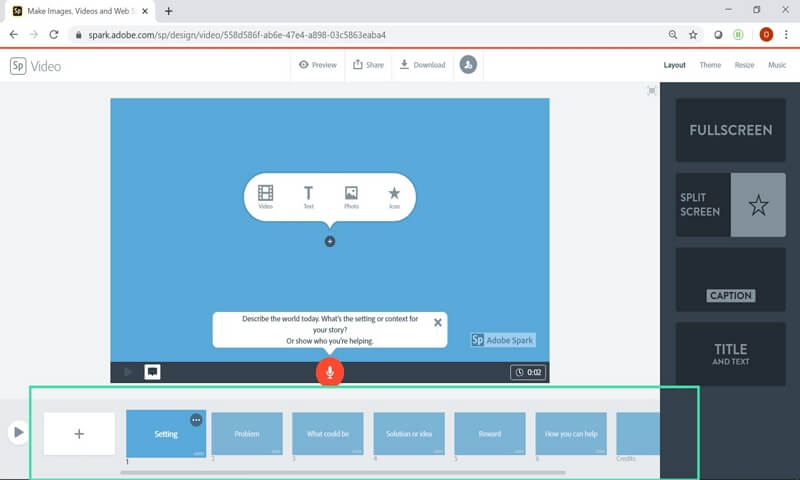 Adobe Spark is a user-friendly, mass-market software suite for creating basic graphics and multimedia. Creating a video has never been easier than using Adobe Spark.
However, while Adobe Spark makes it simple to add subtitles, doing it in its entirety will take time. Having a talking or interview video might make the job considerably more difficult.
Pros:

Available on both website and mobile.

Incredibly easy to use.

It features both free high-resolution pictures from Unsplash and premium, high-quality stock photos from Adobe Stock.
Cons:

In the free version, videos will have an Adobe Spark watermark.

Videos are limited to only 30 seconds long.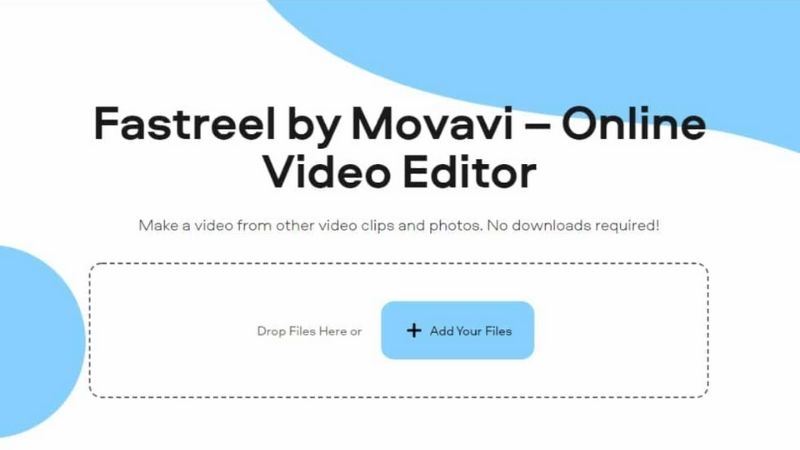 Fastreel is another online tool for creating videos, graphics, and social media post. It provides a simple tool for adding subtitles to videos online.
All you have to do is upload your video and choose whether to use an SRT file or manually add subtitles. You may then adjust and customize the subtitles, as well as sync them with the video.
Pros:

Online and easy to use.

Advanced tools like reversing, speed changing, looping, and adding subtitles in SRT format.
Cons:

The Single Premium plan may appear to be expensive.

The free version will overlay watermark on exported videos.
Steps to Add Subtitles to Video Online - Clideo
Clideo seems to be the most popular tool to add subtitles to videos. With very simple steps, you can easily add subtitles online by Clideo:
Step 1: Go to the Clideo website > Choose Add Subtitles to open the subtitles' function.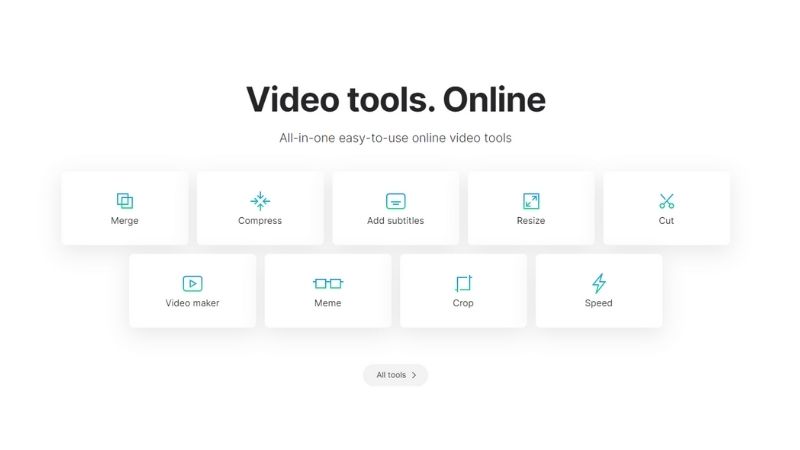 Step 2: Click on Choose File to upload your video from PC storage or the cloud services like Google Drive and Dropbox.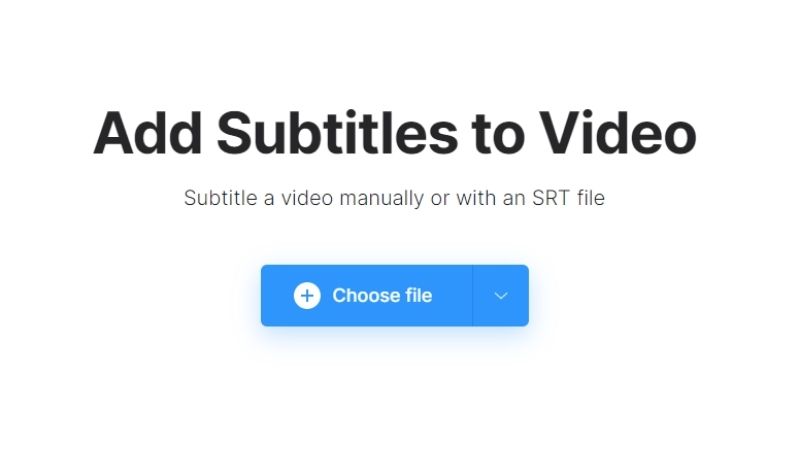 Step 3: Then, choose the way you want to add subtitles. You can Add manually or Upload .SRT or try Generate automatically (Beta function of Clideo).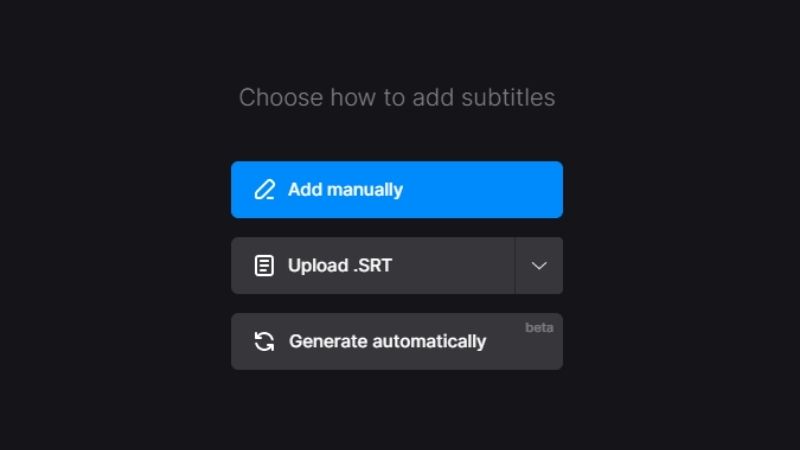 Step 4: It shows an index of subtitles on the right screen. You can add or edit the subtitles and adjust the time.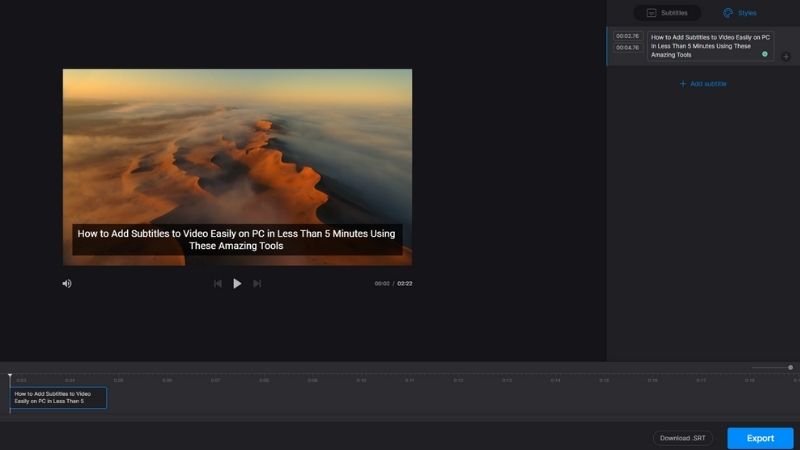 Step 5: Choose format and click on Export to download the output video.
Part 3: Why is Adding Text to Video so Important?
Video content without closed subtitles is like an outstanding concert pianist playing in an empty room. You've put all you have into creating an amazing video, but you're missing out on your audience. Do they understand it? Thus, here are our top reasons why adding text to video is so important: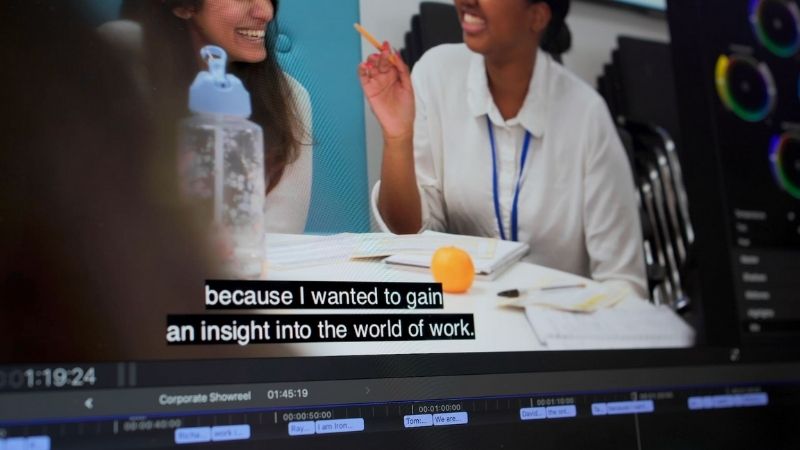 Make Your Videos More Accessible
There are people who may not be able to access your video content. They may be deaf or hard-of-hearing. Therefore, subtitles will support them to follow your video content. The more accurate and detailed the subtitles are, the better they can easily access your videos.
Make Your Video More Engaging
We don't always want to be surrounded by loud noises from our gadgets when we're on the road. Subtitles make it simpler for viewers to watch films and broadcasts, no matter where they are or what they're doing.
Gain Attention and Comprehension
As evidenced by the fact that videos with subtitles have a longer watching time, subtitles make it simpler to grab and hold your audience's attention. Subtitles also aid comprehension for viewers who speak different languages by allowing them to read along as they listen.
Conclusion
Hopefully, through the article, you will know how to add subtitles to a video with iMyFone Filme and other online tools easily. Are you ready to download and experience Filme right away? Good luck!