Do you want to acquire a YouTube video intro maker app?
An intro of any video decides how far a video can succeed in impressing any audience. It carries immense weight and probably decides your outcome as a content creator.
And intro perfectly describes who you're and what you're bringing for them. But to make an engaging and creative intro, you'd feel the need for a modern intro maker.
Unfortunately, there's not any shortcut to choosing a worthy intro maker. It would help if you were careful and deadly accurate while choosing an appropriate tool.
You can also take the notes from this article to explore the best ten intro video makers for you.
Part 1: 10 Video Intro Maker Apps for Android and iPhone
Let's talk about the ten best YouTube video intro makers.
Quik is a video editing app that lets you create fascinating intros for YouTube Videos. It offers over 23 customizable templates to add to your intro.
With the facility to edit your imported video and add whichever filters you want, Quik is one of the most popular video editors at present. You can also import an audio sound from your gallery to add to your video.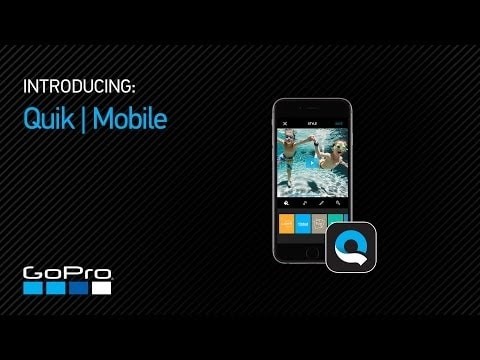 Pros:

You'll get some breathtaking transitions to make your intro worth appreciating.

With some fascinating video templates, you can take your intro to a great level.

It supports all video files and audio formats.
Cons:

Its interface can be a bit difficult for a newbie.
If you're looking for a YouTube video intro maker app that can offer reliable services, iMovie can be a befitting option for you. It is designed for iOS and macOS platforms.
It allows you to create outrageous storytelling videos, credits rolls, photos, and YouTube intros. Despite being a simple app, you can edit a video possessing 4K resolution. With some fascinating text effects, creative video filters, and transitions, you can make your intro worth remembering.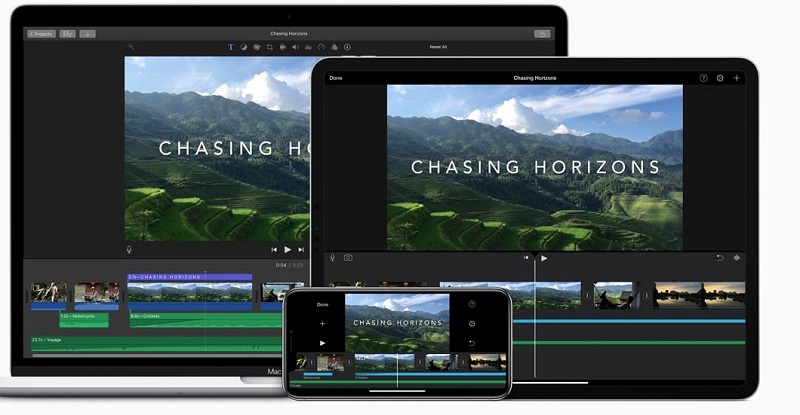 Pros:

Video stabilization

Real-time titling

Automated video editing

HD and 4K video support
Cons:

Sometimes, its sharing feature doesn't work.
Editing a video and creating a YouTube intro isn't a problem for Videoshop. It can serve your purpose in few moments without any fuss. Using the app, you remove the part from the video you don't want to add to your video.
In addition, it also allows you to control a video's playback speed and create appealing fast motion and slow-motion videos.
Moreover, it also offers you a chance to merge many video files into a single file and adjust contrast, brightness, or saturation.
Furthermore, you'll also get some tremendous animated titles to make your intros entertaining and dynamic.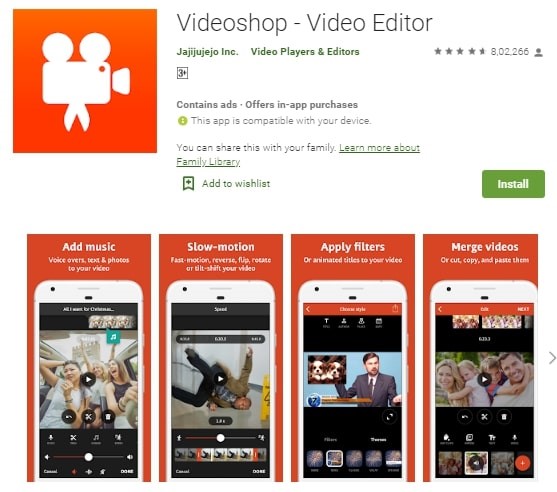 Pros:

It offers easy to use interface, meaning you don't experience operating it.

Excellent video and audio editing options

You'll get a variety of prolific animated titles.
Cons:

Unfortunately, there's no automatic editing feature.
You can use this app to edit, shoot and upload your content anywhere you want. It's also a YouTube video intro maker app that can create flawless intros for you.
With professional features, you can make your video look out of the ordinary. It lets you edit your videos at 1080p resolution, which is quite a fascinating thing to talk about.
You'll get stunning templates and in-built filters to create an incredible YouTube intro. It supports both iOS and Android devices. You can also acquire a free version and a premium version.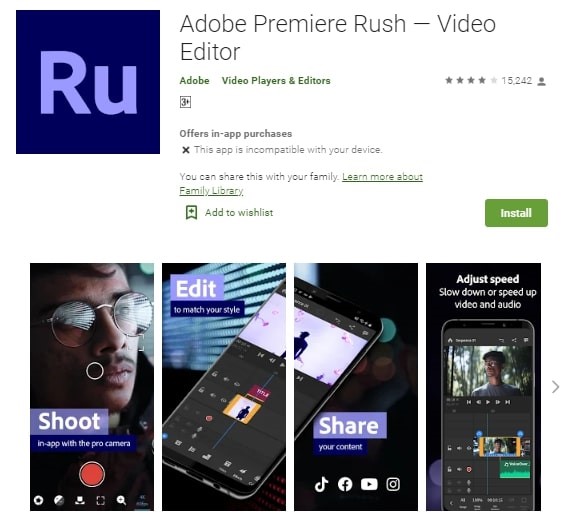 Pros:

Adobe Premiere Rush is pretty easy to use.

It offers users a free audio library, meaning they can choose any voice sound to add to their intro.

Its transitions are nothing less extraordinary.
Cons:

It can consume a lot of memory.
Light MV is also a YouTube intro maker app that can make your YouTube intros unbeatable, meaning no one would be able to match the creativity of your intro.
It offers many editing features like crop, trim, filters, and rotate, etc. In addition, you also have the luxury to utilize some gigantic in-built templates to make your videos even more entertaining.
With offering a free version, it also possesses a paid version with more advanced features. Both Android and iOS users can edit videos with this tool. Its rapid progress can make it the best intro video maker app shortly.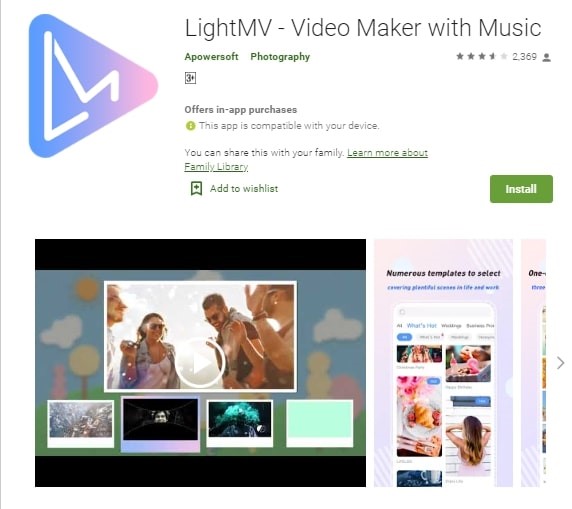 Pros:

Both Mobile and Desktop users can use Light MV.

With offering unbelievable editing features, it possesses a pretty easy user interface.
Cons:

Its paid version is a bit expensive to many people's likings.
You can make an eye-catching YouTube intro within five minutes using Intro Maker, Outro Maker. It offers you customizing templates that help you create fascinating content for users.
You can also make a YouTube intro from scratch with the help of Intro Maker, Outro Maker. It doesn't take too long to create an outstanding intro for you.
You need to select a template, import a video file and audio footage, and let this intro maker do the rest. You'll get a free version of this tool with limited features. But if you want to access all features, you need to acquire its premium version.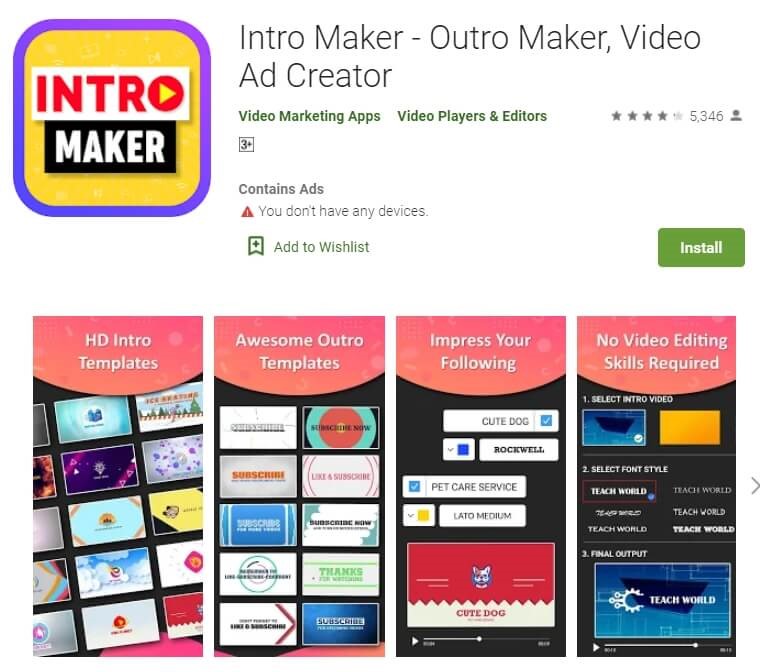 Pros:

It can make your intro quicker than you think.

You'll get some fascinating templates with this software.

Using this software, you can add audio files and images to your intros.
Cons:

The free version contains some irritating ads
If you want to find a simple way to add text, images, audio to your video, you need to look at Legend Text Animated Maker.
Using this fascinating application, you'll be able to create breathtaking text animations with ease. To create a text animation, you only need to generate an editor page.
After creating it, you must insert a text and select the animation style you like the most. After, you can also select the background and text color you want.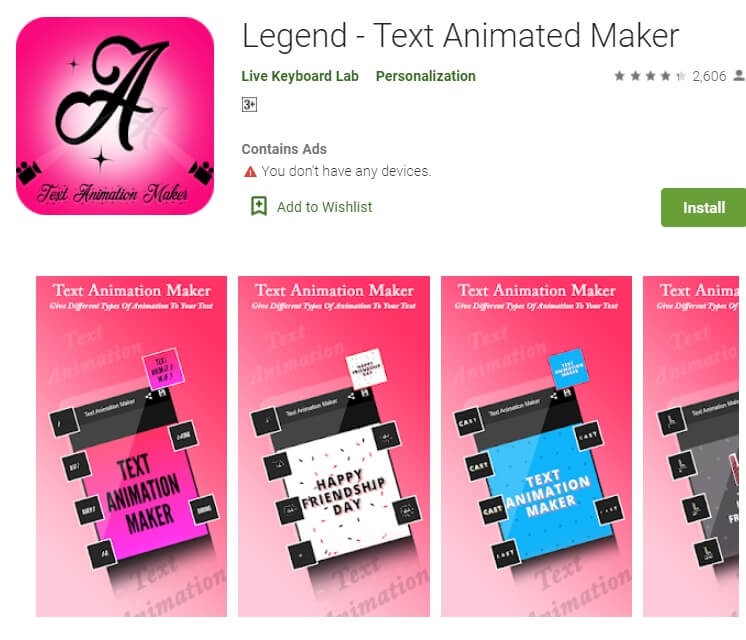 Pros:

It allows you to add 25 different styles of animation to your content.

You'll find terrific built-in quotes with this application.

You can save text animations as a video file or GIF.
Cons:

No video editing options.
PowerDirector is probably the best intro maker app for Android and iPhone users. Its lets you allow creating fascinating intros, appealing outro, and eye-catching text.
The majority of the content creators have been using this tool for quite a long now. It will give your intros a cinematic, making them mesmerizing and obsessive.
You don't have to acquire prior experience before getting used to its interface. It offers countless editing features and effects to transform your content into the next level.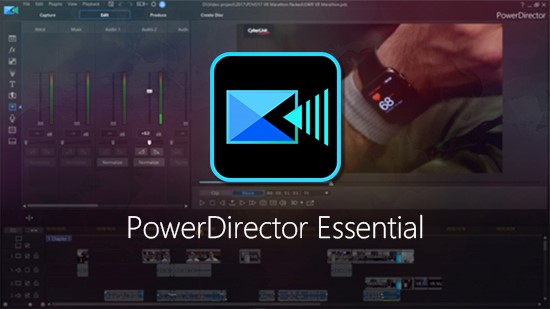 Pros:

You can apply basic effects and transitions to your content

Add captions, text, and titles to your video.

You can control the brightness and color of your content.

Using this tool, you can easily manipulate and trim your footage.
Cons:

You got to bear irritating ads with its free version.
You don't need to be an experienced fellow to edit a video or create an intro on Intro Designer Lite. It is only designed for creating eye-catching video intros for users.
You can select a template from eight different options. In addition, you can customize your text, add the footage, and export the videos using this tool. You can export your YouTube intros in HD quality and share them with your friends on Instagram, Facebook, and other popular sites.
It possesses a tutorial mode that makes it a prolific YouTube video intro maker app.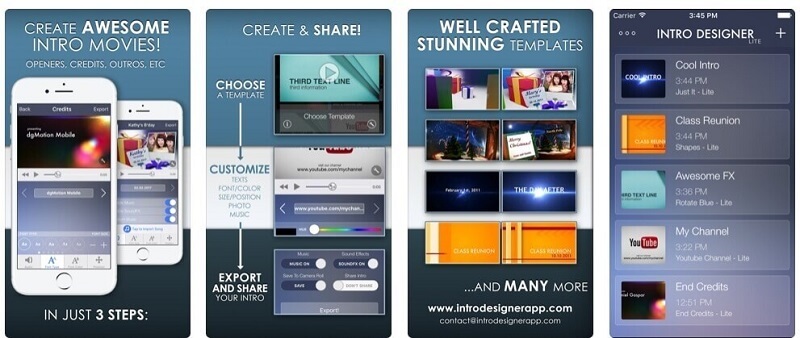 Pros:

You can use its customized templates in your intros.

It allows you to preview the video before exporting it. You can download intros in HD resolution.
Cons:

There are no editing options available in it.
PixelFlow allows you to create breathtaking intros with minimal effort. With 150 video templates, you can make your content astonishing.
It's a pretty creative editor that lets you make mesmerizing content. Using this tool, you can also select pre-designed templates that can make your work a lot easier than you think.
You'll also get over 2000 fonts and breathtaking backgrounds to add with. It aims to create a unique intro for you, meaning your intro would surely make inroads.
Pros:

PixelFlow is a YouTube video intro maker app that offers brilliant templates and dynamic backgrounds for your content.

It offers a creative video library and built-in image.

There are 150+ premade templates on offer for you.
Cons:

It only contains a small number of templates.
Part 2 The Best Free Video Intro Maker for PC -iMyFone Filme
If you're aiming to acquire the services of the best video intro maker app, you can't get better than iMyFone Filme. Its dynamic tool promises to be one exceptional tool to edit your video appropriately.
With brilliant features and an outstanding interface, Filme ensures to impress users. You'll get some fascinating transition options to add, which makes it a unique and reliable tool. Its themes and graphic work are flaws and mesmerizing.
Many users have been obsessed with the way Filme makes the intro look outrageous.
Features
Multiple Editing
Besides providing stunning themes, fast video modes, and majestic templates, Filme also provides its user with countless editing modes.
After creating an appealing video intro, you can make slights adjustments to make it even more engaging and relevant. You can add videos, GIFs, and pictures. In addition, you can also crop, trim, and split your content whenever you want.
Furthermore, its audio features have something special to talk about, making your content better than ever before.
Transitions
You'll get fascinating video transition options with Filme. With over 100 hundred flawless transitions, Filme is well on truly making huge progress in the editing world. Filme's work ethic makes it the best intro video maker app.
Fast Video Mode
Filme Fast Video Mode lets you create fascinating videos in quick time. The advantage you carry with fast-motion videos is that you can portray a larger perspective in a pretty little time.
Over 200 video modes indicate how Filme is blessed with some unbelievable things you wouldn't have even imagined.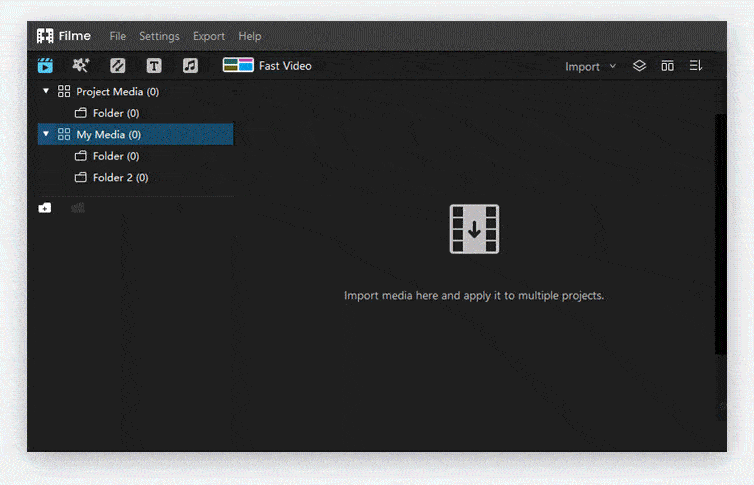 Compatibility
Since all content creators tend to make the content of high-resolution quality, you'll need to acquire software that supports all formats, even 4K resolution.
Luckily, Filme has all the basics covered. It allows you to add every format video to the Filme timeline and changes whatever you want.
Instant Preview and Picture in Picture effect
You'll get an opportunity with Filme to watch your video midway through the editing process.
This aspect can help you highlight minor glitches you'd have made during editing. You can correct them, and you don't have to import a video again just for the sake of adding minor effects to it. Moreover, the Picture in Picture Effect of Filme allows you to show multiple footage on your screen simultaneously.
Many content creators choose this feature when they make a comparison between certain things.
Pros:

Intuitive interface

Provides built-in effects

Wonderful layout design
Cons:

It is still unknown for a large group of people.
Conclusion
The applications we've reviewed above are pretty capable of making your YouTube video intro mesmerizing. You'll find unique features and tremendous templates with all these applications.
You only need to follow the steps to get your job done. Moreover, we've also highlighted a special YouTube video intro maker Filme, which can inspire many generations of people with its ability. You'll get all the things in this tool that you could even imagine seeing in any other video editor.