GIFs are all the rage in social media nowadays. They allow you to express yourself in many ways, often conveying feelings and emotions that words simply cannot articulate. So, why is YouTube one of the most-used sources for GIF files? That's because the sheer volume of videos on the platform means you can easily find what you need to use for your GIF. However, YouTube videos often come with video watermarks that help prevent copyright violations. Moreover, many conversion tools for YouTube to GIF will add their own watermark to the output file.
Here are some tried and tested ways to transform YouTube video to GIF with no watermark in the final output - and they all work 100% on the respective platforms they are designed for.
Here are 4 different methods to create GIFs from YouTube videos without watermarks. Each method includes one or two handy tools for Windows, Mac, mobile, and online. Let's get started…
Method 1: How to GIF YouTube Videos with No Watermark on Desktop
If you're working with a Mac or Windows computer, iMyFone Filme is by far the easiest way to mask YouTube watermarks and logos that might ruin the GIF experience when you convert. Using this robust video editor, you can remove watermarks, edit/split/trim your video, add effects and animation, add text titles and subtitles, control audio levels and tracks, and easily take a GIF output at the quality you require. You can use it to create make a birthday video for Facebook. In addition, you can also control the quality of the GIF frames by altering brightness, contrast, color richness, and more. It can also convert Twitter videos to GIFs easily.
Here's how to remove a watermark from a YouTube video before making a GIF. There are a set of preliminary steps to follow, after which the watermark removal process begins (at Step 7)
Step 1: Download the video using a YouTube downloader and save it to your desktop.
Step 2: Download and install iMyFone Filme from the official website and launch the application on your Mac or PC.
Step 3: To import the media into Filme, simply drag it from Finder or File Explorer and drop it into the software interface in the media section on the top left.
Step 4: To begin editing the video, click the + symbol in the thumbnail or right-click and select Add.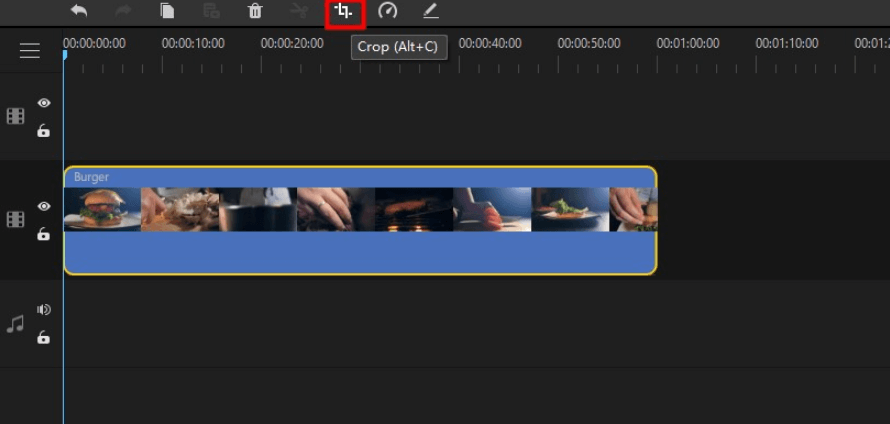 Step 5: Once the YouTube video is in the timeline editor, the first task is to crop it to the correct size. For this, click the Crop icon above the timeline.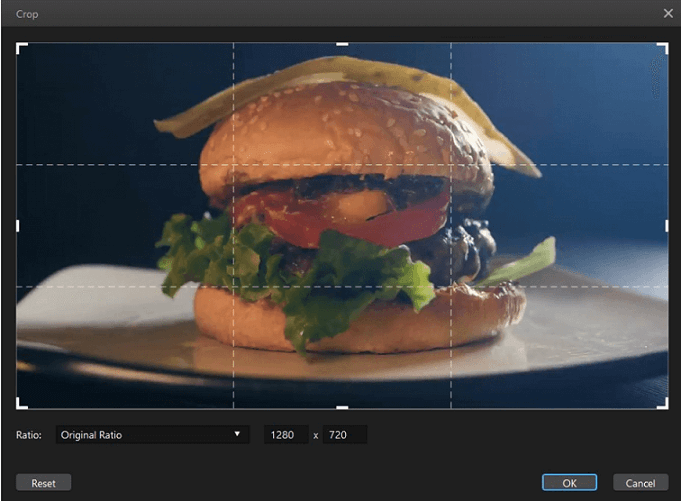 Step 6: When the Crop window opens, drag the corners and/or edges to focus on the main subject of your YouTube clip. Click OK when you're done.
Step 7: The next step is to overlay another image on top of the video so it masks the watermark. In the final output, the image will replace the watermark. For this, you can use any random image that suits your GIF, or you can even use a logo or branding element of your own, but make sure it doesn't have a transparent background.
Step 8: To add an image overlay, import the image just as you imported the video (drag and drop into the media pane), and drag it into a new track in the timeline editor.

Step 9: Using the right-side handle on the selected image, drag it to match the duration of the YouTube video underneath it.
Step 10: With the image clip track selected, click the Edit icon or right-click and choose Edit. This will open the video/image editor on the top right. Here, you can change its size relative to your main video clip, rotate it, choose a vertical or horizontal offset, and much more.
Once the clip has been edited to mask the watermark or logo, you can exit edit mode and Preview the combined tracks.
Step 11: You can also use the Speed Control icon in the timeline editing toolbar to slow down or speed up the YouTube video clip before converting it to GIF. In addition, you can use the Trim handlebars to select a specific clip or even split a clip into multiple parts and just keep one of them.
Step 12: To take the output, simply click the Export button and choose GIF as the output file. You can change the quality parameters if required as well. The final output GIF will not have any watermark.
This method works because, as a professional video editor, Filme supports multi-layer video editing. That makes it the perfect desktop tool to convert YouTube videos to GIF without watermarks. And this method works across Mac and Windows so you can use it on either operating system.
Method 2: How to Create GIF from YouTube Videos (No Watermark) with Online Tools
In many cases, the YouTube video itself might not have any watermark but the video to GIF conversion tool you use might apply its own watermark. To remove that, you'll generally have to upgrade from a free plan to a premium plan, but there are also some free tools to create YouTube to GIF without a watermark
Tool #1

GIPHY

GIPHY is a well-known GIF creation tool with a massive library of content, but did you know it can also convert YouTube to GIF with no watermarks? Here's the process as well as some additional information. Please note that you must create a login and be logged in to GIPHY to use the service.

Step 1: Copy the URL of the YouTube video to be converted to GIF and paste it into the field provided.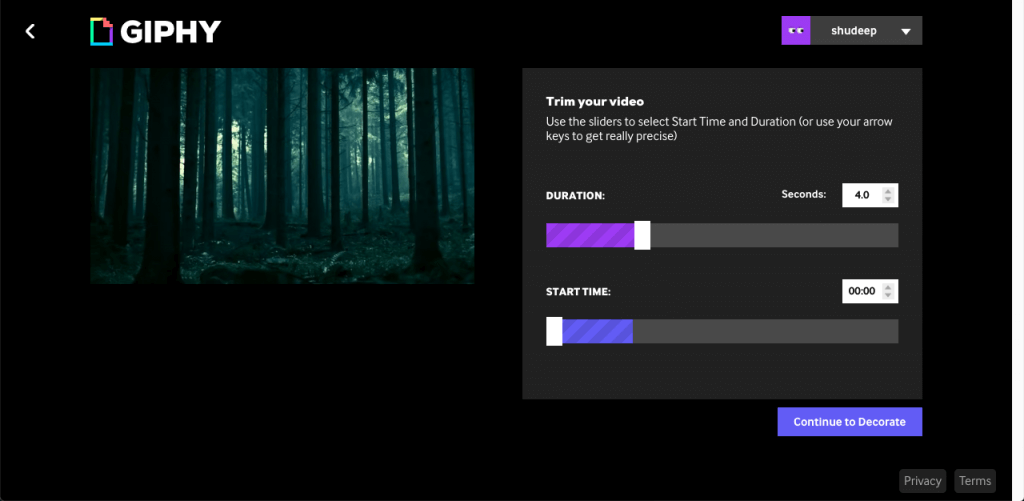 Step 2: The video automatically uploads to GIPHY, after which you can trim the video and specify a starting point.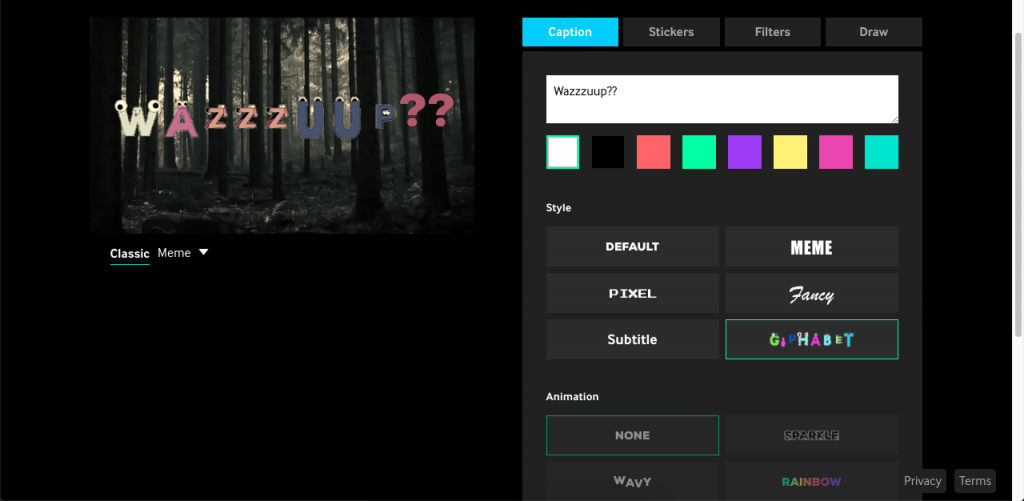 Step 3: Click Continue to Decorate, after which you can add text, stickers, filters, and even draw on the video. The text you add can be animated using a number of preset options.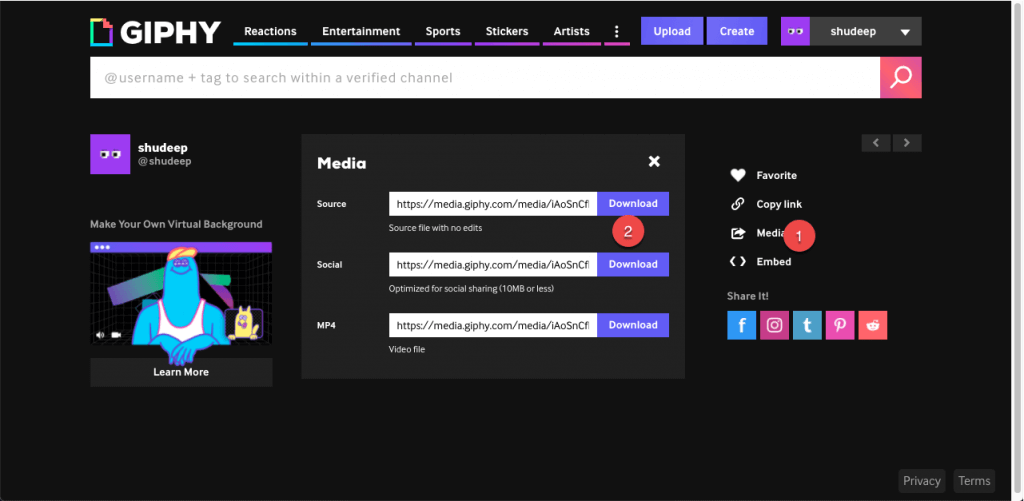 Step 4: When you're done, click Upload to GIPHY, then click the Media icon next to the preview and choose the source to download from. That's it!
Pros of GIPHY

Free to use

No need to download the YouTube video

Lots of filters and text effects to choose from

Easy sharing to your social media accounts
Limitations

Need to register an account (free)

No tool to remove existing watermarks

The interface is a little complex if you're unfamiliar with the tool
Paid Version Details: GIPHY is a completely free tool, but any GIF that you create will be publicly available by default unless you turn off that option during the conversion process.
Tool #2

MakeaGIF

The next online YouTube to GIF platform we're showcasing here is MakeaGIF, another popular converter. However, this one does leave a watermark if you don't upgrade to premium, which is something you should be aware of before you start using the platform. Nevertheless, it offers a lot of extra editing options so it's worth upgrading if you regularly convert YouTube to GIF or make GIFs from other sources. The process is explained below:

Step 1: Go to the MakeaGIF URL for Youtube to GIF conversion.

Step 2: Paste your YouTube link and wait for it to upload.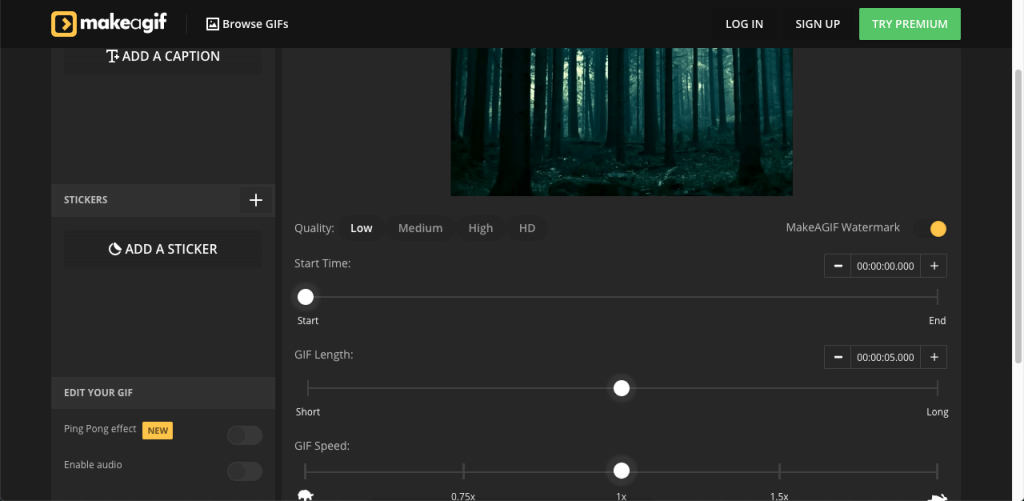 Step 3: On the next page, you can add a caption, add stickers, trim the YouTube video, set the duration, and even have it play at a different speed.
Step 4: Hit Continue to Publishing when you're ready, and then select a category and add tags if you want to. Click Create your GIF and see the Preview page to check if everything is as you wanted it.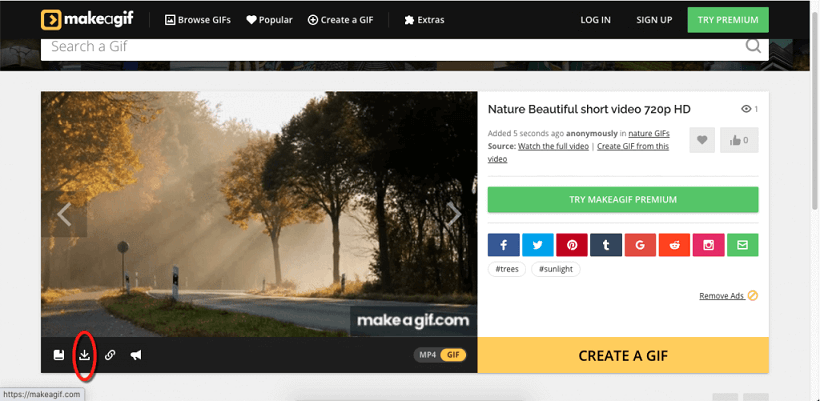 Step 5: Finally, click the Download icon below the preview to download the GIF file.
Pros of MakeaGIF

Very professional-looking interface

Free for up to Medium resolution output

Easy to use
Limitations

Advanced filters and edit features are locked behind the Premium paywall

The free version doesn't give you High or HD quality outputs

10MB file limit in the free version
Paid Version Details: Premium upgrade costs $11.95 per month.
Tool #3

GIFS

GIFS is the third online YouTube video to GIF converter we'll cover today. You'll need to upgrade to Premium to remove the watermark but it's pretty reasonably priced and it's a powerful platform that allows GIF editing after you create them and several other advanced features.

Step 1: Go to the GIFs website and sign up for a free account.

Step 2: Paste the YouTube URL and wait for it to be imported.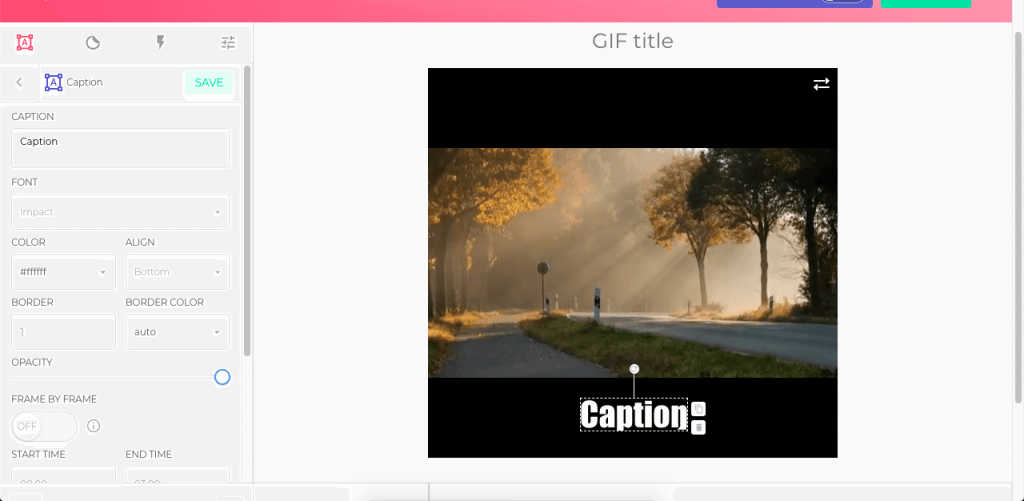 Step 3: On the main GIF creation page, you'll see options to add text, stickers, etc. You can also crop, pad, blur, and add other effects. One unique feature here is how easy it is to add multiple captions and time them to appear at different times and for different durations.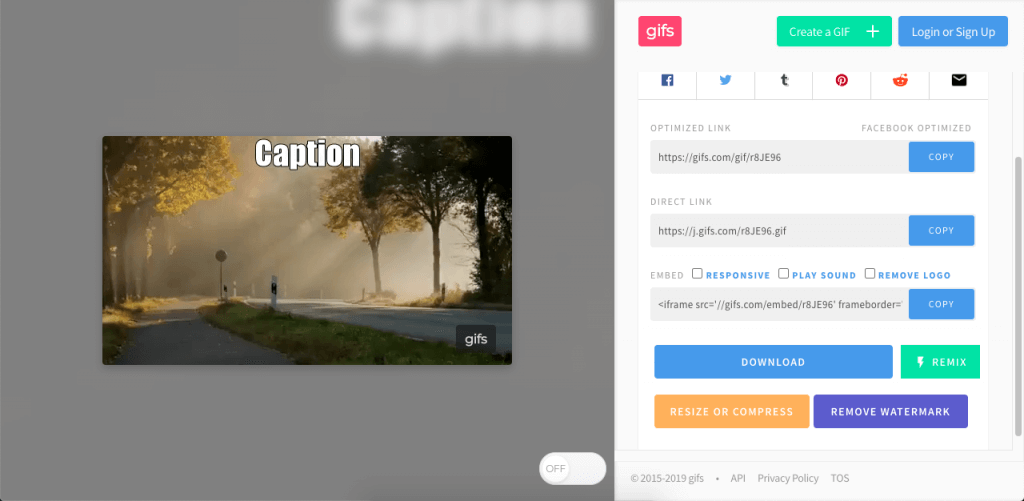 Step 4: Once you're done editing, click Create GIF on the top right. At this point you'll be asked to sign up. You can dismiss the message. On the final page, click the Download button and save the file to your desktop.
Pros

Comprehensive GIF editing tools for Premium users

Easy to use

Reasonable output quality
Limitations

Watermark is applied for free downloads

Advanced filters and other key features are locked behind the paywall
Paid Version Details: The subscriptions are usage-based and start at $1.99 a month.
Method 3: Some Efficient Ways to Make GIFs from YouTube Videos without Watermark on iPhone
There are lots of GIF apps for iOS that you can use to convert YouTube videos to GIF files. Here are two great options for you to try:
App #1

GIF Toaster

This is a great iOS app for your iPhone that allows you to make GIFs from any video in just a few taps. You'll need to download the YouTube video separately and keep it on your device memory. Once you do that, here's how to proceed with converting the YouTube video into GIF:

Step 1: Install the app and launch it on your iPhone.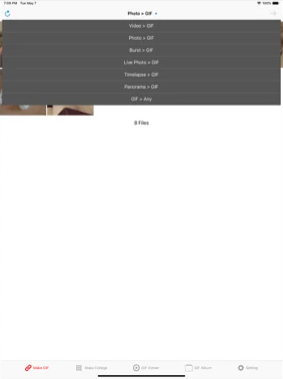 Step 2: Select 'Video to GIF' as the conversion mode in the dropdown menu, then choose the video.
Step 3: In the GIF editor, you can change the speed, add filters, crop, rotate, flip, and do other actions.
Step 4: Tap the arrow on the top right to go to the next page, where you can set the encoding parameters, convert the file, and download the GIF. You can see the final output in the GIF viewer that's built into the app.
Pros

Free to use (with in-app purchases)

Easy to create GIFs from multiple sources

Several editing options to make your GIF stand out

Burst photos and Live photos can also be converted to GIF
Cons

Some advanced filters require the Pro version

You can't download from a YouTube URL
App #2

GifMov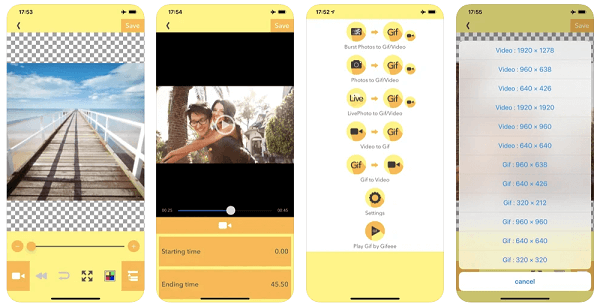 Another useful video to GIF app for iPhone is GifMov. It's free to use and very simple, but that also means you don't get very many options for editing and adding stuff to your video clip. Nevertheless, it's a great little tool to quickly convert downloaded videos, images, Live Photos, and Burst photos into GIF files and post them online.
Pros

Completely free and no watermark

Simple interface

Options to select the aspect ratio of the output file
Cons

No advanced features

Output quality is not great
Method 4: Recommended Ways to Create GIFs from YouTube Videos with No Watermark on Android
Android has even more options when it comes to YouTube to GIF converters without watermarks. Here are a couple of great examples:
App #1

GIF Maker - GIF Editor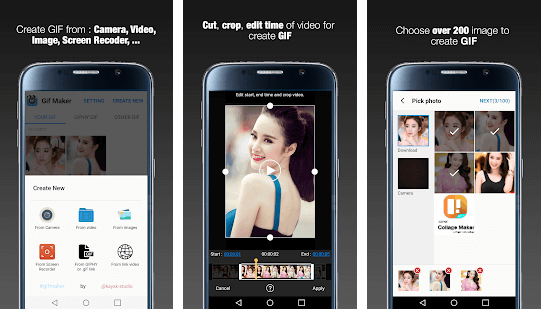 This cool Android app is designed to help you make basic GIFs very quickly and post them on social media. It is ad-supported but does not apply a watermark to your output GIF. You can also upgrade to Pro to get rid of the ads and take advantage of some advanced filters and such. Once you download the video, do the following:
Step 1: Install and launch the GIF Maker - GIF Editor app on your Android device.
Step 2: Tap Create New and choose video as your source.
Step 3: Crop the video, specify the length, and do other edits on this page, then tap Apply to confirm the changes. You can also change the speed, add text, add stickers, and labels.
Step 4: Export the GIF to your Gallery.
Pros

No watermark even in the free version

Slick interface

Fast GIF creation
Cons

Ads are a little intrusive

No advanced editing
App #3

GifGuru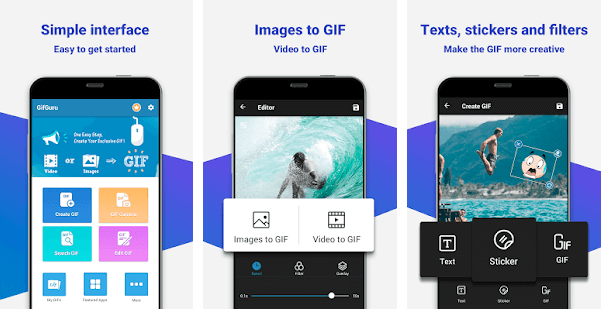 This Android app converts both images and videos to GIF and has extensive video editing tools included. After downloading the video, follow the steps shown here to convert the YouTube video to GIF without watermark:
Step 1: After you install the app from the Play Store, tap Create GIF and select Video to GIF.
Step 2: Choose your video to import it.
Step 3: You can now add text, stickers, etc.
Step 4: The Edit panel gives you a whole set of tools to trim, crop, rotate, speed up, slow down, reverse, and do other actions on the video file.
Step 5: Download the final GIF output to your Android device.
Pros

Lots of effects and filters to choose from

Extensive video editing capabilities

You can create collage videos from your media files
Cons

Default downloads are low quality unless you upgrade

Speed issues when editing a GIF that you already have
FAQs - Things You Wanna Know…
Is there any copyright issue if I make a GIF from a YouTube video?
The jury is still out on this decision. There's no specific law that includes YouTube to GIF as a copyright infringement, but it does fall under the purview of fair usage policies currently in effect around the world. That means you can't claim ownership of the content and you will need to attribute the original owner if that's applicable.
Can I remove the w