Most internet users turn to YouTube for their video requirements and it never disappoints them. That necessitates the use of YouTube video intro templates to make an intro for every video.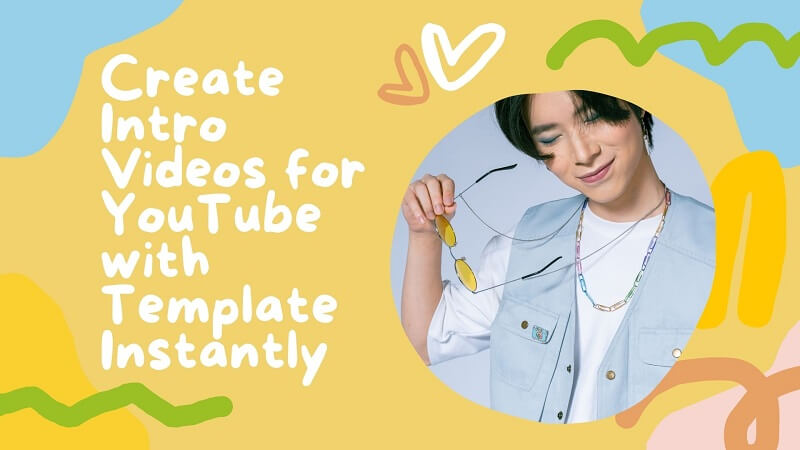 A video intro is a part that appears at the start of the YouTube video. It might be your brand's signature or a short animated clip that establishes the identity of your video instantly. An intro will enhance your brand recall, build trust, portray a professional impact, and leverage video marketing. For the Beginner, if you've come across any great clips and would like to use them for personal purposes, iMyFone Filme is the best tool for you.This guide will help you create fantastic intro videos for your YouTube instantly. We have a list of free tools that offer YouTube video intro templates to help you do that.
Part 1. Free Online YouTube Intro Makers
The internet offers many free video intro creators, so you will find one that matches your needs. However, to help you avoid the hassles associated with the selection process, we have gathered the four best free online YouTube intro makers. Here are the tools.
1.Renderforest
Renderforest is the first free YouTube intro creator on our list. In addition to creating intros, you can use it to make logos, animation, and a website. It offers many amazing tools to allow the easier creation of promotion videos and intros. And because it is cloud-based, you do not have to download anything onto your computer or mobile device. The video maker offers a long list of video intro templates to match your YouTube video needs.
Pros:

Pro 1. Renderforest offers over 4 million high-resolution images to allow the creation of YouTube intros and outros

Pro 2. You can customize many graphics and templates on this platform

Pro 3. The built-in dimension environment saves time and panic during the design and creation of intros for YouTube
Cons:

Con 1. The intro video comes with a watermark

Con 2. It is not available offline
2. Canva
Canva offers a free YouTube intro maker service for both the free and pro users. To create a free intro video, you will have to choose free resource, such as music, image, or animation. One great thing about Canva is that it offers free YouTube intros without watermarks and it can use the tools to remove watermark. It also offers a long list of features such as amazing YouTube video intro templates, music, videos, and text to give your videos professional effects. The process of making intros with this video maker is simple and fast.
Pros:

Pro 1. It has support for various video formats, including MP4 and MOV

Pro 2. You can download the intro and outros

Pro 3. The free version has no limits on the downloads

Pro 4. Comes with a social scheduling feature at no cost
Cons:

Con 1. The many features affect its ease of use

Con 2. You might experience a lag or choppiness at times
3. VideoCreek
VideoCreek is another popular video and intro maker that comes with paid and free plans. To start making intros for your YouTube videos, you just need to sign up on the official website. The tool is cloud-based and therefore you do not have to download anything onto your computer or mobile device. Each free video or video intro will come with a watermark and 240p quality. Furthermore, you will have to provide your name and email to download it. VideoCreek offers limited HD video downloads per month for people who choose the free plan.
Pros:

Pro 1. Provides extra editing steps

Pro 2. Offers numerous video editing templates at no extra cost
Cons:

Con 1. It is not available offline

Con 2. High-resolution intro videos require a premium account
4. Tube Arsenal
While Tube Arsenal is not free to use, it offers awesome video intro templates and that is the key reason we included it in this list. Tube Arsenal also offers some of the best YouTube custom intros but it is cloud-based. To create an intro, you just need to choose an opening video template, change the color, text, and picture. The tool is a good choice for people who need the best YouTube intro template to help them make the best video for branding. People who need the best intro video templates and ideas for reference also choose it.
Pros:

Pro 1. You can start creating YouTube intros without creating an account

Pro 2. The video intro templates on this platform are categorized according to tags and therefore you will find one to match your needs easily

Pro 3. It has a user-friendly interface
Cons:

Con 1. It does not have a free version. The final copy will come with a watermark unless you pay for it

Con 2. Comes with limited functions
Part 2. The Noticeable Tips to Make Your YouTube Intro Professional
YouTube has not set any specific rules for intros, so you should be creative when making one. The only thing you will have to observe is the guidelines listed in the YouTube community.
Tip 1: The Element Should Be Included in the Intro
A YouTube video intro functions more like a header for an article. It should pique the interest of your target audience and influence them to watch the entire video. It is for that reason you should include bold animations, pops of color, and video clips that will keep your audience glued to their screens for a long time.
Hope for Paws' channel on YouTube is an example of the channels that use intros effectively. Their intros consist of an animation of a cat that tears down the screen with its claws to reveal the logo of this organization and its main partners. Including the key elements of your brand such as the logo, channel name, font, website link, or hashtags will help you establish a brand.
Tip 2: The Best Length of the Intro Video
A YouTube video intro should be short, engaging, and it should not subtract the main content of your video. Therefore, the length of each YouTube video intro you make should be between 10 and 15 seconds. The time is enough to deliver the message and hook your audience in for the whole video.
You might lose your viewers if you exceed the time because they will not be ready to wait for a long time to watch the main video. If you visited the YouTube channel of New Inventions, for example, you will realize that their video opener is just five seconds long. The intro is long enough to entice their audience and tease the main content.
Tip 3: Do Not Use Copyrighted Content
YouTube copyright infringement seriously and problems may arise if you use copyrighted content on your intro video. The platform may take down your video and penalize you with a strike. So, when choosing images, music, or videos for an intro, ensure that you are the one who created them or they are copyright-free. Otherwise, there are chances that YouTube will remove the intro from your video or ban your video.
Part 3. How to Make YouTube Intro with Intro Video Template
iMyFone Filme is among the best video editing tools you will ever come across. The tool is beginner-friendly meaning that you can use it to make your YouTube video intros, whether you have ever used another video editor or not. Its many simple features will help you make appealing and captivating video intros in no time.
Filme also supports almost every video format. It supports all audio, video, GIF, and image formats. That means you can use it as your video converter. After creating a video, you can export it in various aspect ratios, sizes, frame rates, file containers, and several other settings. Here are the steps to follow when creating a video intro with this tool.
Step 1: Start by Creating a New Video Project
After downloading iMyFone Filme and installing it on your computer, you have to launch. It will display several options. Click on the "Editing Mode" and click on the File Menu. Choose "New Project" on the tab that pops up and choose your desired aspect ratio. You can choose Widescreen, Standard, Portrait, Cinema, or Instagram. After that, move to the Media Menu and import the files.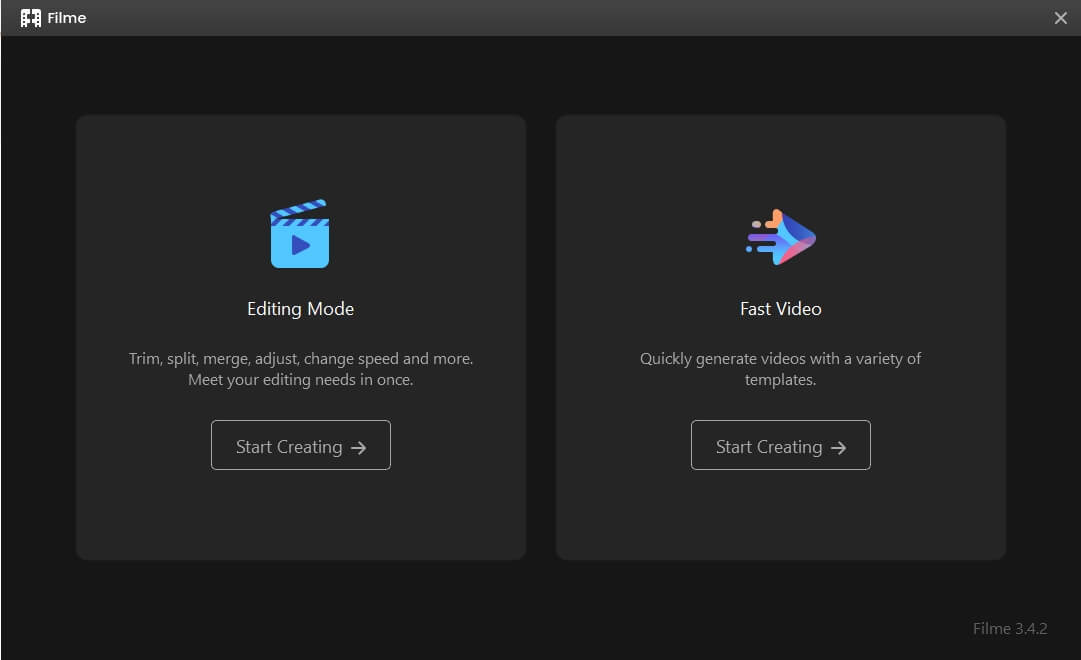 Step 2: Browse Our Varieties into Template
iMyFone Filme offers a feature known as FastVideo Mode that comes with many categorized templates. You can apply the YouTube video intro templates directly on top of your existing video clips and rearrange them later. The template categories include business, travel, education, and holidays. So, choose the templates that complement your YouTube content and come up with a theme that will powerfully hook your target audience.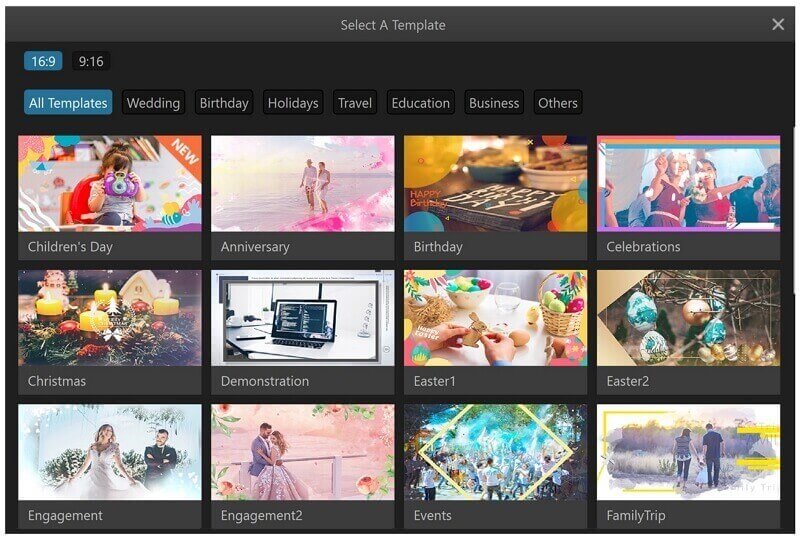 Step 3: Edit Your Intro with Your Information
You have successfully added the video intro templates. Now you should start making changes, such as splitting, rearranging the templates, cropping, adding effects, text, and audio editing. To edit the video, right-click it and choose "edit" to display the edit menu. Here are the types of edits you can do and how to do them.
Split and Trim the video:
To split and trim the video , place the Timeline pin at the needed point and click the scissors icon. You can cut out the start or end of the video by dragging the edges inwards.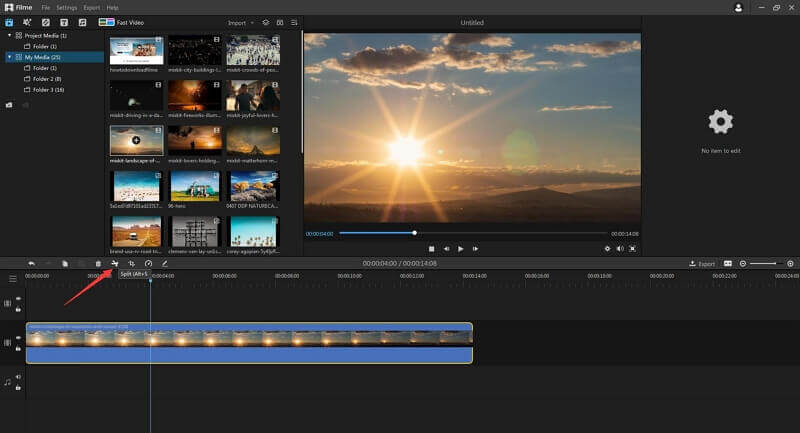 Crop the Video Intro:
To crop your video intro, choose the clip and tap the Crop icon. On the window that appears, specify the size, preset the aspect ratio, or crop the video manually. Click Ok to complete the process.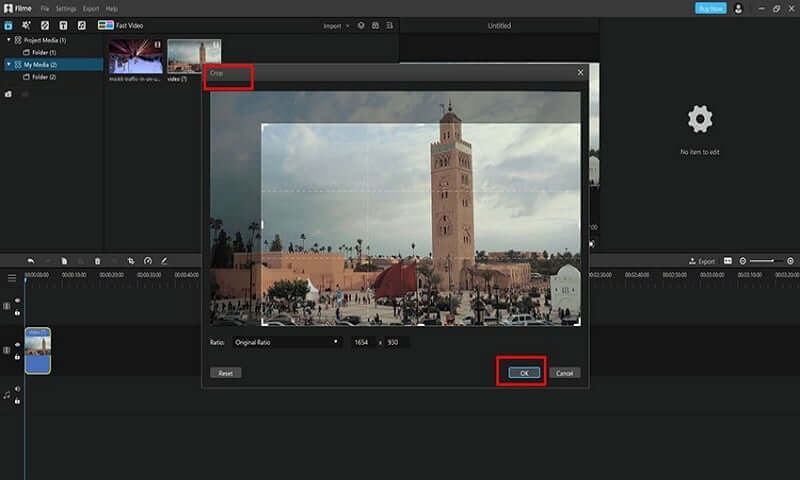 Rotate the Video:
You can rotate the intro video by double-clicking the clip and changing the rotation angle on the editing panel situated on the right side, slightly above the Timeline editor. Click Ok.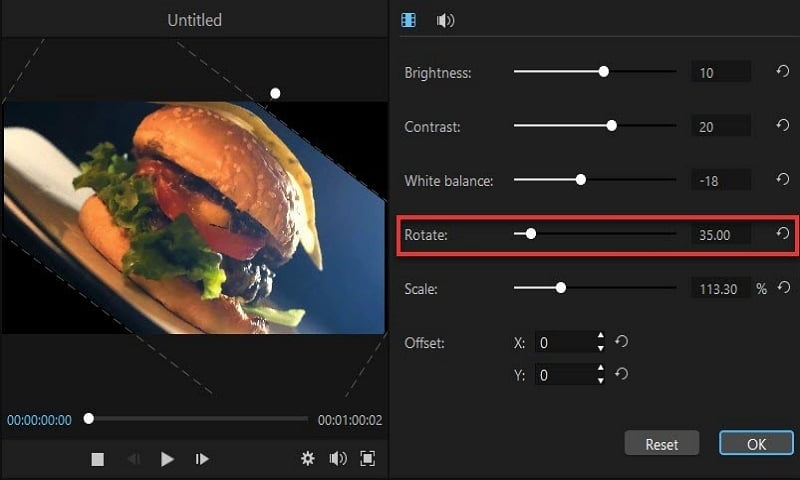 Adjust the Speed:
If there is a need to adjust the speed, choose the clip and apply a slow or fast speed factor.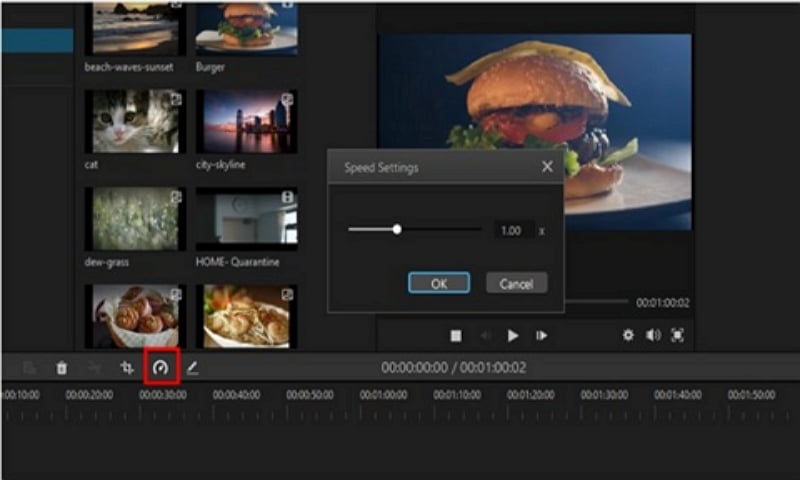 Step 4: Publish and Share
Now, click the export option. Remember to choose the file format, output quality, encoder, frame rate, and bitrate before exporting the video intro.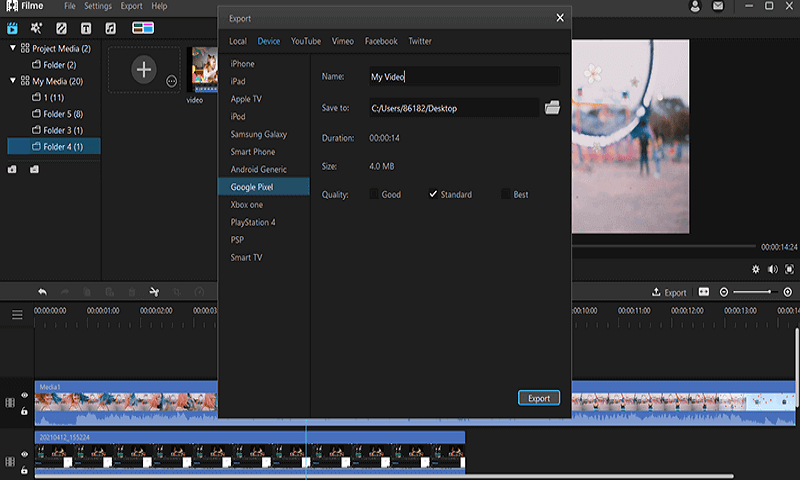 iMyFone Filme allows you to make a video opener for YouTube without any watermarks. Its powerful editing features and simple user interface make it a good choice for beginners. Furthermore, the effects, transitions, and several other build-in resources are appealing. If you have never used it before, here are the other features to expect.
Features of Filme
If you're wondering why Filme is worth buying, here are the key reasons

Easy Basic Editing: iMyFone Filme offers several options and tools like crop, split, rotate, and adjust speed to allow you to edit your videos professionally.
Abundant Built-in Resources: It offers many cool effects and you can add filters, transitions, and animations to make your YouTube video intros unique and give a professional vibe.
One-Click Fast Video Mode: This feature is important when you do not want to make a YouTube video intro from scratch. You just need to choose the fast video mode.
Instant Preview: You do not have to edit the whole video to use the preview option. You can use it whenever you want.  
Screen and Audio Recording: You can record the screen of your computer and audio using this tool.
Social Media Sharing: Share videos on Twitter, Facebook, Vimeo, and YouTube instantly.
Final Thoughts
The above tools offer YouTube video intro templates to help you make an engaging and compelling YouTube video opener. You do not have to be an expert video editor or creator to use the tools because they are beginner-friendly. You will turn your YouTube viewers into lifelong subscribers.