SpongeBob is a beloved character from the nickelodeon cartoon show SpongeBob Square Pants. Kids of all ages watch daily on the network. Many of its reenactments of real-life scenarios have also made it famous among adult viewers.
Where there is popularity, there are memes making fun of different situations. SpongeBob screaming meme is one meme where users change a few words, completely changing the meaning.
This article will discuss why the screaming SpongeBob meme is so popular and how you can recreate it in your streams or gaming chats. The process is simple using a voice generator, so let's find out.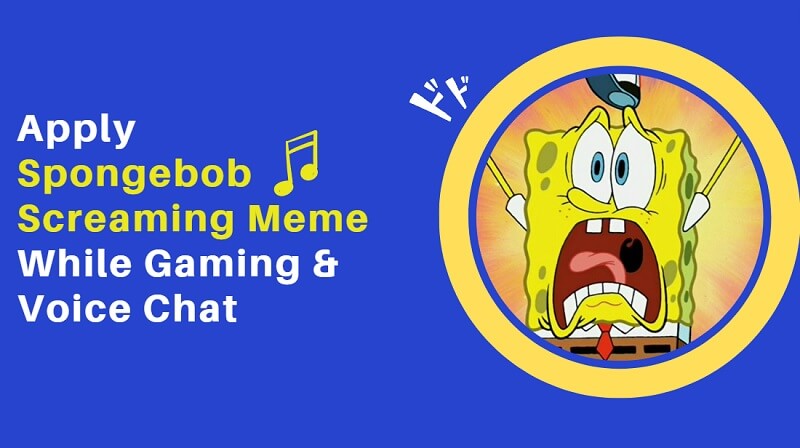 Best Voice Changer with Spongebob Screaming Soundboard
SpongeBob Square Pants is a popular show with unforgettable characters like Patrick, Squidward, Mr. Krabs, etc. if you want to sound like any of them, this section explains the best screaming SpongeBob meme generator for your chats.
MagicMic Voice Disguiser App for PC
MagicMic is the perfect real-time voice changer for gaming or live streaming if you want to make your voice sound like SpongeBob screaming inside meme. All you need is to save pre-defined soundboards, and with a single click, you can change to your favorite voices.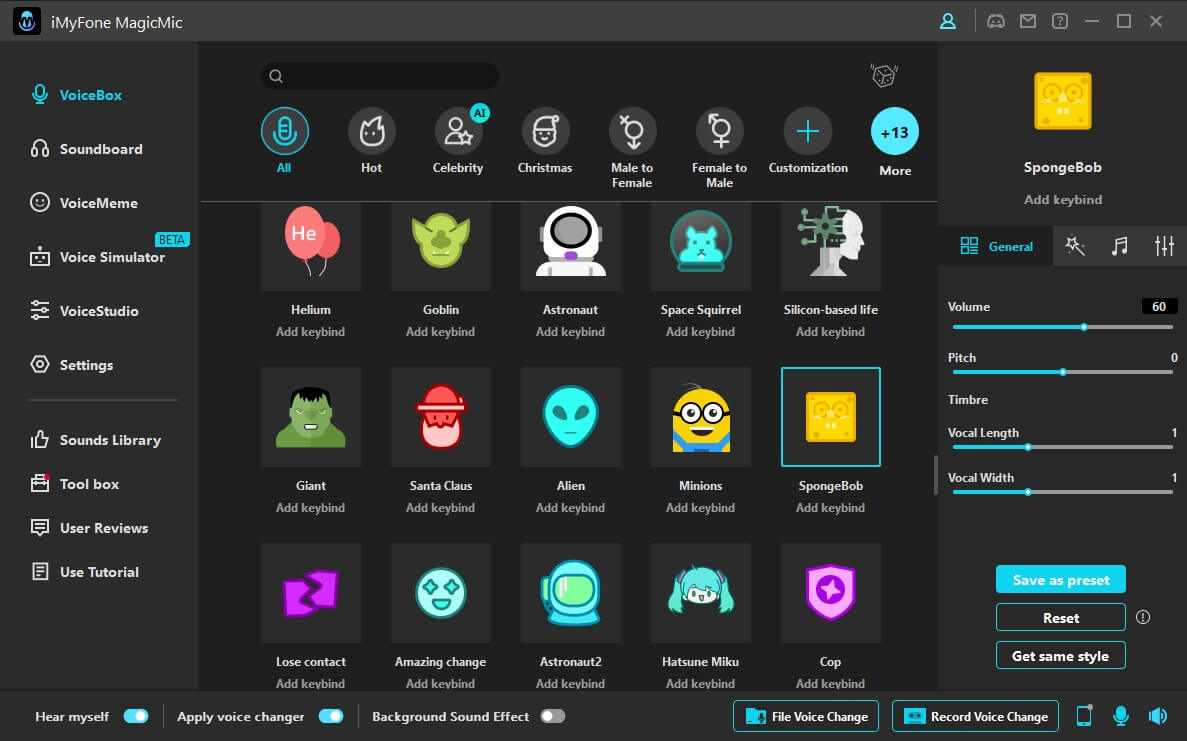 Supported OS
MagicMic voice changer and soundboard creator is available on most regular devices such as Windows, Mac, and mobile devices. You can access your single account across platforms.
Features:
125+ voice filters available to convert your voice with just a click of a button

More than 400 voice effects of having fun with friends and online gaming mates

Choose from one of 150 voice memes like SpongeBob meme screaming and add more color to your streams and social media content

You can use every conversion on any app or online games

Bookmark your favorite soundboards, which you can swap with a single key bind

Customization options for soundboards, editing each sound to your liking, tweaking your recorded voice, and tons more
Popular Sound Effects
Convert your voice to Naruto, Miku, or Darth Vader if you are a Star Wars fan, or Optimus Prime if you have always enjoyed the Transformers. MagicMic has Ironman and the Hulk for marvel fans and many scary voices for the horror movies genre.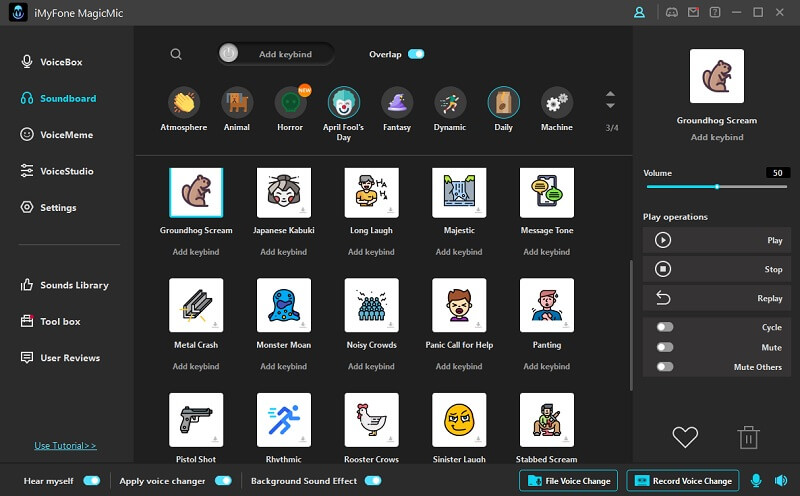 Whatever meme voices like SpongeBob screaming meme you can think of, MagicMic will indeed have it. Download Now to explore the full galore of the massive library.
How to Apply SpongeBob Screaming Meme While Gaming & Voice Chat?
1. Launch MagicMic– Install the app on your respective system from their main webpage. The download button will change to windows or mac based on your computer system
2. The Sound Effects Tab – Go to the sound effects tab and search for SpongeBob or look for it in the extensive selection
3. Key Binding – After you have selected your favorite voice effect or SpongeBob, you can add key bind to different effects
4. Use in Various Programs – Now that you have chosen your favorite sound effects and assigned them key binds, you can use them with different programs. MagicMic is compatible with games and most chat software like PUBG, Skype, Discord, etc.
5. Change App Setting – To seamlessly use the voice effect with different games and apps, go to the sound settings of that particular app. Select (Voice Changer Virtual Audio Device (WDM)) as your microphone input device. With this setting selected and MagicMic running in the background, you can use more than 200 voiceovers in your games and chats.
6. Become a screaming SpongeBob Meme Killer – You can become the SpongeBob "Winner Winner, Chicken Dinner" in PUBG and the best in online games.
Video Guide About MagicMic Voice Transformer
Conclusion
See how easy it is to sound like SpongeBob screaming inside meme? All you need is a fantastic app like MagicMic, a few of the best voice effects, and a microphone and you are all set. You can sound like any of your favorite characters while playing games, chatting online, or presenting.
The MagicMic tool can add color to your content, making people laugh and keeping them interested in what you have to say. Memes like SpongeBob meme screaming can come and go, but a valuable tool like MagicMic will stay with you and grow better with constant updates.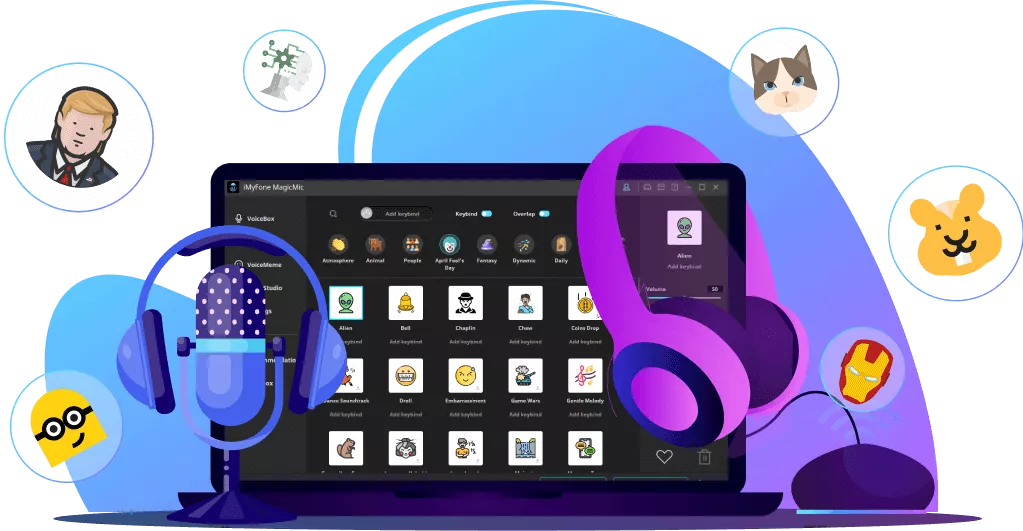 125+ Voice effects for one-click voice changing in real-time.
Huge library with 400+ Voice Effects and 150+ Voice Memes.
Sound emulator in games, live, chatting, online classes, and more.
Voice recording and audio voice changing is supported.
Voice studio lets you create any voice you like.