In this article, we will tell you how to use the MagicMic soundboard to make your gaming experience even more fun!
Part 1: Best App with Soundboard Sounds [Editor Choice]
MagicMic is a voice changing app that uses the latest technology to alter different sounds. These can include background music, sound effects, voice-changer,and so on. This sound effects app has made a name for itself because of its user-friendly interface and easy usage.
Pros Of Using MagicMic
In MagicMic,you can also use fun voice changing of fictional and movie characters to use while on a call with your friends on Discord and Skype, and games like Overwatch, World of Warcraft, and PUBG. You can use a Megatron voice or pretend to be Venom, talk in the clear secretary tones to impress your employers.

MagicMic is compatible with Windows 7, 8, 10, and 11. With over 200 sound effects to choose from, you can easily emulate whichever character you want. You can change your voice over games and group calls with just one click.

You can even prank your coworkers on Zoom by talking in a Minion voice in the next conference call! The sound effects can be added to different games and make the experience even more immersive and interactive.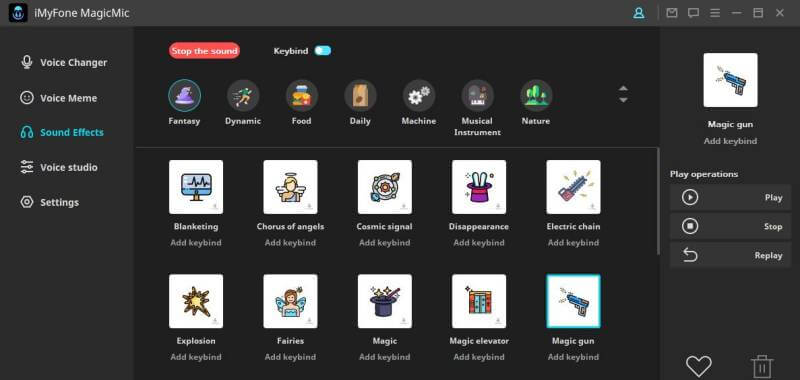 Reviews Of MagicMic
Registered users of MagicMic have been giving rave reviews ever since they started using the sound effects app. A user named Amanda said, "I loved this voice changer! It was so interesting to mess around with my friends by using it. Recommended!".

Another user Zach, mentions MagicMic is "An amazing voice changer that works fine for gamers. Satisfied with my experience."whereas Cecelia says it's a "Perfect voice changer. Satisfied with my experience."

MagicMic has consistently won the hearts of thousands of users who cannot go back to using other apps for sound editing purposes. That, combined with numerous fun voices to play with and options to test with your friends, MagicMic is the perfect tool to have on your PC or laptop for more exciting and interactive gameplay.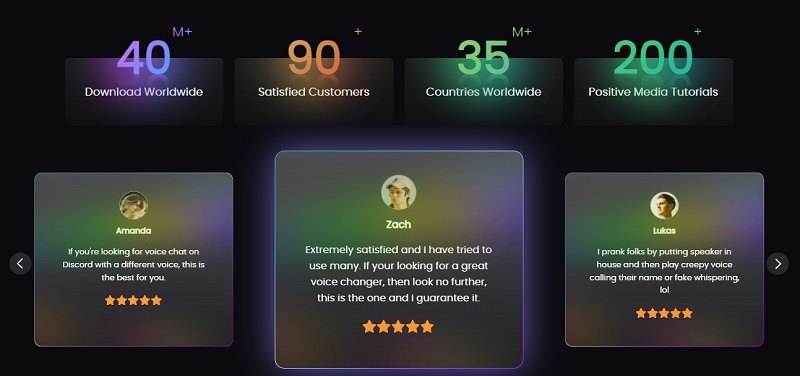 FAQs Of MagicMic
Q: Does MagicMic support Mac OS?

A: MagicMic currently only supports Windows, however, it is also working on supporting Apple products soon too.

Q: How does one register with MagicMic?

A: Double click on the software to launch it. Click on the user icon in the top right corner of the user interface. Once the login panel opens, use your registered email address and license code (sent to you after purchasing the application).

Q: How to use MagicMic with Zoom?

A: MagicMic is compatible with Zoom. After downloading, installing, and configuring the app on your PC, double click on the Zoom icon to launch it. Click on the Settings option in the top right corner. From there, go to audio and select 'microphone (voice changer virtual audio device)' from the dropdown menu. Click the Test Mic button to test the voice and its editing and adjust your microphone accordingly.
Part 2: Hot Soundboard Sounds Highly Recommended!
MagicMic offers its users to choose from hundreds of sounds that can be used during live gameplay or while chatting with friends online. You can use additional effects behind games such as gunshot sounds, explosions, static, and walkie-talkie sounds to create a more interactive and multidimensional atmosphere. Not only that, you can choose from the numerous voices to prank your friends either mid-game or even during a conference call with your family.
To use MagicMic for voice-changing purposes, the first step is to download the MagicMic app and finish the installation. Once the installation is complete, launch the app from your desktop. Then, click on the Voice Changer option in the top left corner, which will take you to all the available sounds and voices with the app. Some of the popular soundboard's include:
Trump Soundboard
Everyone is familiar with Donald Trump and his controversial presidential tenure. In the Trump soundboard, you can find over 150 sounds relating to the various funny activities the ex-POTUS carried out at various times.
Fart Soundboard
Fart sounds are probably the oldest form of pranks. Previously Whoopee cushions were used to prank colleagues but now, since the workplaces have shifted online and the chance to carry out in-person jokes is low, the MagicMic soundboard allows you to play fart sound effects and let you all have a good laugh!
Dog Soundboard
Dog soundboard is also available on the MagicMic app. Here you can find numerous dog sound effects including growling, barking, whining, panting, and getting angry. These sound effects can be used in the background when playing games or even when playing with your own dog at home.
Part 3: FAQs about Soundboard Sounds
Q: I'm not sure if my project will make me money in the future. Can I still use background music on soundboard websites, for free?
A: It depends,you can check the soundboard website's policy. Mostly, you can use the music for free, but if you end up making money, then you are required to donate at that time.
Q: What does Royalty Free, really mean?
A: A royalty free license means that after you obtain a license, you can use a track more than once without paying again.
Q: Can I loop the music, make it longer, speed it up, or slow it down?
A: Yes.
Conclusion
Soundboards are getting increasingly popular among gamers worldwide. Their numerous fun options and exciting voice effectscan enhance the in-game experience and make each game more thrilling than the last. Whether its background sound effects or voice change for pranks, the iMyFone MagicMic will soon become a favourite among you and your friends.