Thunder sound effect has suddenly become really popular in live streams, and it does make your streaming experience quite entertaining. The gamers especially are using thunder sound effects these days to add a little depth to their streaming.
Thunder sound effects are available on different sites, and you can easily download them from there. Websites like Sound Idea and Orange Free Sounds offer fully-fledged libraries of thunder sound effects. Want to know more about it? Keep reading.
Part 1: What Causes the Sound of Thunder?
We all know that thunder is pretty common in extreme weather, but not a lot of people know the actual reason why it happens. The thunder hardly takes a fraction of a second to hit the ground, and everything that comes in its path bursts into flames.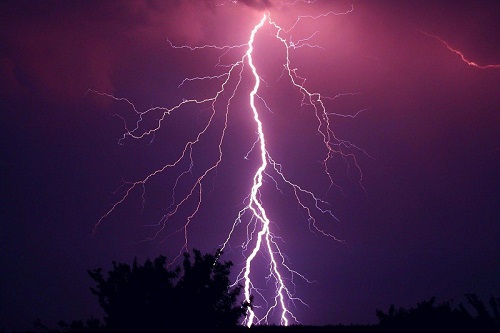 The thunder sound that we usually hear is the sound of the lightning bolt itself and is caused when the bolt hits any surface. This sound is very intimidating, and at times, it is paired with other sounds, too, like growls that are caused by an expansion in the air during thunder.
The shock wave or thunder wave that we witness comes with a booming sound of thunder. The type of thunder sound you hear also depends upon the way lightning hits the ground and the way it is reacting up in the sky. Each lightning has its own unique sound, different from the other ones.
Part 2: Best 5 Sound Library for Thunder Sound Effect
There are a lot of sites from where you can get thunder sound effects of different types, but most of them cost a little too much and do not offer the type of sound quality that you want. And if you want to apply thunder sound effects while gaming or live,iMyFone MagicMic is highly recommended.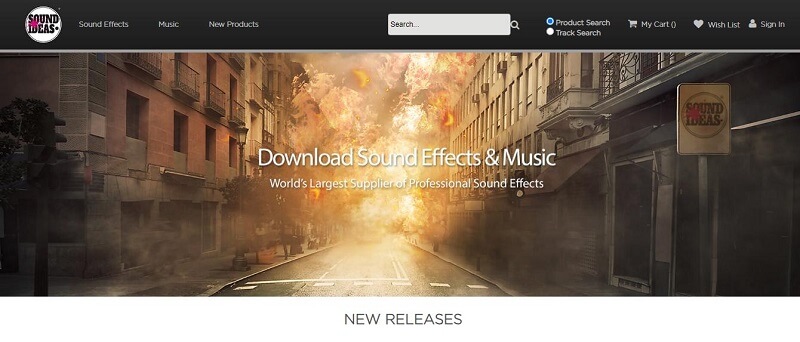 This site is specifically made to make the download of sound effects easier for you because you can just add the tracks to your card and get them without any hassle. If you want unlimited access to the site, you can get an annual membership to the site, too, which helps with downloading whatever you want. The outlook of this website is pretty trendy and easy to use.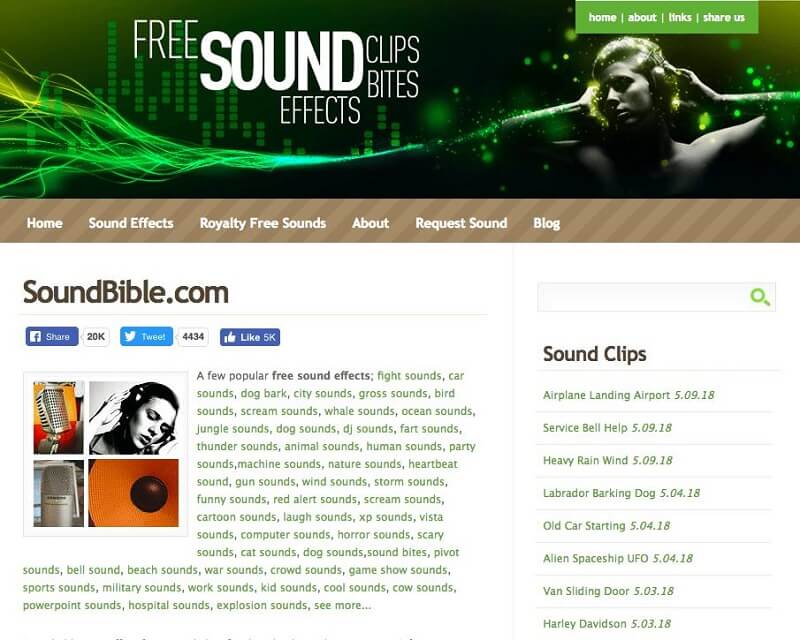 If you are looking for royalty-free sound effect mp3, Sound Bible has to be your ultimate stop as it features thousands of sounds in the library. Another great thing about this site is that it contains more than 35 different types of thunder sound effects. All the sound effects are free to download.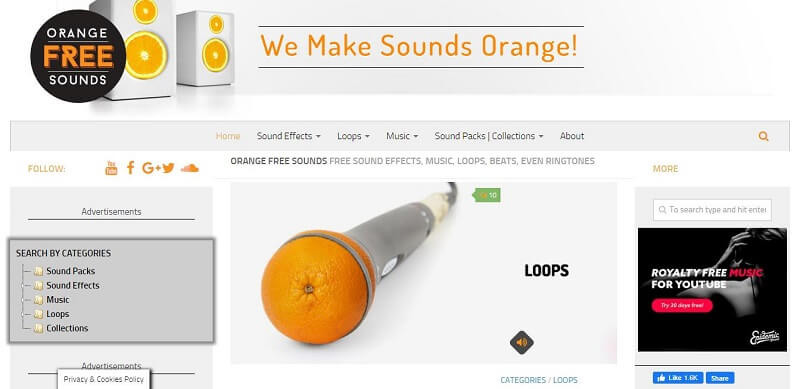 This is yet another great site from which you can get quite a lot of sound effects for free. The library of sounds on this site is pretty huge, and it contains more than 100 different thunder sound effects. Downloading these sounds is pretty easy, too, and you can do it without any hassle. It does not take a lot of time to download.
This site is made to offer free sounds to the audience without having to pay hefty amounts. A new thunderclap sound effect is added regularly to the website too. The website is introducing new features every day, too, so that the user can get the most out of it. All the sounds are of high quality and royalty-free.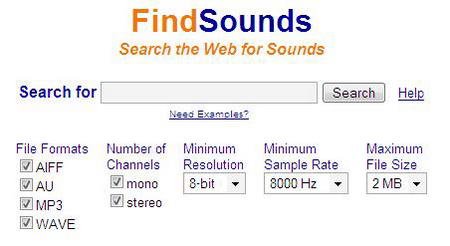 You can find all types of thunder sound effects free on this site. It has more than 10 pages of thunder sound effects, which tells us a lot about how big of a library it has. The sounds are really easy to share and download too. Also, finding your favorite sounds is free on this site.The navigation is very easy on this site and gets you results of only the sounds you searched for.
Part 3: Any Excellent Software Contains Thunder Sound Effect?
Magicmic [Editor Highly Recommend]
If you are looking for reliable software for thunder sound effects, then look no further because iMyFone MagicMic is the finest software you can get for your live streams. It offers around 3 different types of thunder sound effects, but that is not it.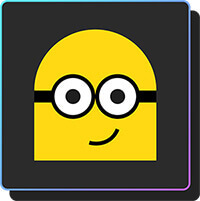 The site also offers related to thunder like:
Thunder sound effect no rain

Rain sounds

Wind sounds

Water bubbles sounds

Summer beach sounds

All these sounds are available in high quality on MagicMic, and you can add them during your live streaming directly with just a few clicks.
Steps to import audio files on MagicMic
Another great thing about this software is that you can also import thunder and lightning sound effects from your PC. The function of importing sound effects is that you can get just the right type of sound that you want, and you can have your own library of hundreds of thunder effects to add to your streaming.
If you don't know how to add import thunder sound effects, then go through the below-given steps:
Step 1: Launch the MagicMic software on your PC.
Step 2: Download your desired thunder sounds on your device.
Step 3: Open the software and go to the "voice meme" tab at the right side just below "voice changer."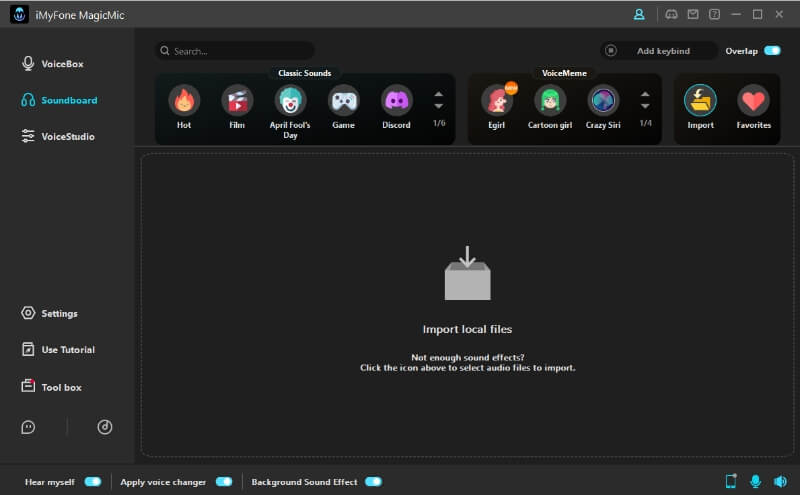 Step 4: When you click on the voice meme icon, you will see a folder and an option below it.
Step 5: This option will say, "click here." Click on it to import files to MagicMic and add them to your live streaming directly.
Final Words
So, having a cool Livestream is a dream of every gamer, but not everyone is familiar with some simple tricks to make your streaming worth watching. Something as small as a thunder sound effect can also change the dynamics of your streaming, and that is the very reason why we listed the finest websites to download high-quality sound effects from.
We would highly recommend you to use iMyFone MagicMic for live streaming to be saved from the hassle of long steps just to add sounds to your streaming. MagicMic is not only a reliable software, but it also does not take up a lot of space, so go for it.