No doubt, many people love the sound effects of musical instruments. Many movies have come with amazing musical instrument sound effects. iMyFone MagicMic is the best voice-changer that offers you the musical instrument soundboard.
In this article, we will show you the best method of using musical instruments sounds.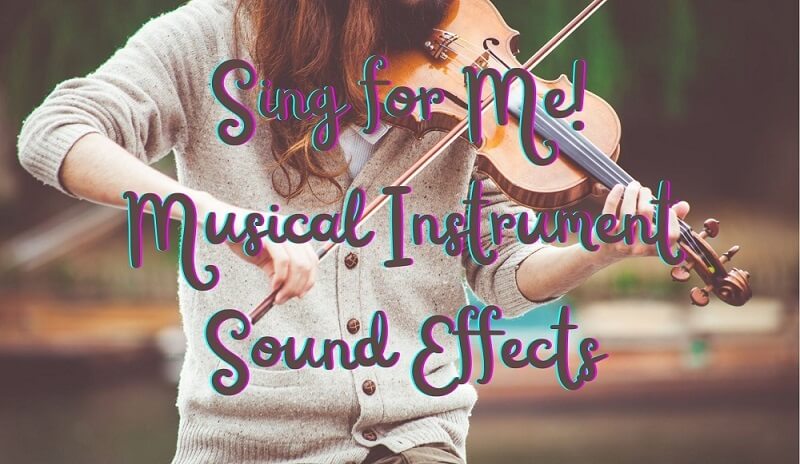 Part 1: What Are the Benefits of Playing Musical Instruments?
Indeed, playing musical instruments come with numerous benefits. It can help increase memory, enhance coordination, and sharpen concentration. Let's take a look at these benefits of playing musical instruments.
1) Increase the Memory
People who love to play musical instruments have better working memory skills. As a result, they can remember things better even while their minds are busy with other stuff. As learning music requires concentration, it can increase brain memory. This is one of the biggest benefits of playing musical instruments.
2) Enhance the Coordination
Want to develop motor skills? Playing music is a great way to improve your coordination. Even dancing to your favorite musical instrument sound can help. Playing music helps the body and mind work together. The best voice-changing tool can provide you with musical instrument sound samples.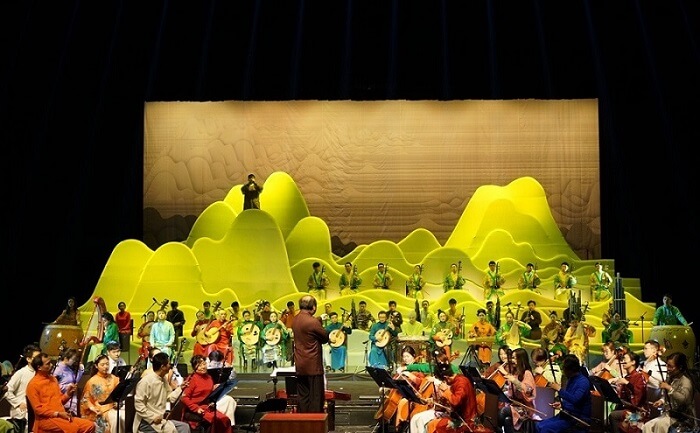 3) Sharpen the Concentration
Of course, playing music will need to focus on various things like pitch, rhythm, and quality of sound. Doing so will sharpen your concentration levels. MagicMic can do the magic for you by providing a huge collection of musical instrument sound effects. What else are you looking for?
Apart from these benefits, a musical instrument can help reduce your stress levels. For this reason, it is recommended to use MagicMic to add these sound effects to your videos.
Also Read
Did You Sleep Well Last Night? | Ambient Sound | Atmosphere Soundboard
Rest Well with the Help of Nature Sounds | Nature Sound Effect | Nature Soundboard
Hey! It's Disco Time! Bring Some DJ Sound Effects!
Make Your Sound Rhythmic with Drum Roll Sound Effect
Part 2: The GorGeous Musical Instrument Theme Soundboard in MagicMic Voice Changer
iMyFone MagicMic voice changer comes up with the musical instrument soundboard in the Sound Effect panel. It allows you to change your voice during a game, live streaming or an online class. It is a wonderful and flawless voice changer. MagicMic offers you pretty popular sound effects and voice filters.
Undoubtedly, you can use musical instrument sound samples on different occasions. Here are some of those occasions:
1) As the Ringtone
Are you looking for a perfect ringtone? Look no further than musical instrument sound effects offered by MagicMic. Let the music sound warn you when there's a new message!
2) As the Alarm Clock
Do you struggle waking up early in the morning? If you do not wake up after hearing your alarm clock, try musical instrument sounds. Wake up in a relaxing musical sound would bring you the bright mood for whole day!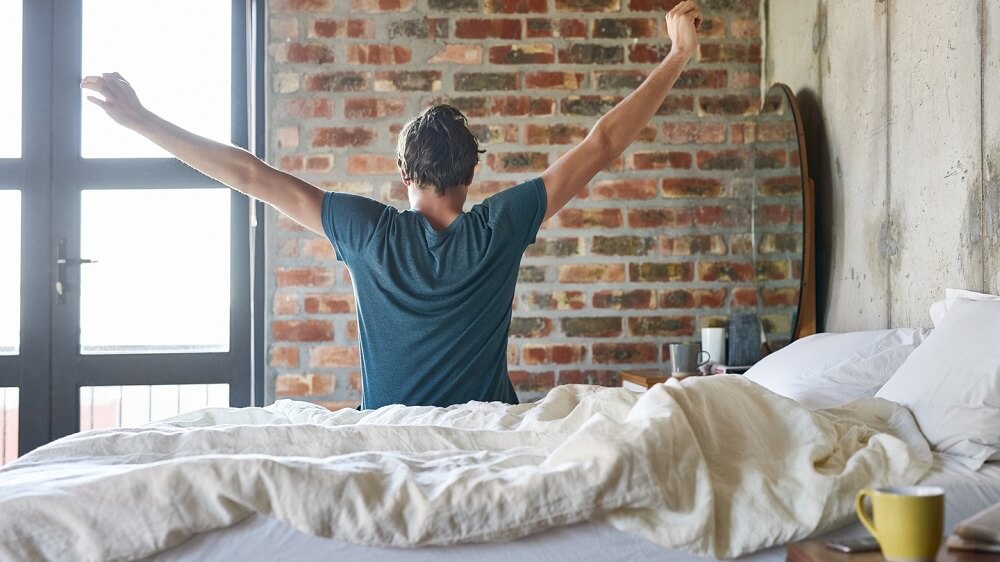 3) A Birthday Party Video
Want to surprise your friend on his or her birthday? Adding fascinating music to a birthday party video can entertain your friend. Explore a huge collection of musical instrument sounds to select a desired one.
Part 3: iMyFone MagicMic- Not Only Sing for You!
iMyFone MagicMic is a perfect option that offers musical instruments used for sound effects.
Wondering how to add musical instrument sounds with MagicMic? In the next section, we will show you a step-by-step guide on adding MagicMic's musical sound effects.
Steps to Add Musical Instrument Sound Effects with MagicMic
Step 1: Launch iMyFone MagicMic
First of all, you need to download MagicMic from the official website. After that, make sure to install and launch the program.
Step 2: Select the Device
You will need to choose your microphone as the input and headphone as the output device. Selecting the device is pretty simple!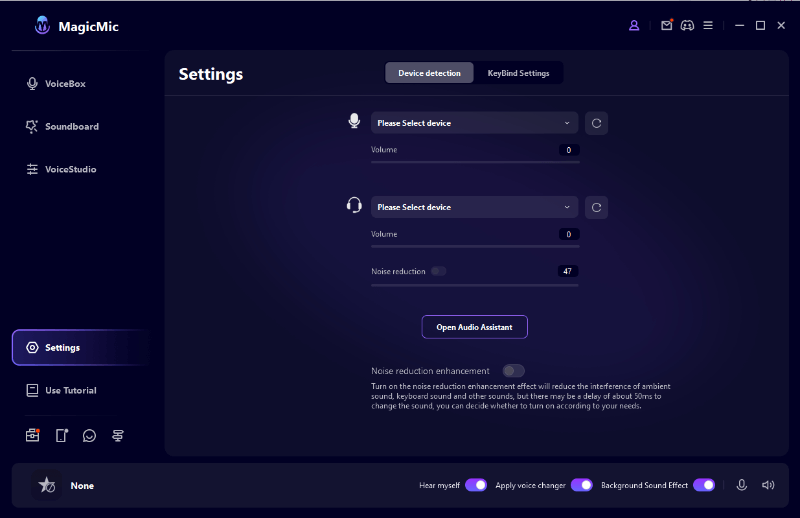 Step 3: Choose the Sound Effects
MagicMic offers 300+ sound effects. You need to click any musical sounds in the Sound Effects tab. Speak into your microphone to check what it sounds like.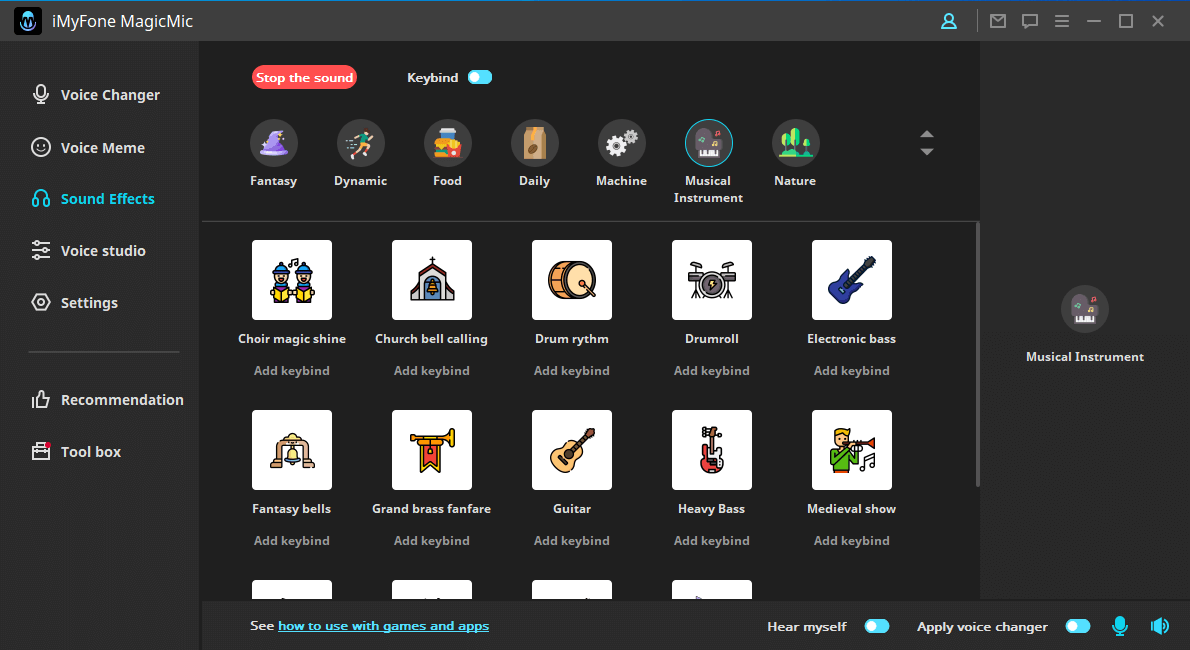 Key Features
MagicMic offers some key features to give you an excellent voice-changing experience.
1) Voice Studio
MagicMic lets you create your unique voice in the Voice Studio. Many people prefer creating something that's unique for them. This is where the Voice Studio can come in handy for the sound of musical instrumental free.
2) Numerous Effects and Filters
iMyFone MagicMic offers hundreds of voice filters and sound effects. Such a huge collection of voice-changing effects can meet all your needs. You can choose from 300 sound effects and 48 filters.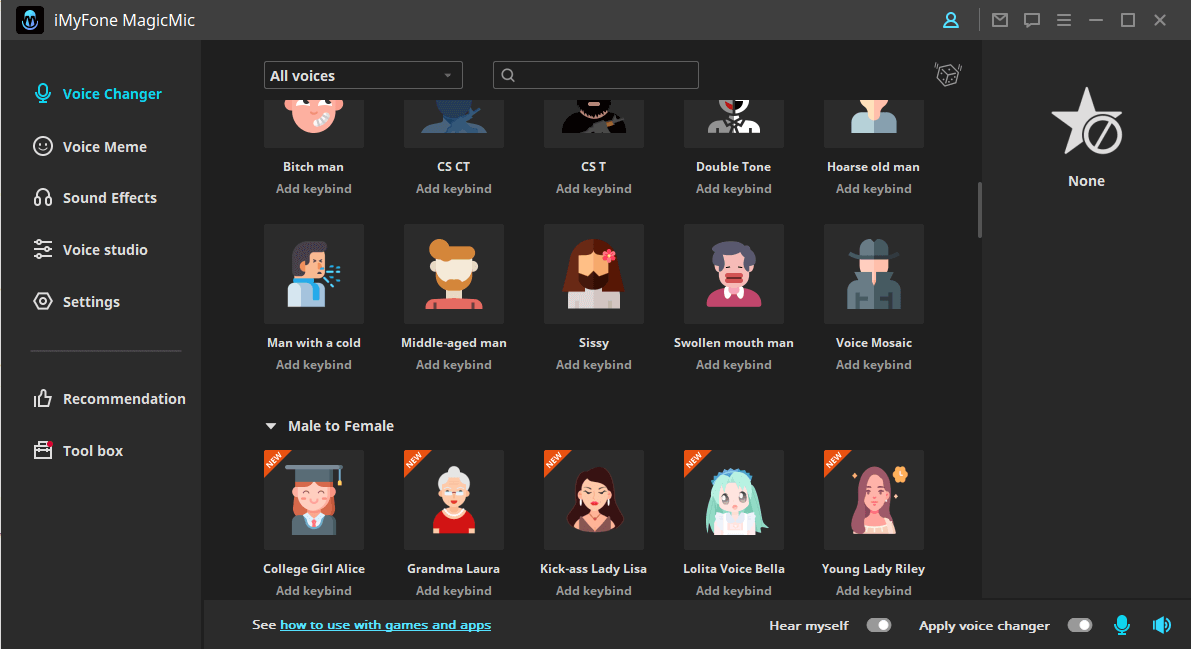 3)A Huge Soundboard Variety
MagicMic provides a huge variety of soundboards. You can use the Keybind section to display all your soundboards in one place.
Get more soundboards in this video!⬇⬇⬇
4) Support Various Platforms
It works perfectly for various platforms such as Fortnite, PUBG, Skype, etc. So, you can use musical instrument sound effects for many streaming, chatting and gaming programs.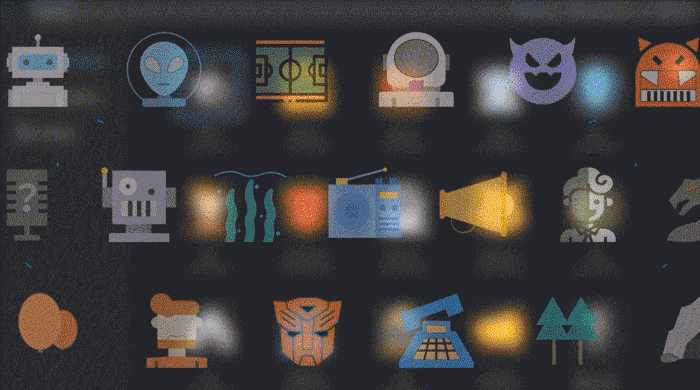 Pros

Easy to use, intuitive user interface.

A range of example of soft sound musical instrument.

Large discount for the yearly pro version.
Conclusion
Are you searching for the musical instruments sounds? iMyFone MagicMic is the best platform to use various sound effects. It is a beginner-friendly voice-changing tool with numerous benefits. Download it from the official website.