Are you looking for crickets chirping sound effects?
Thanks to evolving technology, you can now find the sound effects of different animals. Many people opt to play the soundboards of animals to prank their friends or scare them.Cricket Chirping Sound Effect is quite hot these days.
But where would you find night cricket sound effects?Luckily, we've come with various prolific tools to help you get what you've been looking for.
Part 1: How Does Cricket Sound Effect Make Fun?
Crickets are insects that make awkward noises by chirping at night. The noise they produce is called stridulation by rubbing one body's part against another.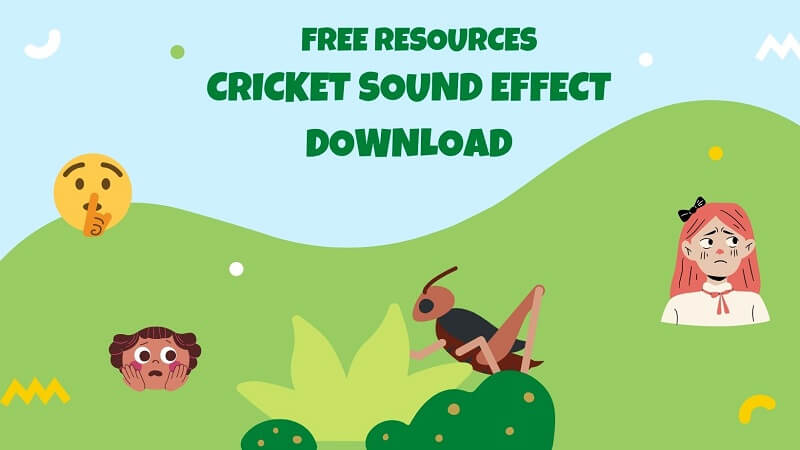 Many people opt to play cricket sound effects while taking online classes to have fun,especially there is nobody answer teacher's question.
Part 2: How to Get Cricket Sound Effect?
You can explore prestigious cricket sound effect options by using iMyFone MagicMic. It is a fabulous voice changer that allows you to alter your voice in real-time with minimal effort. Luckily, you can explore using 100+ voice-changing options followed by over 300+ sound effects.
Features:
MagicMic not only is a sound effects app but also a voice changer.

MagicMic supports real-time voice changer and sound effects on various platform.

Using MagicMic, you can add memes and cricket sound effects to in real to your video call in real-time.
Pros:

It allows you to customize your own voice.

Extremely straightforward user interface.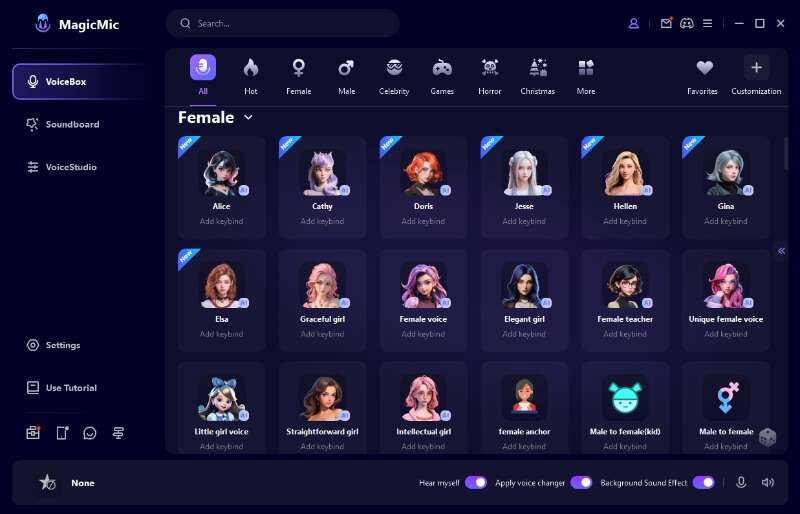 Serves your purpose faster than you expect.
Zapsplat allows you to explore 98000+ free sound effects with ease. Surprisingly, you can download all the sound effects for free, meaning this online library is worth your time.
Luckily, Zapsplat regularly updates to improve the user's top-notch experience. Moreover, Zapsplat uses professional recorders and microphones to record every sound effect.

Features:
Zapsplat supports the audio output formats, including MP3 and WAV.
You can use Zapsplat sound effects for commercial, personal, and broadcasting purposes.
It allows you to play a lot of sound effects, including cricket sound effects.
Pros:

Free.

Easy to use.

Social media feel.
Soundsnap can be an incredible website for cricket sound effects as you'll need to tap the sound effects to play them.
Soundsnap doesn't come up with a trick interface. Instead, you can explore all the sound effects by only signing up with your account there.
Moreover, the website's active users are 2910,727, which is quite heartening to come across, and that tells a lot about the quality that Soundsnap brings for you.
Features:
Soundsnap allows you to play dozens of fabulous sound effects with minimal effort.
Apart from offering massive sound effects, it provides you with several attractive sound categories.
You can access all the sound effects by registering with your account.
Pros:

Supports various social media platforms.

Royalty-free website.
Storyblocks is another excellent online website that offers you mind-blowing cricket sound effect options to select from. Apart from recording the sound effects with a high-quality microphone, it allows you to play all the sound effects with minimal effort.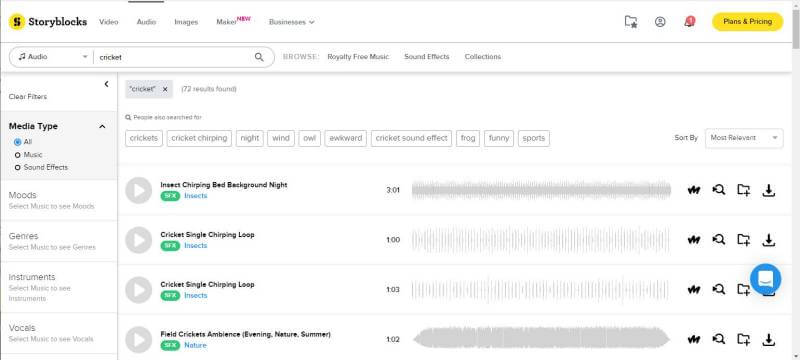 Features:
Apart from downloading unbelievable sound effects, it also allows you to explore high-quality video templates.
It is pretty easy to use as you'll only need to visit the website and play your favorite sounds.
You can create a separate folder on the website to store your favorite sound effects.
Pros:

Comes with different music categories.

Professional website.
Finding a versatile soundboard website is difficult as Voicy is. It is a remarkable website that sets its competitors apart by offering users an intuitive interface and unbelievable sound effect options
It comes with different sound effects categories, meaning you can explore sound effects of different categories with ease.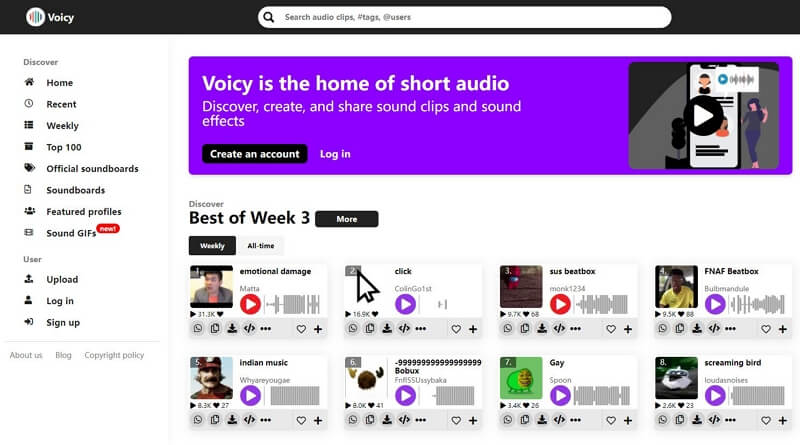 Features:
It is easy to use and plays tremendous sound effects with minimal effort..
Voicy keeps on updating frequently.
Apart from offering sensational sound effect options, you'll also explore terrific sound GIFs.
Pros:

Simple yet attractive user interface.

Allows you to create your soundboard.
Soundboardguy is a unique website that comes with a pretty innovative user interface. You can play the various sound effects option by simply tapping the sound button it provides you with. Moreover, it offers you 100+ soundboards and 150,000 sound buttons to begin with.

Features:
You can access the different soundboard categories by simply searching them on Soundboardguy's interface.
Its soundboard categories include Tiktok, Egirl, Venom Soundboard, Voicemod Sound buttons, Earrape Soundboard, Moan Soundboard.
It allows you to create your soundboard after signing up with your account there.
Pros:

Easy user interface.

Allows you to play awkward cricket sound effect.
Part 3: More Funny Sound Effects You Can't Miss
1. Applause sound effect
Applause sound is a sound where you'll find the voice of people applauding others in an award show. You can use this sound in your YouTube content to create a tribute video to a singer or a person you think is a role model of yours.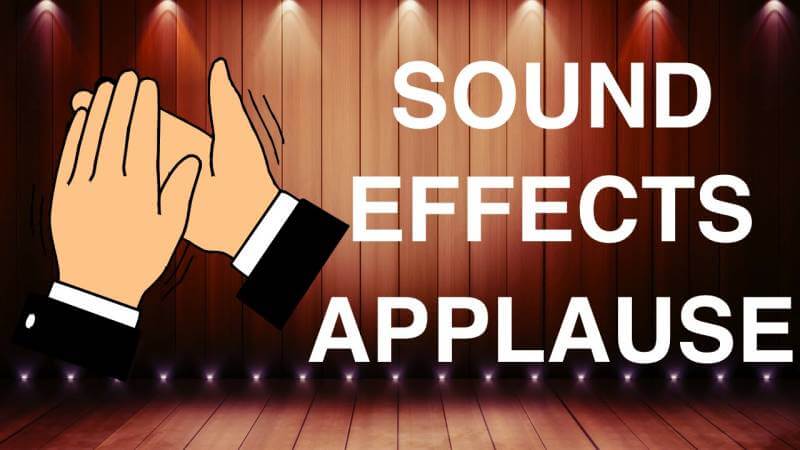 The perfect timing to play the applause sound effect will be at the end, where you may want to end the thank you video on a high note.
2.Fart sound effect
The sound effect is well known due to its expulsion velocity. It is one of the hilarious sound effects that can make you crazy.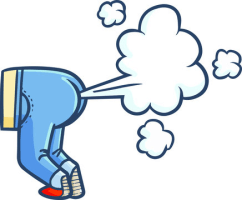 If you want to embarrass someone in front of a few people, you can play the fart sound effect whenever that person comes you're looking to embarrass.
You need to ensure the other person doesn't get triggered by your action. Enjoy your time and make sure you aren't hurting the sentiments of others.
3.Bruh sound effect
When someone gets triggered by another person and wants to show his disappointment, he plays the "Bruh " sound effect. It is a form of "brother" and has been used for showing frustration and disappointment.
4.School bell sound effect
School bell sound effect is the same thing that allows you to play it in school and pretend that the class is over now and you can roam outside the class.
Think about it,I took a class at my university, and it got too long. I was like as if it wouldn't end any time soon. I turned on my and started playing the school bell sound effect.
Luckily, it worked, and everyone felt as if the class was over, and even the professor didn't realize it was just the sound effect.
Conclusion
If you want to play cricket noise sound effects in a business meeting or during a class, you can read this article as we were pretty keen to introduce you to 6 extraordinary sound effect websites.
The options we've come up with are nothing less than spectacular as they allow you to play terrific sound effects with minimal effort.
Of all the sound effects tools you'll find here, iMyFone MagicMic is easily the best one. It allows you to explore 400+ voice and sound effects with ease.
In addition, the interface that MagicMic provides its users with is absolutely simple and pleasing to the eyes.