It always feels good when you see a new feature on your mobile. Luckily for Apple users, a new feature Siri has been introduced for some time now, which helps you make suggestions, answer questions and perform actions. On top of that, you can also convert your Siri voice text to speech which is quite heartening.
However, you can't listen to one thing most of the time. It means you'd want to change something when it comes to Siri.
Luckily, you can shuffle the Siri sound to make them relevant and attractive. Moreover, it also allows you to alter your language.
In this article, we'll explain how to change Siri's Voice. Also, you can get the same voice in iMyFone MagicMic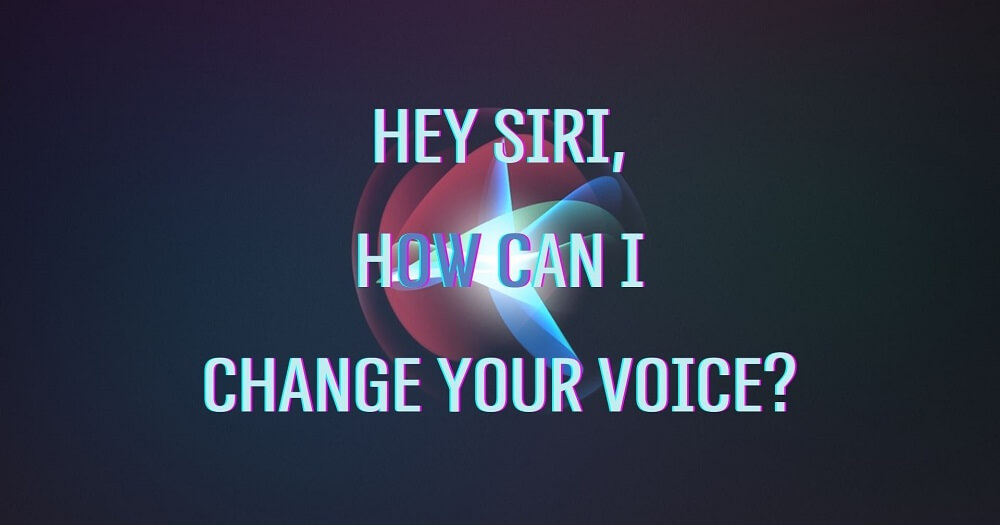 Part 1: How to Change Your Siri's Sound Effect?
In the past, many people believed that Siri was a female and you couldn't change its voice. However, the fact is completely different from what people have been assuming for so long.
Apple had set a female voice on Siri as a default, and you've got the luxury to change it to a man's voice. Apart from changing Siri Voice, you can change 6 different accents, including Irish, British, American, Australian, or South American.
If you want to change Siri's voice, you can follow this part as we're about to explore the step-by-step guide to tell you how to change Siri's Voice on mobile devices and Mac.
1) Change Siri's Sound Effect on Mobile Devices
Step 1: First of all, you'll only need to open iPhone settings and navigate to Siri & Search and tap on it.
Step 2: Now, you need to hit the Siri Voice option and select a Siri accent or voice you'd like. Surprisingly, you can navigate Siri's menu and ask it to change the voice. Interestingly, Siri will say that it can't change the voice, but it will take you to the settings menu to serve your purpose.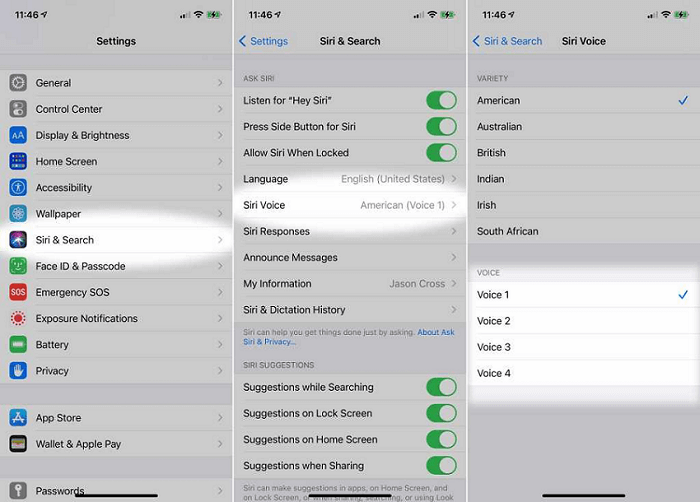 Note:
You can also change the Siri language with ease. Here's the guide to do it.
Step 1: After launching iPhone settings, you'll need to select General and tap Siri & Search option after reaching there.
Step 2: You need to select a language from a dozen languages, including Italian, Chinese, Russian, Spanish, etc.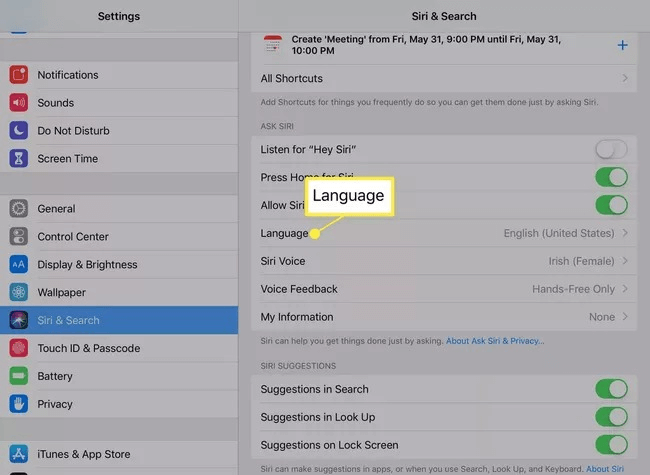 2) Change Siri's Sound Effect on Mac
Step 1: After launching System Preferences, you'll need to hit the "Siri" option.
Step 2: Now, you'll need to navigate to the Siri Voice drop-down menu and choose a voice you'd like. In addition, you can also change your language after hitting the "Language" menu.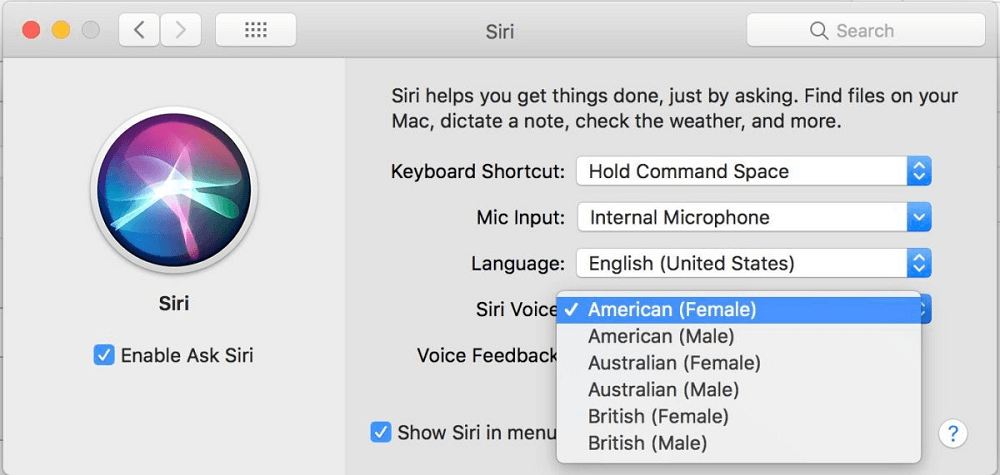 Part 2: Get Siri's Voice Effect without An Apple device!
Crazy things do happen in this world, and you'd be pretty surprised to know about the fact that you can play a sound like Siri without an Apple device. Yes, you heard it right.
iMyFone MagicMic is a precious voice changer that offers you "Crazy Siri" Sound Effects. These sound effects sound like Siri characters' voices. Whether you want to listen to a girl Siri voice or a male Siri voice, MagicMic has all it covered for you.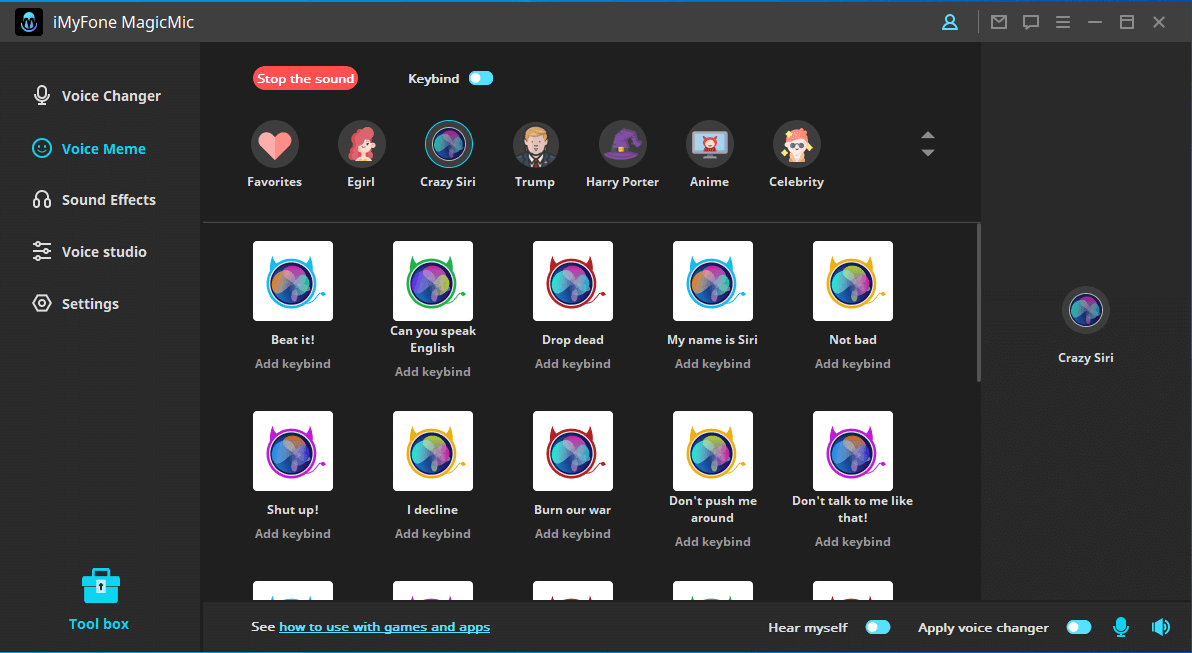 Due to various good reasons, we highly recommend iMyFone Magic to you as you can find many things in this voice changer. We'll define this voice changer in more detail later in this article.
Part 3: Try iMyFone MagicMic- More Voice Filters, More Fun!
If you're looking to prank your friends on a birthday or intend to alter your voice in real-time gaming, opting for iMyFone MagicMic can help you get what you've expected. With its mind-blowing voice filters and terrific sound effects, it can surely make your job a lot easier than you intend it to be.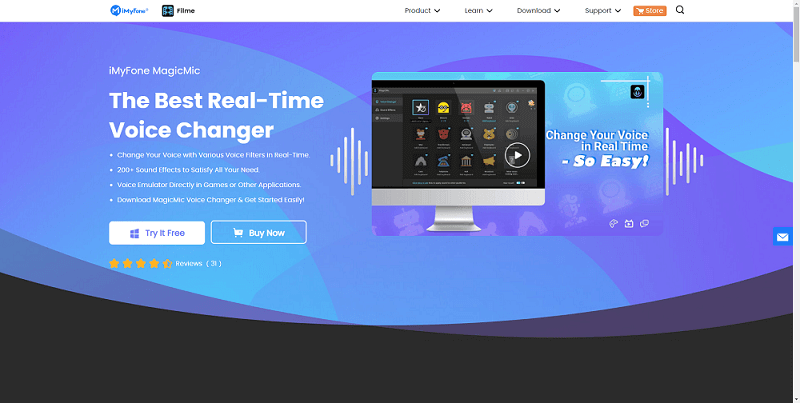 Fortunately, if you don't like MagicMic's library voice filters or sound effects, you can import your preferred option with minimal effort. All the voice filters and sound effects you'd get in MagicMic come with brilliant sound quality, meaning the voice changer can surely make your day.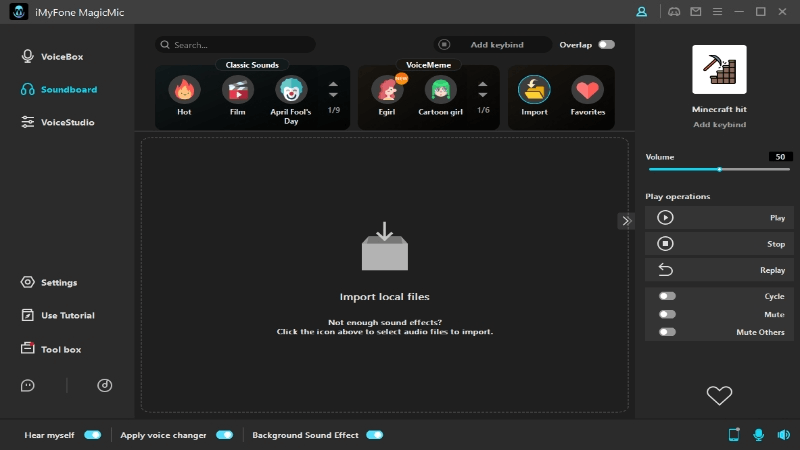 On top of that, you don't need to put in some extra yards to alter your voice. Instead, MagicMic comes with an unbelievable simple user interface, eliminating all your fear you'd have developed before using this remarkable voice changer.
Also Read
Wow! There Are So Many Anime Sound Effects Here! | Anime Soundboard
Hello Beauty | Newly Popular Egirl Streaming | Egirl Soundboard
Make Trump's Voice Great Again! | Prank Trump Voice Changer
Features
MagicMic blesses you with 400+ prestigious sound effects and 125+ sensational voice filters.

It allows you to make your voice sound like a ghost, anime, demon, etc.

MagicMic's key function, Voice Studio, allows you to add your voice as a voice filter, and it also offers you the opportunity to customize your voice.

You can also enjoy this wonderful voice changer on your Mac OS shortly.

MagicMic offers excellent discount opportunities for yearly and quarterly premium packages.

Using iMyFone MagicMic, you can easily import the voice filters and sound effects.

It allows you to alter your voice on multiple chatting, streaming, and gaming platforms in real-time.

Apart from using several voice filters and sound effects, you can also adjust the volume of those sound effects.
Pros

MagicMic is fairly easy to operate, courtesy of its intuitive user interface.

The interface and features of MagicMic get updated every week.

It allows you to play sound effects and use voice-changing filters simultaneously.

MagicMic only takes 3 MBs of space on your computer.
Learn more in this video!⬇⬇⬇
Popular Sound Effects provided by iMyFone MagicMic
1) Venom Sound Effects
With the Venom sound effects of MagicMic, you can scare anyone. These sound effects are pretty horrific and come with the voices of ghosts and monsters.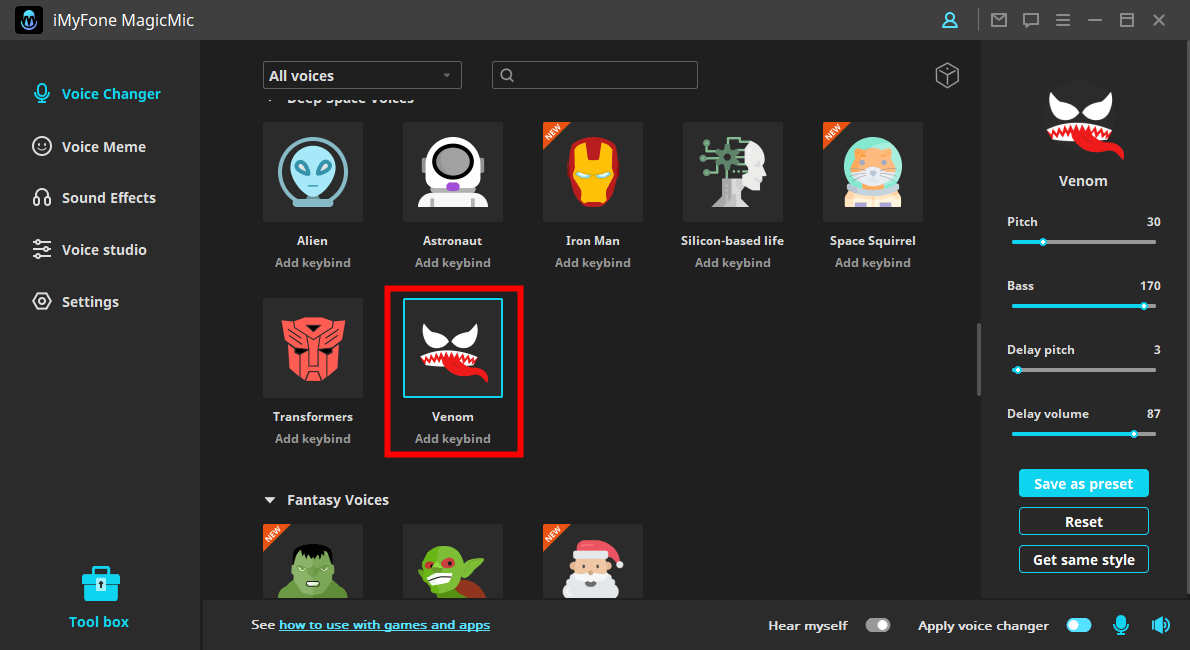 2) Rain Sound Effects
If you want to feel like it is raining around you, MagicMic can provide fantastic rain sound effects.
You can learn more in this article:
It's Raining, It's Pouring… No! It's MagicMic with Rain Sound Effect!
3) Gun Sound Effects
You can also explore the fascinating gun sound effects using MagicMic as it blesses you with the tremendous sounds of guns firing bullets.
Conclusion
If you want to know how to change Siri Voice, you can skim through this guide, as we've highlighted the ways to change Siri's Voice in mobile devices and Mac OS.
However, you can also play Siri sound effect without Apple devices using iMyFone MagicMic. It is a monumental voice changer that acts as a multi-dimensional player, meaning it can change your voice in real-time and at the same time can also help you to use sound effects in online games.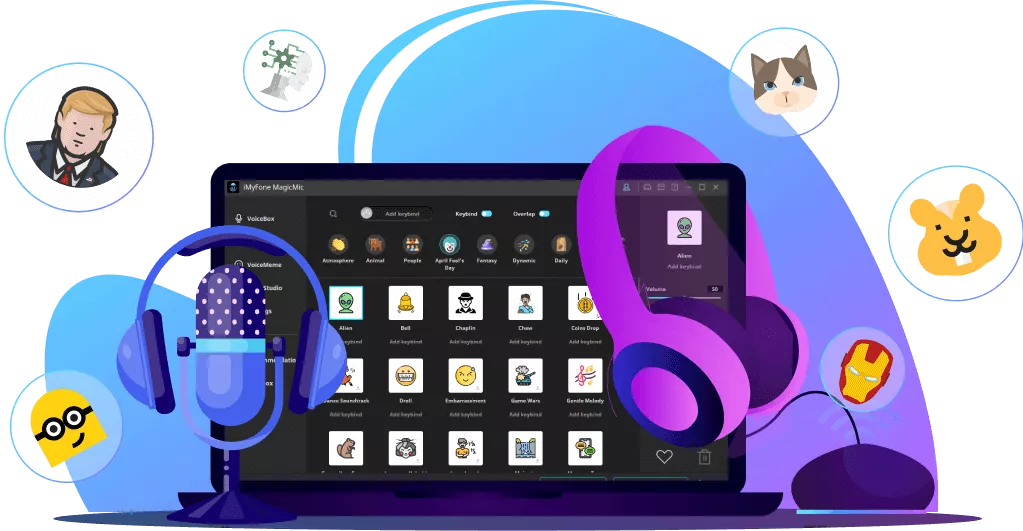 125+ Voice filters for one-click voice changing in real-time.
Huge library with 400+ Voice Effects and 150+ Voice Memes.
Sound emulator in games, live, chatting, online classes, and more.
Voice recording and audio voice changing is supported.
Voice studio lets you create any voice you like.