There are so many tools available for fantastic clicking sound effects. But, all of them might not have useful functions. Finding the right voice changer app is quite challenging.
In our article, we will review the best software to download a mouse click sound effect. iMyFone MagicMic is the best real-time voice changer that offers a large range of sound effects.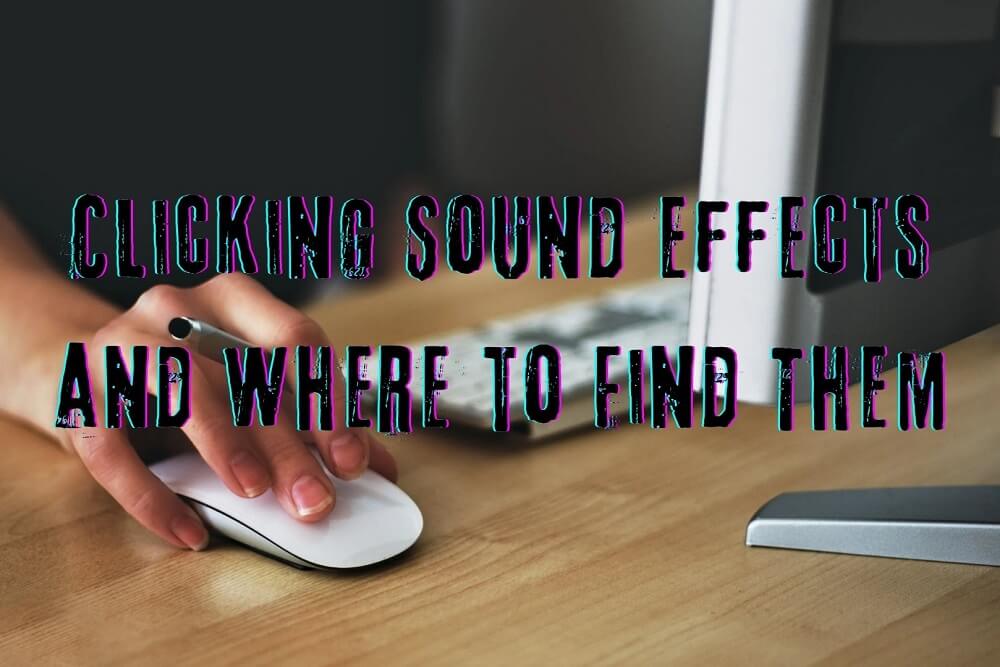 Part 1: The Best Voice Changers with Huge Sound Effects
Are you looking for the best tool to change your voice on the go? iMyFone MagicMic is an ideal choice. It allows you to convert your voice quickly and precisely. If you want to enhance your content for chatting or gaming, adding sound effects can help you.
iMyFone MagicMic stands out when it comes to real-time voice changers for PC. With a huge library of voice-changing themes and sound effects, you can keep your audience entertained and engaged.
Wondering what makes this tool so special for mouse click sound effect download? Here are some of the key features of iMyFone MagicMic:
Features
Support various platforms: This voice changer works perfectly for various gaming, chatting and live streamng platforms such as Fortnite, Discord, Skype, PUBG and more, this tool can cover all your needs.

100+ voice filters: With 48+ voice-changing features, you can change your voice into something to amaze your friends or audience.

500+ sound effects: If you want to add timely reactions, this is where 500+ sound effects and voice memes come in handy.

Available for both Mac and Windows: Most importantly, it is available for the Windows and Mac devices.

Keybinds Control: The playback of Sound effects and voice filters can be controlled by keybinds.

Voice Custom: You can create unique voice as you like with different voice parameters.
Watch Video Guide About Voice Changer with Sound Effects
Steps to Apply Clicking Sound Effect by iMyFone MagicMic
Wondering how to add mouse click sound effect? Here is a step-by-step guide for adding click sound effects.
Step 1: Install and launch
Visit the official website to install iMyFone MagicMic. Then, make sure to launch it on your computer.
Step 2: Choose your microphone and headphones
In this step, you need to select your microphone and headphone as the input and output device respectively.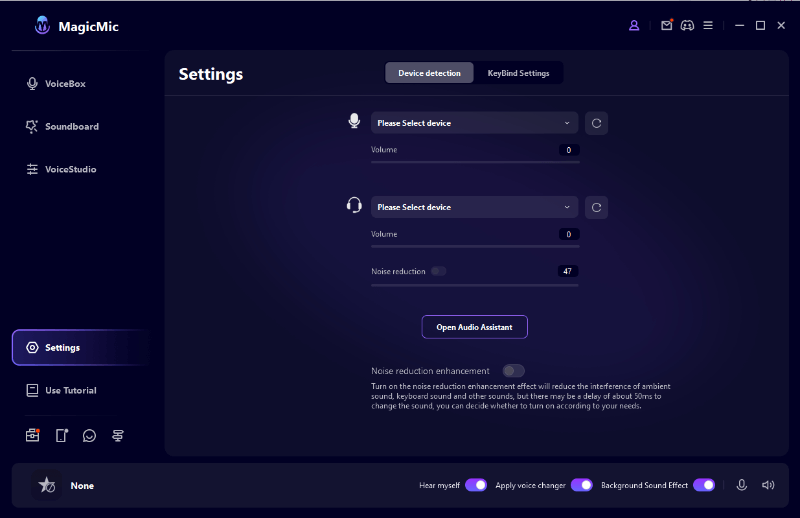 Step 3: Speak into the microphone
After selecting the devices, it will display a range of voice effects on the screen. All you need is to select a voice filter and speak into the microphone. As a result, you can preview the effect in real-time.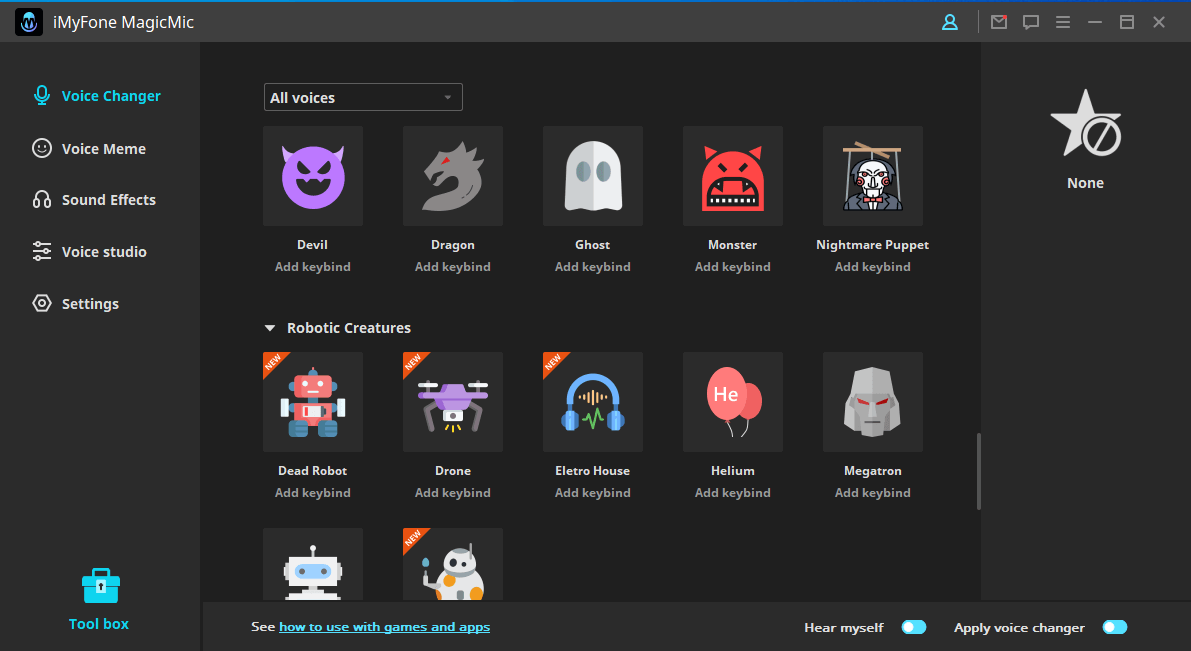 Step 4: Apply sound effect
It has more than 300 sound effects. You can choose something to your likings and apply it to your live chats or games.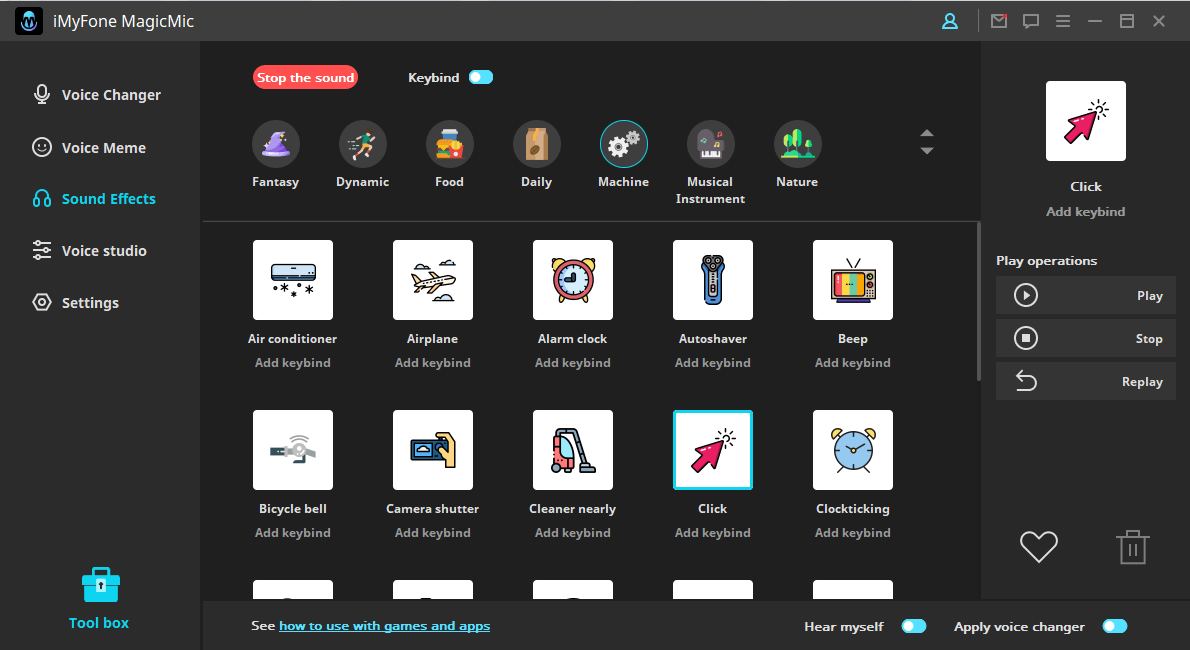 Also Read
Press that Big Red Button with Buzzer Sound Effect!
3 Best Voice Changer to Add Airplane Sound Effect
Tick, Tick… Boom! Here Comes the Best Voice Changer with Clock Ticking Sound Effect!
Part 2: Where to Find These Clicking Sound Effects
In this section, we will review some of the other websites to find a royalty free mouse click sound effect.
Are you looking for the best platform to find free sound effects? Mixkit is one of the best websites to download sound effects for your project. Most importantly, it offers a huge collection of royalty-free sound effects. Also, there is no need to sign up. You can use these sound effects regardless of your project type.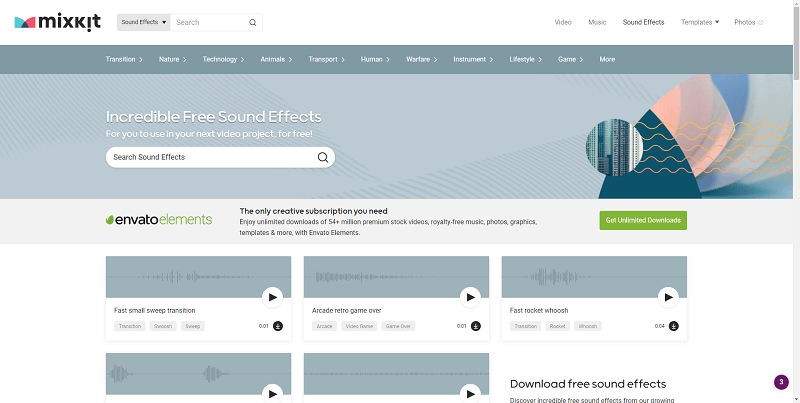 Here comes another great website to get mouse click sound effects. You can use these sound effects for adobe premiere, YouTube videos, video games, and much more. No doubt, voice-changing sound effects are the best way to add interest to your content. This platform lets you use the sound files without any copyright issues. Also, you can use them for commercial use.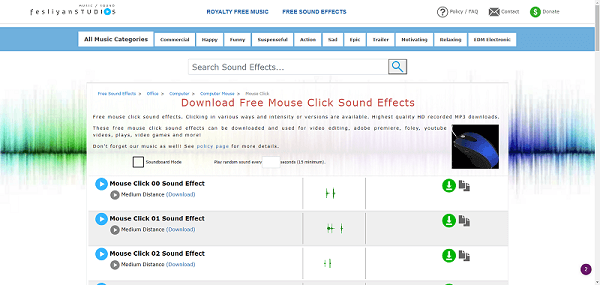 At Zapsplat, you can find thousands of sound effects. These sound effects are growing daily. Surely, you will find something to your liking. It allows you to download sound packs instantly. This platform is designed for creative individuals of every industry, such as filmmakers, podcasters, game developers, and YouTube creators.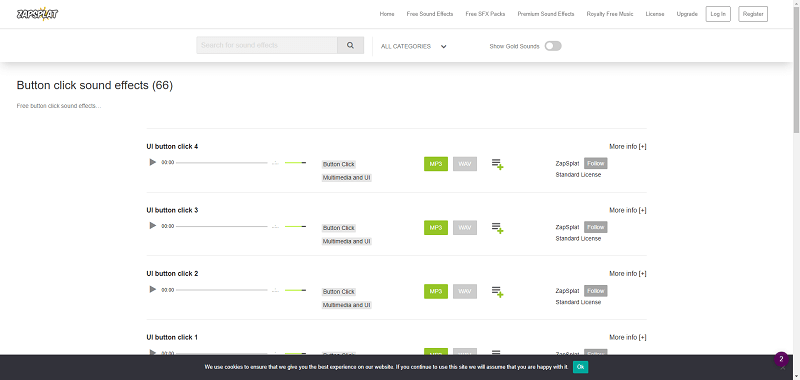 Are you searching for "computer mouse click sound effect free download" for YouTube videos? It is the best website to provide you with a huge collection of sound effects. With these effects, you can enhance your videos and bring them to life. Zapsplat adds new sound effects daily, so make sure to check regularly for updates.
Part 3: The Usage of the Clicking Sound Effect
Indeed, sound effects can engage your audience. If you want to deliver information effectively, the usage of clicking sound plays a vital role. With the help of the right sound effect, you can evoke emotional responses. Moreover, it helps to indicate mood.
Here are some of the usages of the clicking sound effect.
1) The transition between the scenes
The transition between the scenes is a quite useful thing. With the transitions, you can bring your audience out of one scene into another. This is where the clicking sound effect can come in handy.
It is the best way to manipulate the pace of the narrative. iMyFone MagicMic is an excellent tool to provide you with a range of sound effects. So, you can choose a royalty free mouse click sound effect that suits your needs.
2) Cooperate with subtitles as the opening or ending part
The clicking sound can be used for subtitles to start or end the scene. With this sound, you can make your content more effective. Sound effects can become a powerful tool to meet your audience's expectations. iMyFone MagicMic allows you to use clicking sound for your project.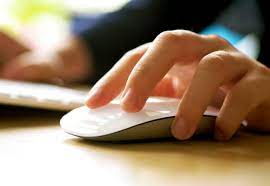 3) Other occasions for simulating computer operation
Are you looking for the best sound effect theme for simulating computer operation? The clicking sound is an ideal solution.
It is commonly used for a range of computer operations. All you need is to choose the right tool to download sound effects.
Conclusion
iMyFone MagicMic is the best tool for click sound effects. It comes up with a range of key features to give you an excellent experience. Most importantly, it is quite simple to use. With this voice changer, you can download the perfect sound effect for your next project.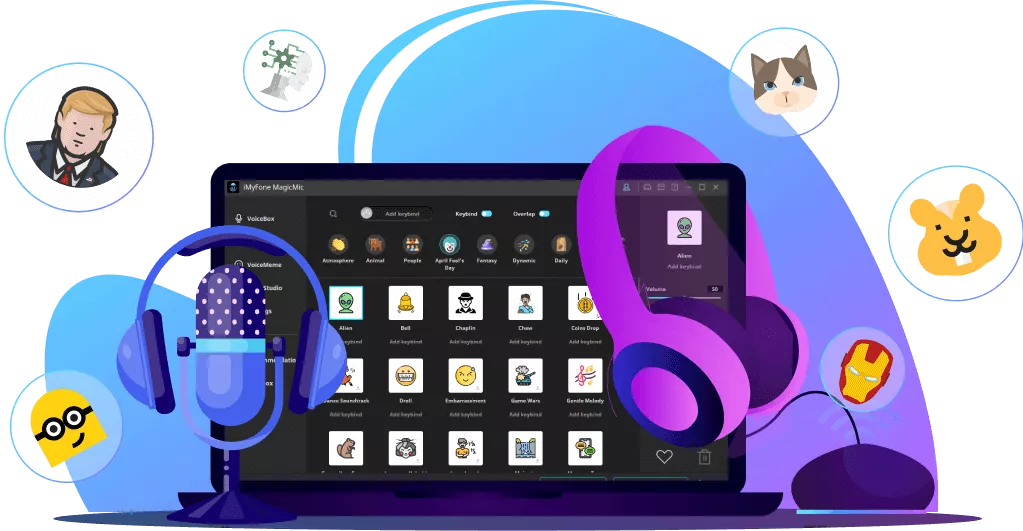 100+ Voice effects for one-click voice changing in real-time.
Huge library with 300+ Voice Effects and 150+ Voice Memes.
Sound emulator in games, live, chatting, online classes, and more.
Voice recording and audio voice changing is supported.
Voice studio lets you create any voice you like.