Are you looking for ways to share the wonderful moments of life? No doubt, the best sound effects can make your memories more joyful. All you have is to try. In this article, we will introduce you to an amazing voice changer tool with camera sound effect, MagicMic voice changer with sound effects. Let's get started.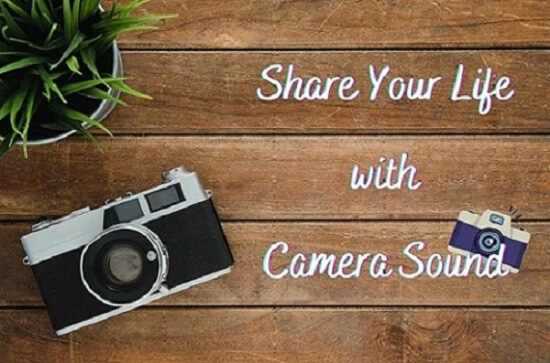 A camera shutter sound effect can be used for many occasions. In the next section, we will discuss how to use this popular sound effect.
Part 1: Where to Use Camera Shutter Sound Effect
You can use camera shutter sound on various occasions. In this section, we will discuss a few of them. So, let's get started.
No doubt, it is one of the most popular uses of shutter sound effects. You can use this sound effect on electronic albums. As a result, sharing your albums would be great fun.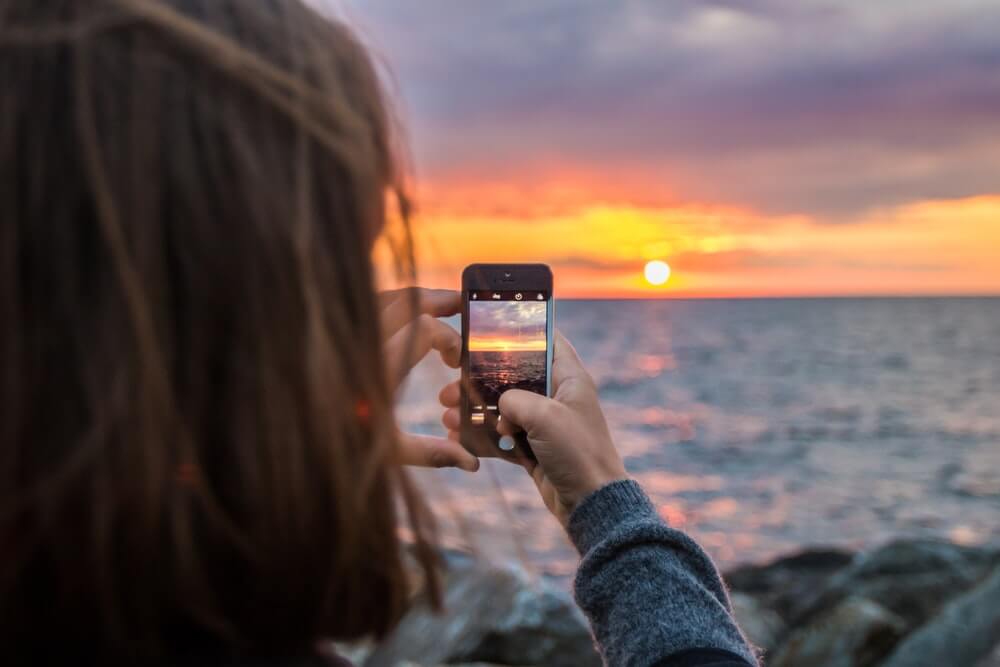 Simulate Taking Photos with An Old-fashioned Camera
With the camera click sound effect, it can help simulate taking photos with the old-fashioned camera. This is one of the popular uses of the shutter sound.
Prank Your Friends
Have you taken photos of your friends' funny moments? This is where a camera shutter sound comes in handy. It helps prank your friends using the right shutter sound.
How to Apply Camera Sound Effect While Gaming and Chatting
Do you want to use a shutter sound effect? iMyFone MagicMic is a perfect voice changer tool with a range of sound effects. It allows you to choose from more than 500 sound effects. As one of the real-time voice changers, it helps you add your favorite sound effect in easy steps.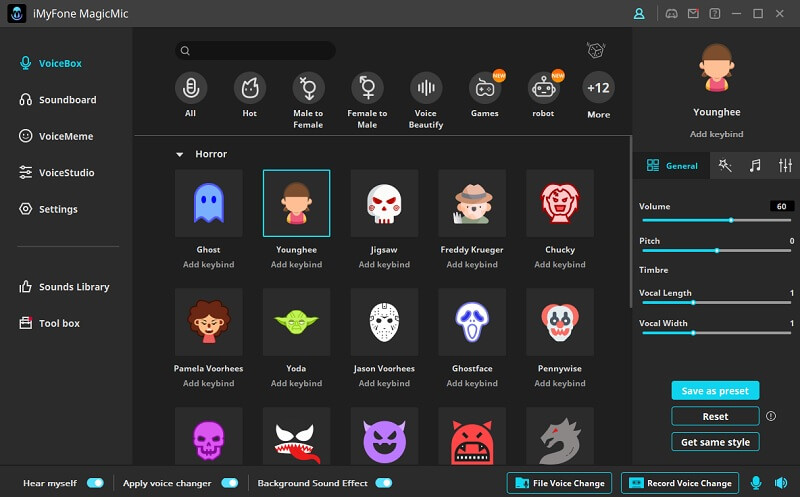 Looking for the best voice changer that offers camera sound effects? Undoubtedly, iMyFone MagicMic is the best voice changer ever. By offering 200+ sound effects, it can cover all your needs. Moreover, it is a simple tool to convert your voice into something like a camera shutter sound effect. Also, it works perfectly for various programs such as Zoom, PUBG, Twitch, etc.
Key Features of iMyFone MagicMic
iMyFone MagicMic offers a lot of key features to the users. These features are a great way to use the best voice changer. Let's take a look at some of the features offered by MagicMic:
Compatible with Most System
iMyFone MagicMic is compatible with Windows and Mac devices. Comes with 100+ voice changing effects and 500+ sound effects to make fun with voices and sounds. Except real-time voice changing function,it also works with voice record and audio voice changing.
Support Various Programs
Whether you want to use a camera sound effect for Zoom or Fortnite, iMyFone MagicMic supports various programs. So, it can meet all your needs.
Unique Voice Studio
It offers you a unique voice studio where you can build your own sound. This is one of the best features of MagicMic.
500+ Sound Effects
With more than 500 sound effects, it is one of the best features of MagicMic. All you need is to select a sound effect that works perfectly for you.
These key features make iMyFone MagicMic the best tool amongst other voice changers. Most importantly, you can enjoy the free trial period before opting for the pro version.
Here are a few steps you need to follow:
How to Apply Camera Sound Effect Using Voice Changer
1. Launch iMyFone MagicMic
Visit the official website and download iMyFone MagicMic on your computer. After the installation process, make sure to launch it.
In addition, you need to choose your microphone as the input device and headphones as the output device.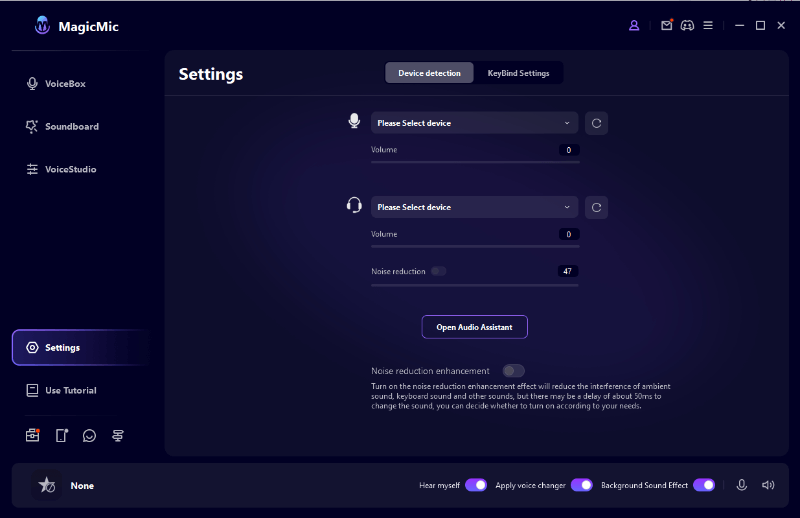 2. Choose Sound Effects Tab
As discussed before, it has 500+ sound effects. You can explore the list under the Sound Effects tab. Tap on the Machine and choose camera shutter sound.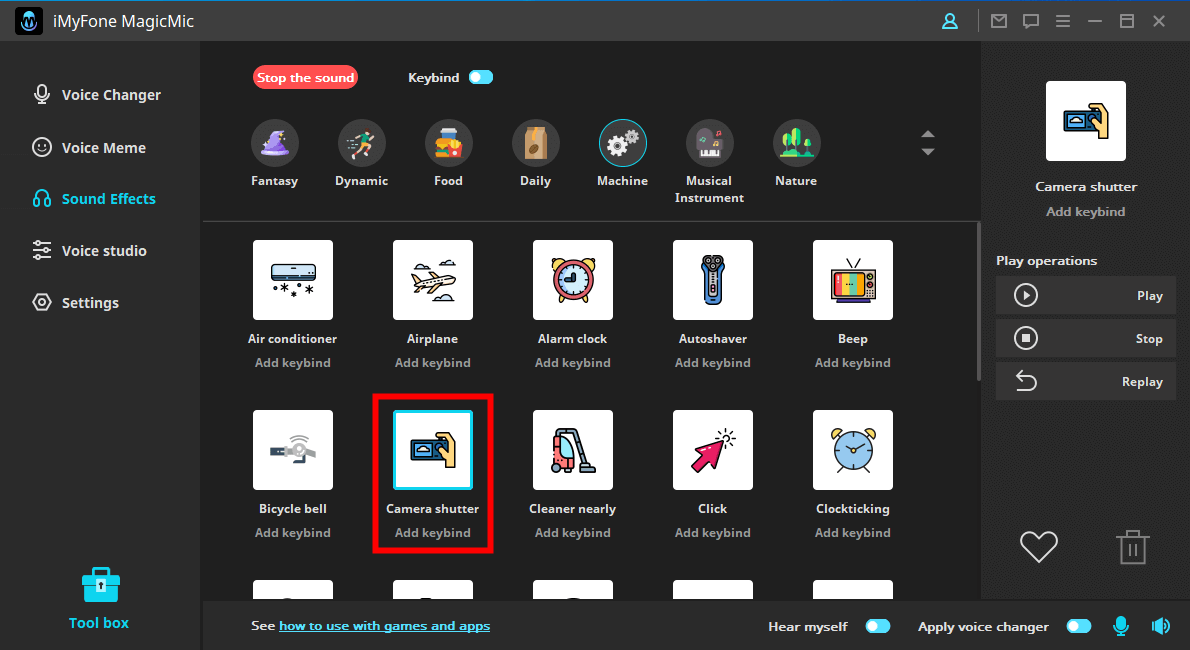 3. Complete Setting on third-party Platforms
There are various ways in which you can apply camera sound effects. Firstly, make sure to open the app or program that you wish to use with your favorite camera flash sound effect.
After that, go to the input device option and select Microphone as MagicMic virtual device(named Voice Changer Virtual Audio Device(WDM) on Windows,and name BlackHole 2ch on Mac Device).Here I use Discord as an example.

4. Allpy Camera Sound Effects
After all setting are complete,you can change your voice or apply variou sound effects on third-party platforms.
Conclusion
By using sound effects, people can remain anonymous on various platforms such as Discord, Skypes, etc. There is a huge collection of voice-changing tools on the internet. But, all of them do not offer the same features.
iMyFone MagicMic is an ideal solution to get a camera sound effect without any hassle. With this voice-changing tool, you can add different sounds to your videos or games.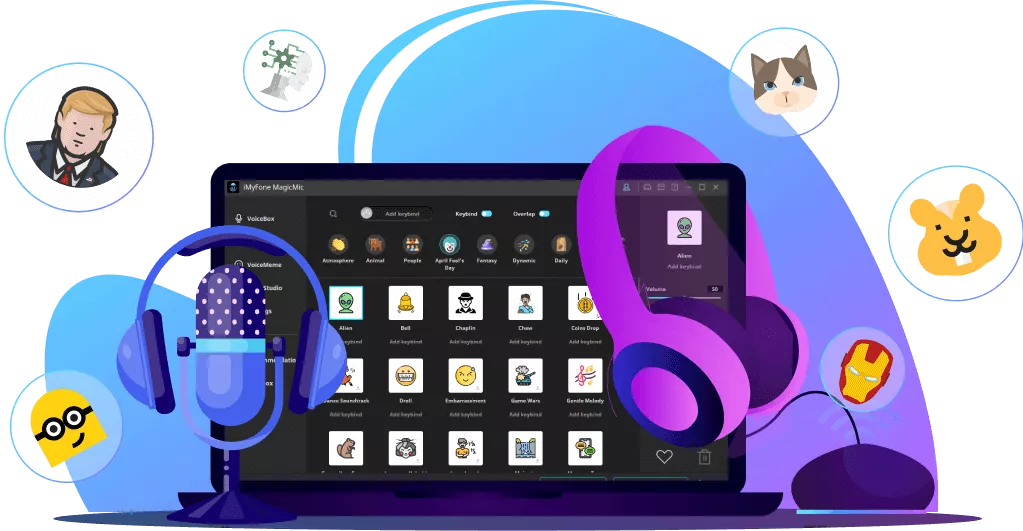 100+ Voice effects for one click voice changing in real-time.
Huge library with 300+ Voice Effects and 150+ Voice Memes.
Sound emulator in games,live,chatting,online class and more.
Voice record and audio voice changing are supported.
Voice studio lets you create any voice you like.