There is no doubt that when the buzzer sounds, you'd feel the tension and find time gets shorter and things get into emergency situations. But the problem is that there is a wide variety of buzzer sound effects to choose from, as well as a lack of knowledge regarding how to use them.
Don't worry, this article would provide more about the buzzer sound effect. In addition, we will show you how to use buzzer sound effects with MagicMic.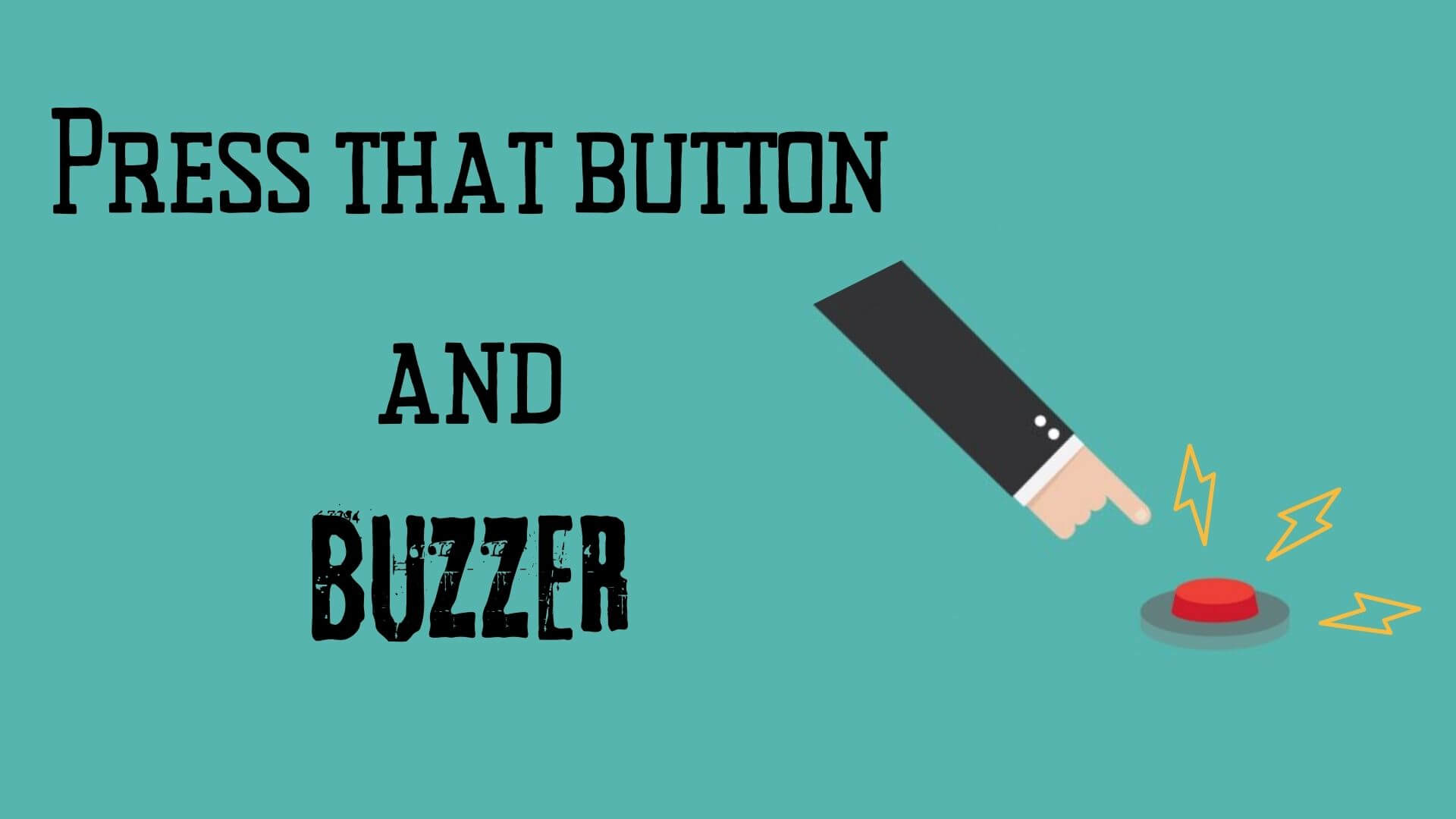 Part 1:What's the Buzzer Sound and Why People Love it
The key feature of the buzzer sound is Rushing and loud, with a rhythm, form of expression a ring, click or beep. This sound has so many uses such as the wrong answer in the quiz, for emergency or alarming situations example fire alarms, smoke detectors, and other similar monitoring or detecting systems.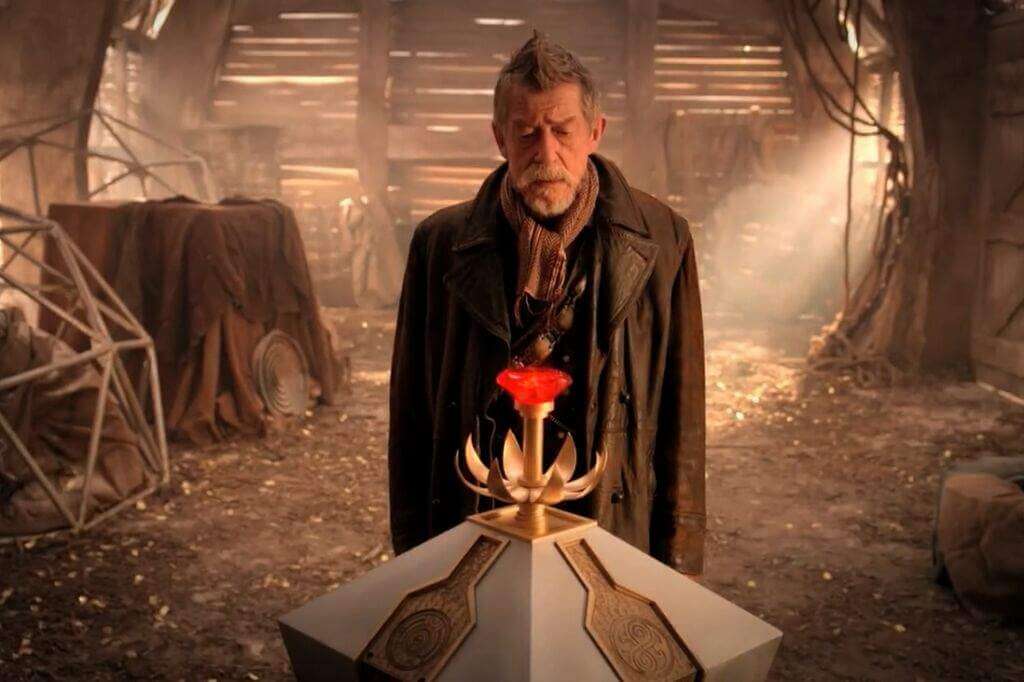 The buzzer sound effects are very versatile. These can be used for a range of applications. For this reason, buzzer sound is most commonly used in videos.
Part 2: Where Can I Use Buzzer Sound?
Wondering where to use buzzer sound effects? As discussed above, buzzer sound has so many applications. For example, an alarm buzzer sound effect can be used to prevent fire or smoke. Let's take a look at some common uses of buzzer sound.
Emergency Alarm Button
With the buzzer sound effect, you can press that big button to alert everyone about an emergency. Indeed, this popular sound is a perfect choice for an emergency alarm. Therefore, it is usually used as an alarm button.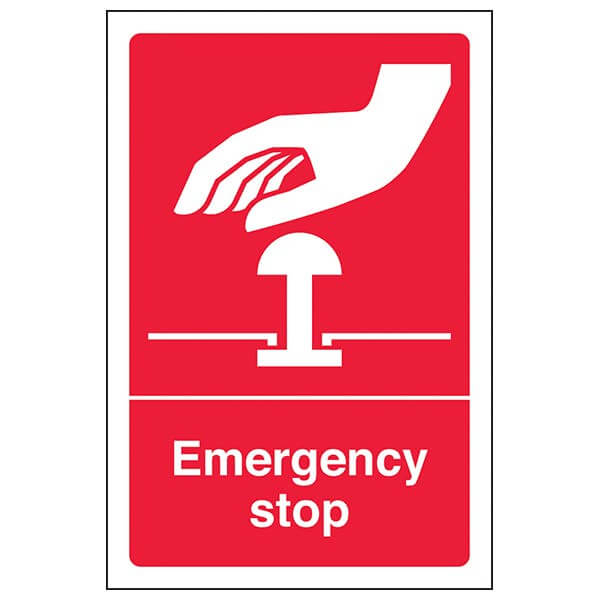 Wrong Answer in the Quiz
The best voice changer offers you a wrong buzzer sound effect free. This sound effect is used when you get the wrong answer in the quiz. MagicMic lets you download the wrong answer sound effect without any hassle.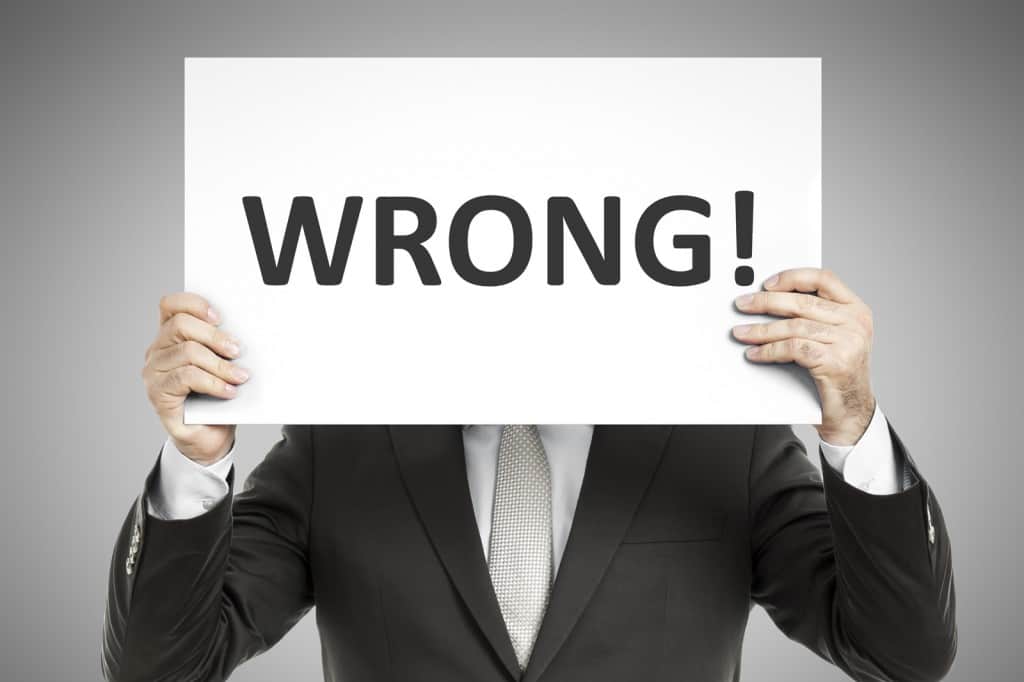 Part 3: How to Use Buzzer Sound Effcets with iMyFone MagicMic!
Are you looking for a suitable buzzer sound effect for your video? iMyFone MagicMicwould help you to finish it. Not only is there a buzzer sound effect, but also you can opt for some other popular sound effects such asding, bell, etc.
MagicMic is a powerful voice changer that lets you change your voice into something you like the most. At the same time, you can take advantage of a huge collection of sound effects. Most importantly, it has excellent compatibility to help you use the voice changer in real-time.
Creating videos with various sound effects is always fun. With iMyFone MagicMic, there is no need to worry about security. It provides the safest platform for the users. Furthermore, you can use the buzzer sound effect in just a few steps.
How To Use The Buzzer Sound Effect With MagicMic
Wondering how to use the buzzer sound effects with iMyFone MagicMic? Here are a few steps to use MagicMic to add buzzer sound to your videos.
Step 1: Download and Launch MagicMic
To begin with, you need to download and install iMyFone MagicMic on your computer. Launch the app and make sure to select your microphone as the input device and your headphone as the output device.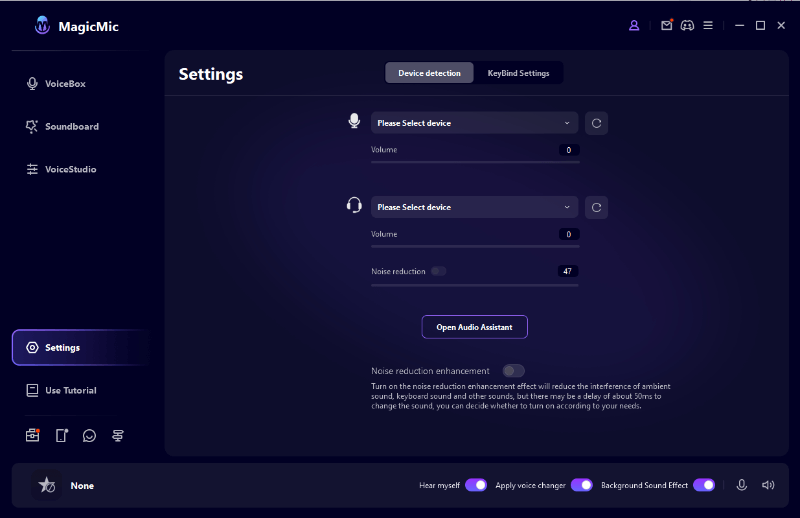 Step 2: Open Sound Effects Tab
The voice changer has more than 300 sound effects. You can use these sound effects during chatting with your friends or playing games. From the left-side menu, tap Sound Effects and choose buzzer sound effects. After selecting the desired sound effect, you can speak into your microphone to check if it is working.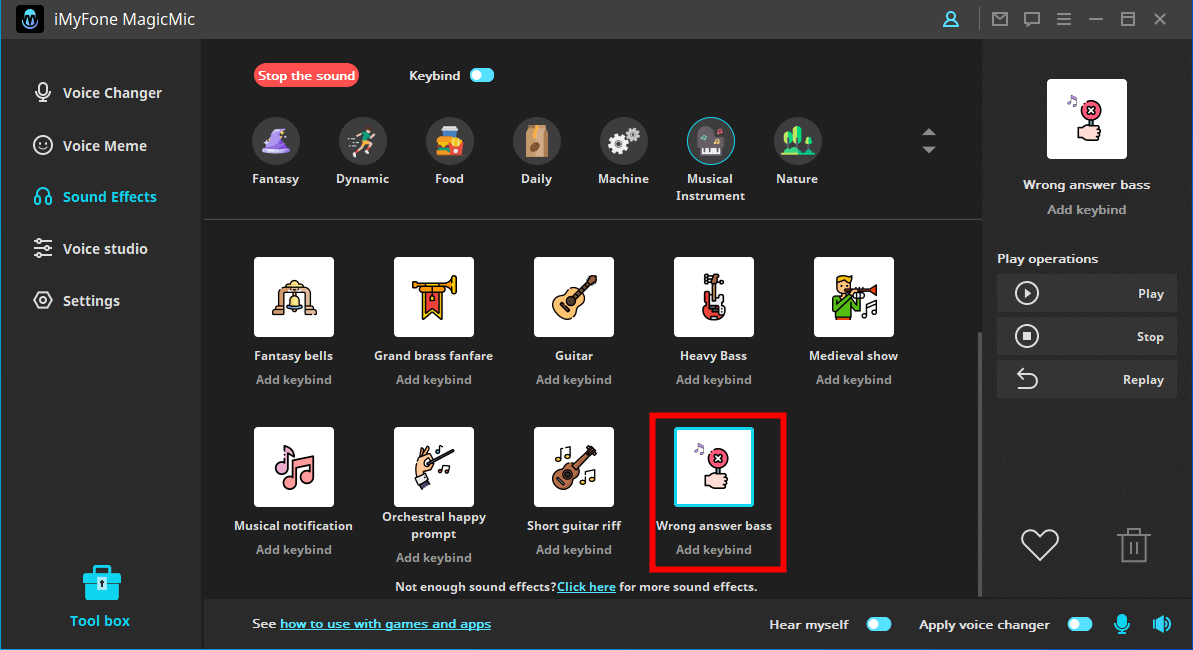 Step 3: Add Keybinds
By adding keybinds, you can have easier access to your favorite sound effects.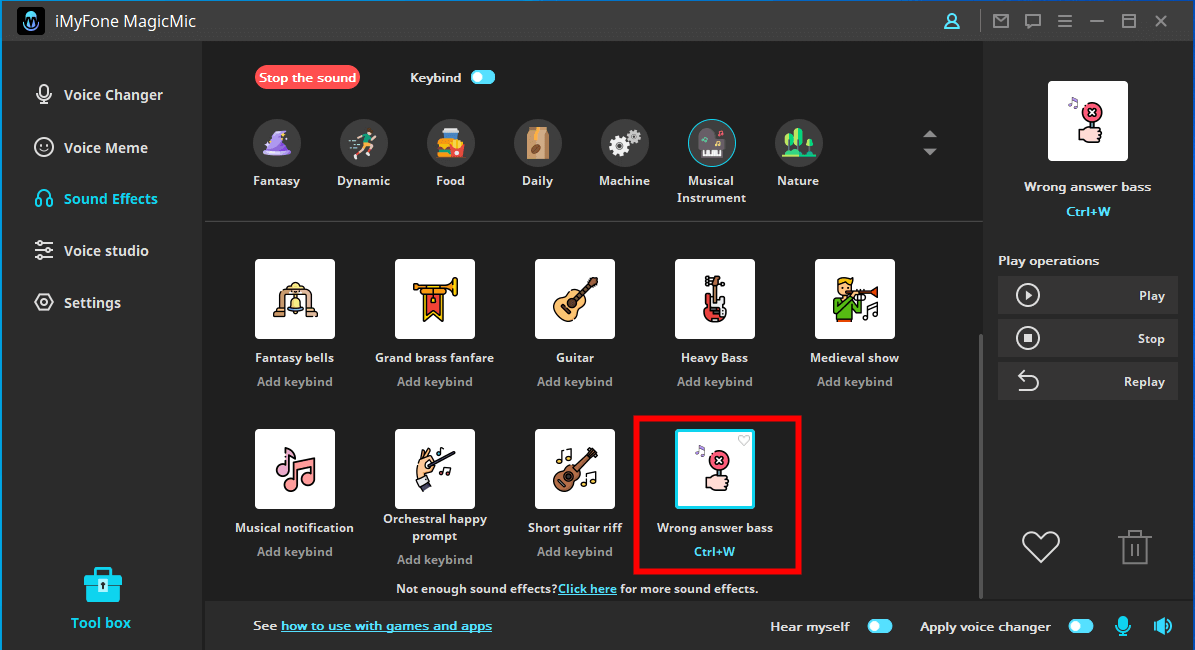 Step 4: Add Sound Effects
Of course, you will need to open the app or program that you want to use with the red buzzer sound effect. After that, select the microphone as your input device option. Now, select your sound effect and it will start working.
As you can see, adding a sound effect is very simple with MagicMic. It enables you to add sound effects to various programs. For example, you can change your voice while playing games such as Fortnite and PUBG. In addition, it also supports Discord, Twitch, Skype, and many more apps.
Key Features
Support Various Apps
iMyFone MagicMic is a perfect tool for various apps such as Zoom, Discord, Skype, WOW, etc. It supports many other apps or programs, which makes it stand out.
Vast Collection of Voice Changing Effects
MagicMic has a huge collection of voice-changing filters and sound effects. Some of the popular filters include Minions, male to female, robot, etc. All you need is to choose a sound effect that suits your likings.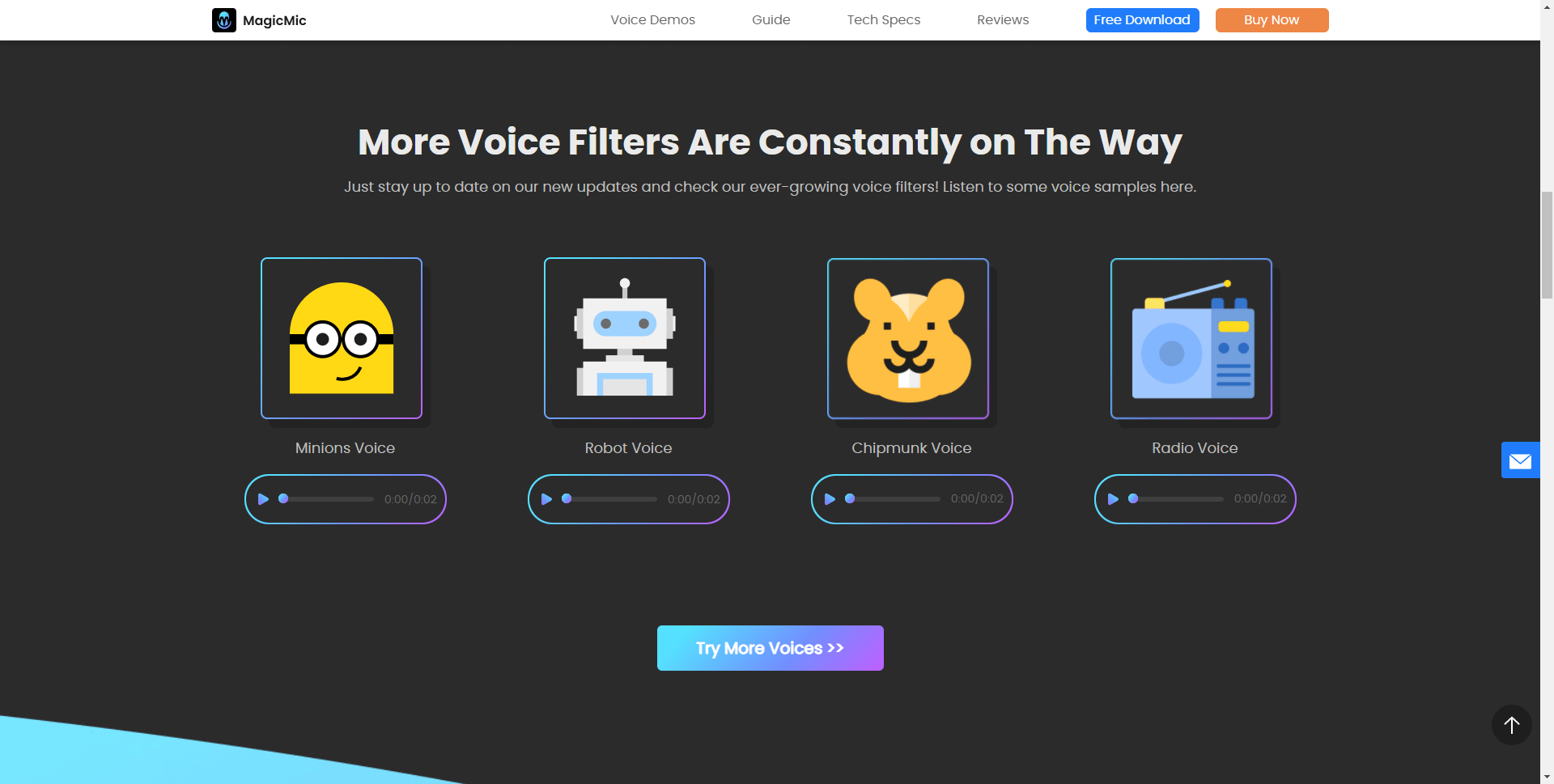 Compatible with Windows
Choosing a voice-changing tool for Windows is the best option than opting for iOS or Android apps. This is where MagicMic comes in handy as it supports Windows 7, Windows 8.1, Windows 10, and the latest Windows 11. The Mac OS version would be issused on Feb 17th.
Large Discount for the Pro Version
MagicMic allows you to use the app for a free trial period. If you want to use all of its features, you will need to purchase the pro version. The paid versions are available at an affordable price. It only costs you $9.95 for Quarterly, $19.9 per year, and $39.95 for Life Time.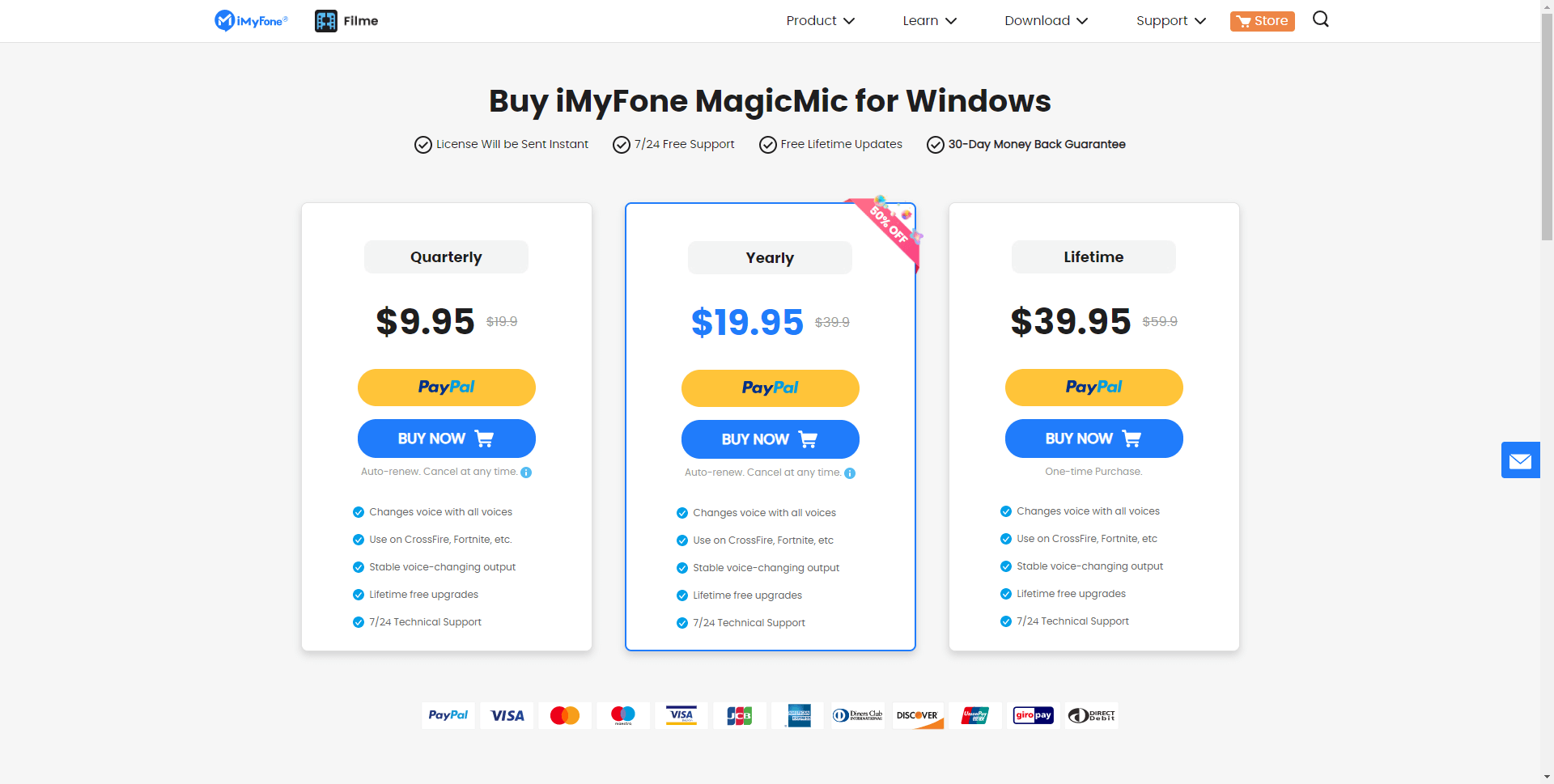 Learn more in this video!⬇⬇⬇
Conclusion
I believe you would have more knowledge about buzzer sound effects after read this article, if you in needs, download the iMyFone MagicMic, which is an ideal tool for voice-changing filters and sound effects. It comes up with unique key features to make your videos stand out. Also, this tool is very simple and easy to use, which makes it a perfect choice for beginners. As compared to many other tools, MagicMic offers an affordable pro version.