With April Fool's Day around the corner, people want to prank their friends on this special day. One of the amazing ideas is to play the funniest sound effects to prank your colleagues, friends or family members. Just let iMyFone MagicMic do this favor!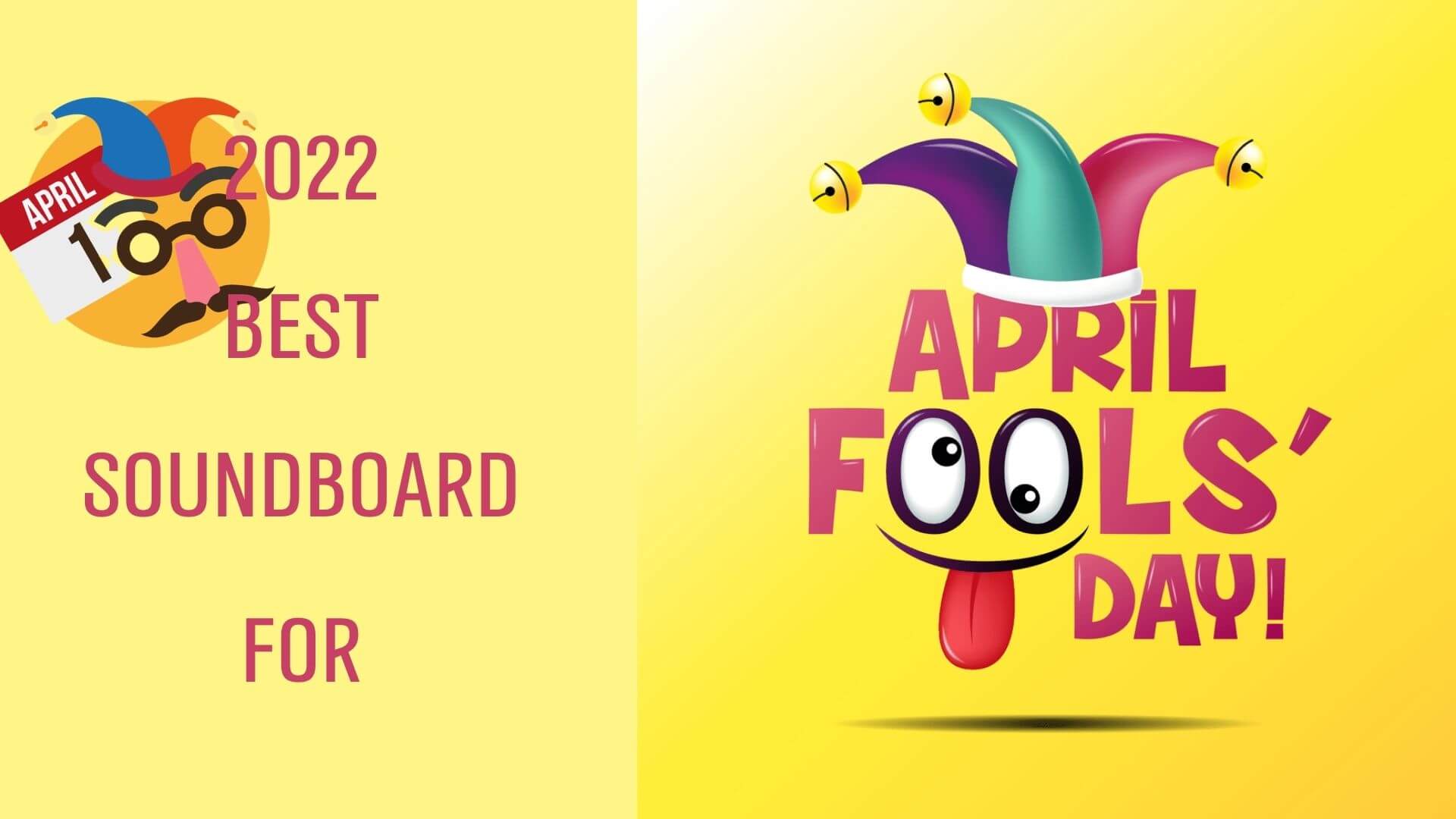 Part 1: What is April Fools' Day?
Wondering what is April Fool's Day?
As the name suggests, it is a Fool's day celebrated in most countries on the first day of April. It is also known as All Fool's Day. The custom of playing practical jokes has given this day a unique name. No doubt, this day has been celebrated for centuries. But, its origins are still unknown.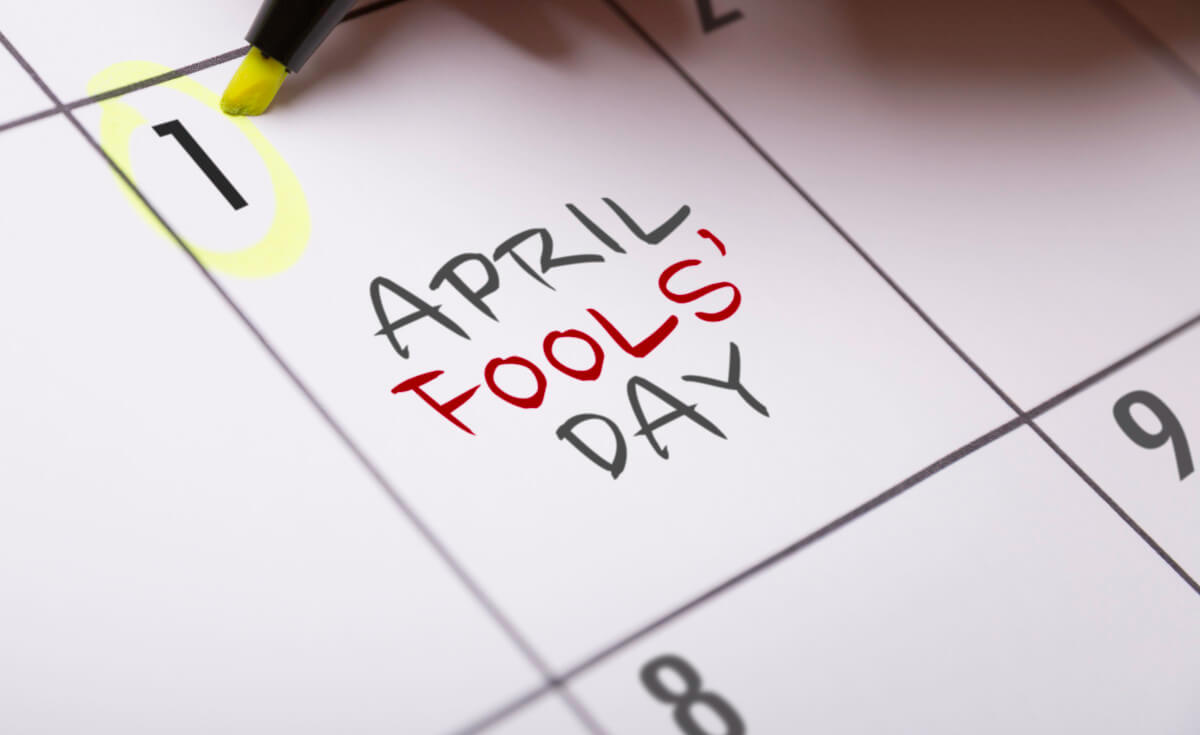 April Fool's Day is considered a national holiday in many countries. At the same time, many countries opt for the best April Fool pranks on this Day. In Greece, tricking someone on April Fools is said to bring good luck for the prankster. Also, rainfall on this day is said to have healing abilities.
Part 2: Top 3 Ideas for 2022 April Fools' Day!
Are you looking for the best ideas to celebrate April 1st? In this section, we will show you the top 3 ideas to prank your friends.
1) Make a prank call with Donald Trump's voice
Here comes one of the easy April Fool pranks. If you want to prank your friend with a celebrity's voice, look no further than the voice of Donald Trump. Imagine how surprise they are when they hear Trump's voice from the game chatting channel!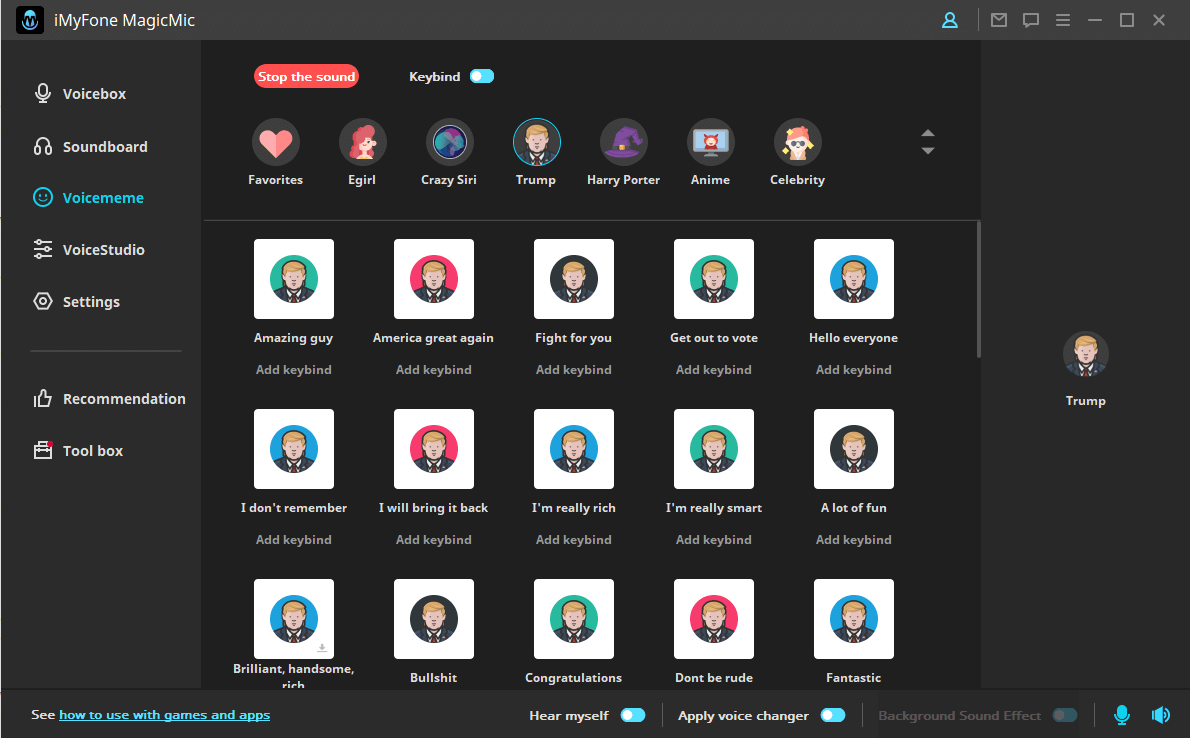 2) Play the knocking sound effect when chatting
Want to prank your friends in a unique way? Make sure to use the knocking sound effect when chatting with your friends. Play the sound when you call your friends, and when they stand up for answering the door, just stop the sound effect. Guess what would happen next!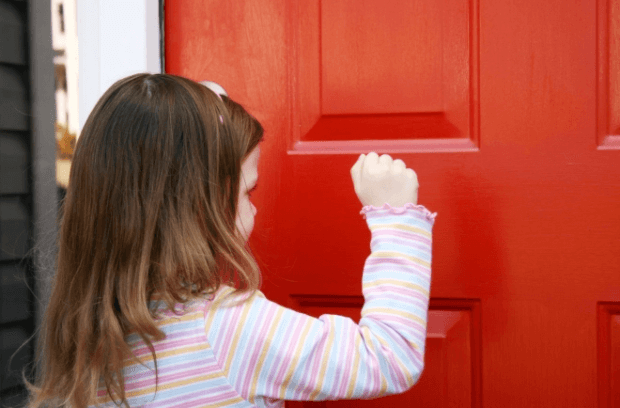 3) Use the robotic voice
Using the robotic or demon voice is a great way to prank your friends on call. MagicMic provides you with various real-time voice filters and sound effects. All you have is to choose a robotic voice to change your voice in real-time.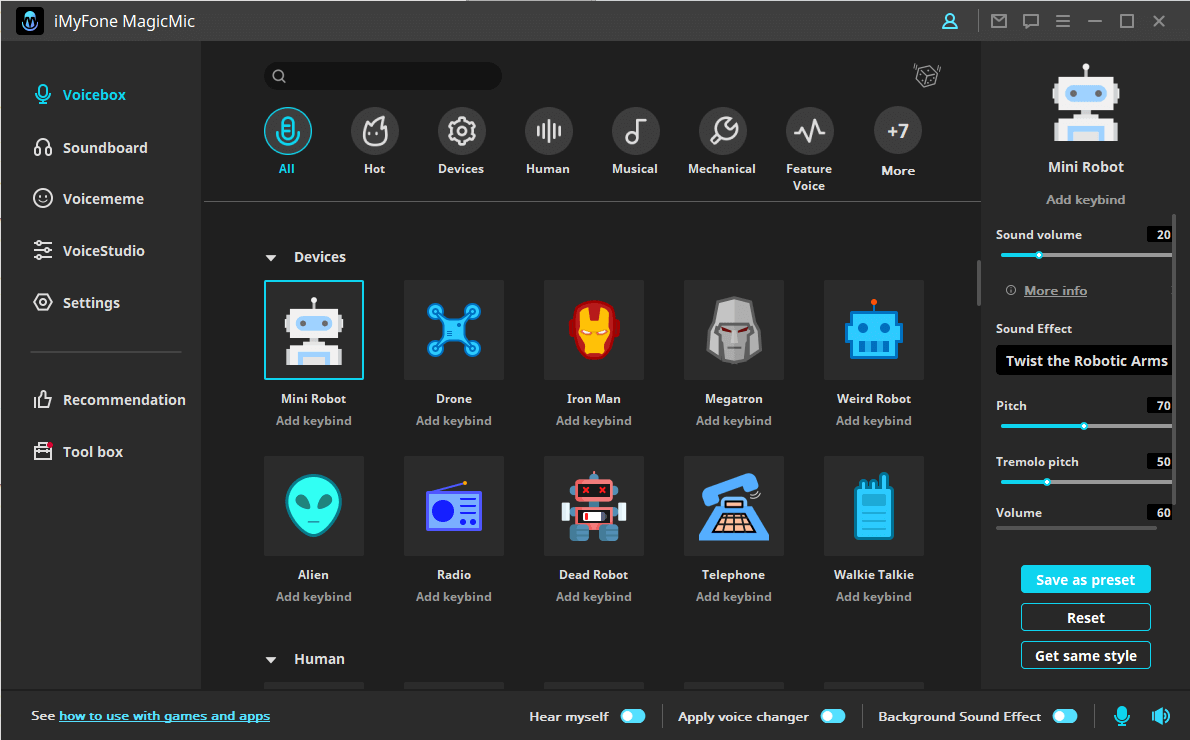 Read more about these voice!
My Precious... Exterminate! | Scalp-tingled Voice Changers
Share the Moments of Wonderful Life-Try the Voice Changer with Camera Sound Effect!
Review Top 3 Classic Scenes with Typewriter and Get the Same Sound Effect
Part 3: Get More Fun with iMyFone MagicMic's Soundboards!
With iMyFone MagicMic, you can get more fun with a range of soundboards. It is the best place to find hilarious voice effects such as Trump's voice. In addition, it lets you explore a huge collection of sound effects.
MagicMic offers the newest April Fool's theme soundboard. All you have is to choose something that pranks your friends in a way like nothing else does. It's all about bringing more fun with the best voice-changing tool. iMyFone MagicMic is all you need to celebrate April Fool's Day.
Steps to Use iMyFone MagicMic's Soundboards
Want to use a joke for April Fools? MagicMic lets you use soundboards in easy steps. In this section, we will show you how to use a hilarious voice-changing effect with MagicMic. Let's get started.
1) Install the program
Firstly, you will need to download the app from the official website. Install the program and launch it on your device.
2) Select input and output devices
Make sure to select your microphone and headphones as input and output devices respectively.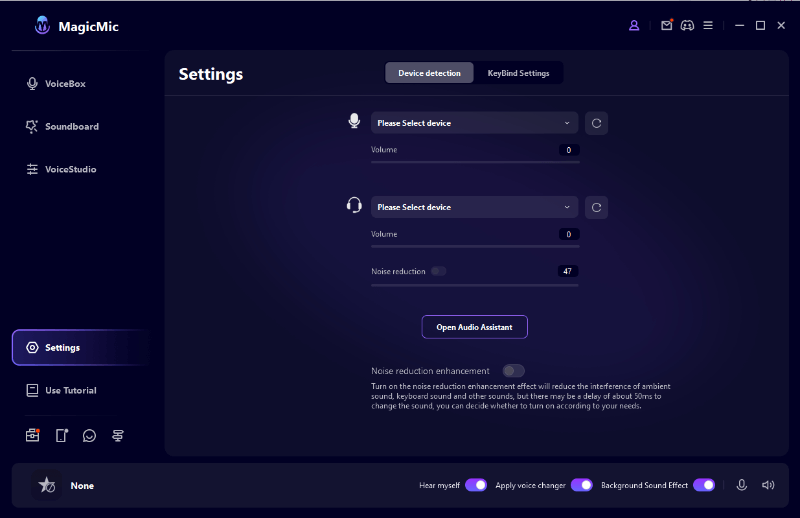 3) Add the sound effects
In the last step, all you have is to add the voice filters and sound effects. The latest April Fools theme soundboard is ready, come and have a look!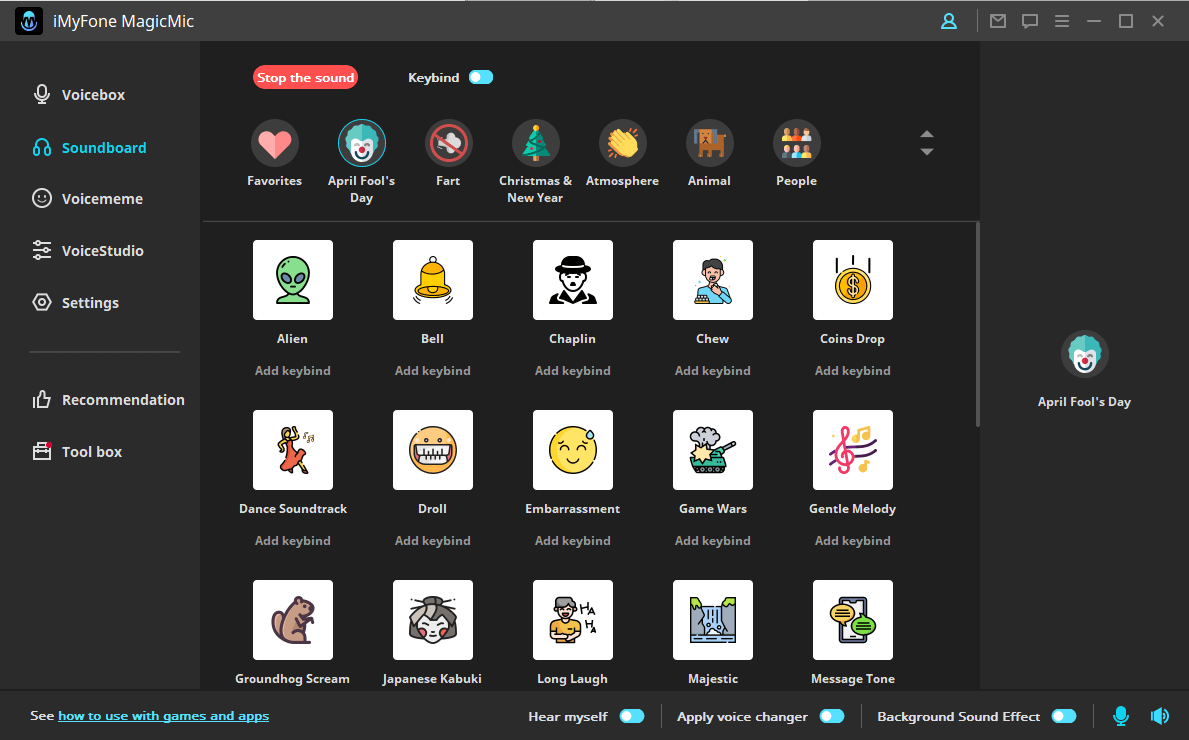 As you can see, there is no need to have the professional expertise to use MagicMic. Unlike many other voice-changing tools, it is a great choice for beginners. Furthermore, MagicMic offers some amazing features to enhance your voice-changing experience on April Fool's Day.
Key Features
No doubt, iMyFone MagicMic comes up with a number of key features, which make it the best voice changer. With MagicMic, you can prank your friends on April 1st. Let's explore some of the features to prank your colleagues or friends.
1) Various Themes of Soundboards
MagicMic offers several themes of soundboards. If you want to have some fun on April Fool's Day, look no further than MagicMic. You can opt for a Robotic voice, Trump's voice, or something else.
2) Real-time Voice Changer
As a real-time voice changer, it lets you change your voice while gaming, streaming or chatting.
3) Compatibility
iMyFone MagicMic is compatible with most of the platforms including Skype, Discord, PUBG, etc. So, you can prank anyone with MagicMic.
4) Support Windows and Mac OS version
It supports both Windows and Mac OS versions. For this reason, it is the best voice-changing tool you can ever use.
5) Professional Voice Studio
It offers a Voice Studio feature to help you create your own unique voice. What's better than bringing out some best April Fools pranks on your friends with your hilarious voice?
More about the April Fools theme soundboard!⬇⬇⬇
Conclusion
Are you searching for the April Fools pranks? iMyFone MagicMic offers 48+ voice filters and 190+ sound effects to prank your friends. Choose a sound or voice effect that suits your needs. Most importantly, this tool is quite simple to use. It allows you to generate your own voice effects with just one click.