Does YouTube hold a special place in your heart? Do you spend hours every day watching, learning, and appreciating amazing videos? Sometimes it's frustrating when you can't download your favorite music video or play it in the background while working on something. You might be one of those people who want to play their favorite YouTube Music video while driving, running, or hitting the gym.
Unfortunately, YouTube itself doesn't allow users to download videos whatsoever. Yet, there are many ways to do so. If you're also among those people who have always wondered how to record music from YouTuBe video, this article is for you.
How to Record Music from YouTube Using Desktop Software [Recommended]
If you want to record music from YouTube video using desktop software, iMyFone Filme is the one for you! You can use it to record your YouTube music or audio and then save the recorded audio or the video to MP3 format when exporting.
Below are the simple steps to do that.
Step 1: First, you will need to download iMyFone Filme from its official website.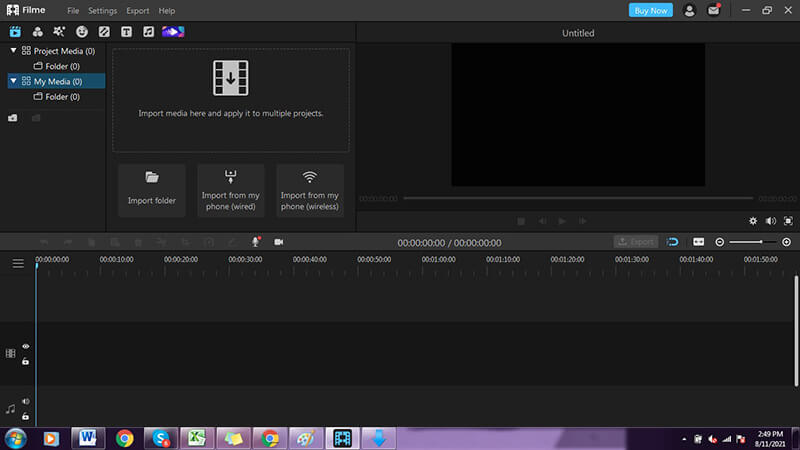 Step 2: Once launched, you can move any audio track into the Filme timeline. You can also select any audio track in the timeline for your purpose.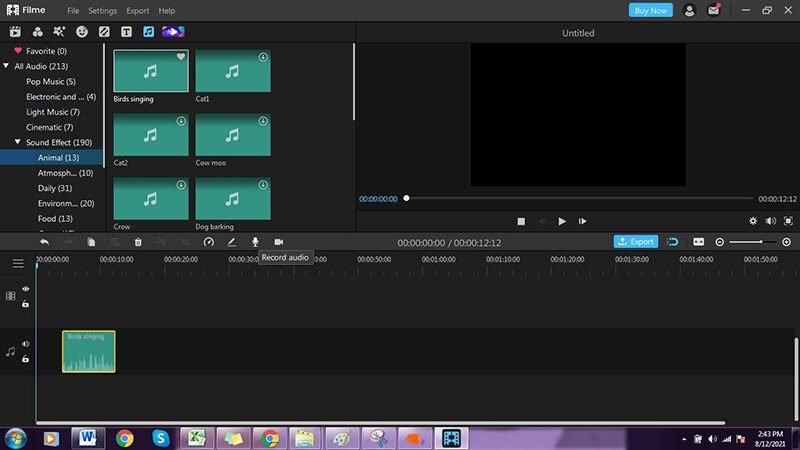 Step 3: The next step is to use the Record Audio option (microphone icon).
Step 4: Once the Audio Recording window pops up, you can set the input to Headset Microphone. You may also use the Voice Changer effect.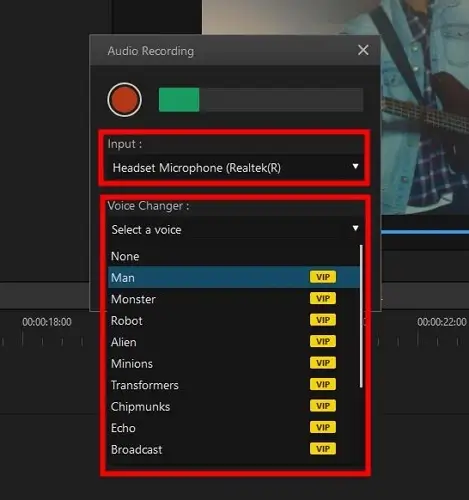 Step 5: Now, play the YouTube video that you want to record music on and hit the red button and start recording. You may also pause the recording using the same button.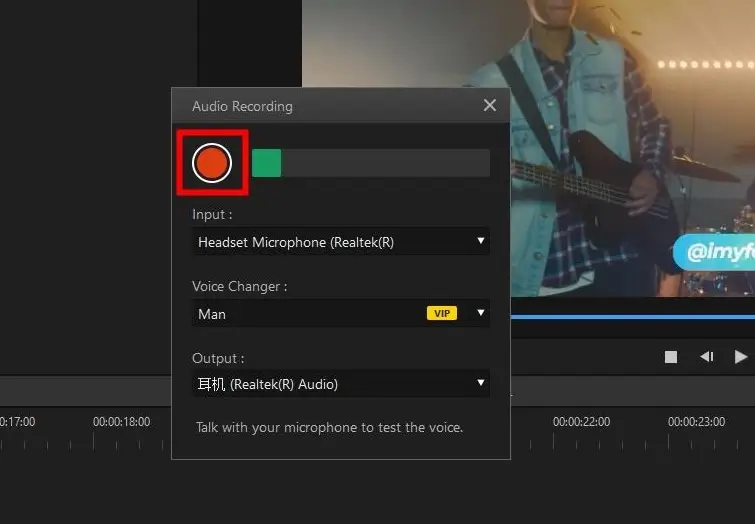 Step 6: Once done with the recording, you may hit on the Stop button and the recorded audio will appear in the timeline. The software allows you to add any desired effects or trim length as you wish.
Step 7: The final step is to export the video to your desired destination.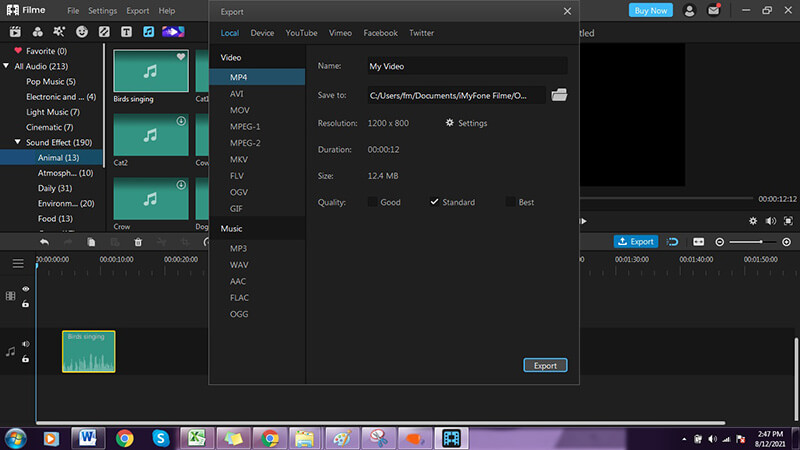 Other Features of Filme
Trim/Cut: You can trim or cut any unwanted portion of your video in order to make it suitable for the target format. For example, you can cut out pieces of a downloaded movie or music video to make them fit the length restriction for your desired format. And you can also crop out portions of a video right on the video converter's source window before converting it to another format.

Moves: You can relocate the video's position within the file by dragging it around. You can also insert your own watermarks into the video before converting it.

Split/Merge: When merging multiple videos, you can either choose to merge them or split them. And if you want to break them up into individual files, you can do that instead of merging them into one large file.

Add Text or Effects: You can add your own text and other effects to the video file before converting it. For example, you can add a watermark, border, title, or author name to the video that will appear on any computer that displays it. And you can also change its size and color.
How to Record Music From YouTube by Downloading The Video
The easiest way to do so is by downloading a video to an MP3 Conversion tool or software. There are many websites too that allow you to download any YouTube video without any hassle. Here we used Savefrom tool as an example.
You can also do it by following these steps:
Step 1: You have to simply put the link to your desired video and download it.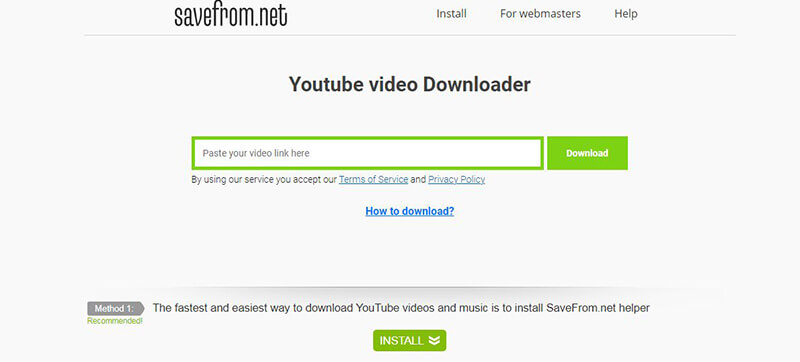 Step 2: Once it has been downloaded in video format, you can use any online tool or software installed on your computer to convert a video into an audio file. Here we took Freeconvert website as an example.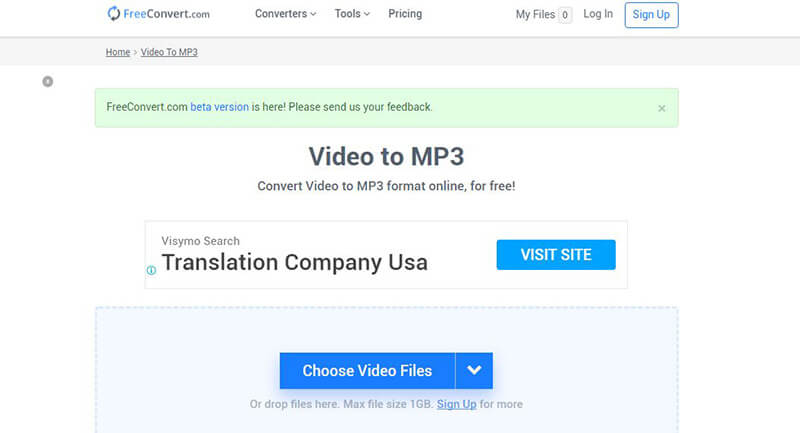 Noted:
Although many tools can help you do this, the process is time-consuming and also affects the quality of your audio. You will get the music offline, but it's very unlikely that you'll get the same quality. You can also trim these audio files to send them over any social media app or platform.
How to Record Music From YouTube Using Online Video Converter
You can also use Online Video Converter to download your favorite YouTube Videos. This free online music editor lets you record audio from YouTube and easily share your musical masterpiece on social media or save it to your desktop computer in MP3 format. Use this helpful resource to improve your skills or entertain family members who don't have internet access.
How to Record Music From YouTube on My Computer Using Online Video Converter
To begin recording audio from online videos, first, you need to download and install the Online Video Converter. Alternatively, you can also use it online but the features are limited and it takes longer to download stuff. The online free version also gives you an option to directly download Youtube videos into an mp3 format audio.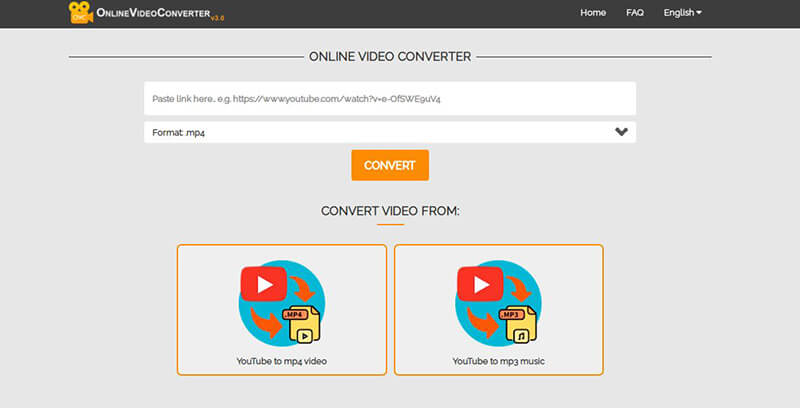 If you want to use the online version, you can paste the Youtube link and select the format in which you want to download your audio. (See the screenshot below)

Noted:
If you're using premium software, then the download process may take a while if your internet connection speed is slow. Once the installation is complete, you can start listening to different videos on YouTube in YUV format. When you're done recording, simply click the "Save track" button, and the recording will be saved to your PC in MP3 format and a new song will be added to your record collection.
How to Record Music from YouTube Using Audacity
If you love music videos and want to make them yours, downloading them with screen capture software and MP3 conversion tool is also possible.
Step 1: Download Your Preferred Screen Capture Software
If you're on Windows, we recommend using ShareX. If on Mac OS, then we recommend using Snapseed. Note that these are just suggestions - there are many different screen capture software options available and this article does not endorse one over the other.
Step 2: Use the Screen Capture Software to Capture the YouTube Video
Follow your software's instructions to download the YouTube video. Your screen capture software should have an option for this. The more advanced software even lets you capture in the background.
Step 3: Download an Audio to MP3 Conversion Tool
You will need a conversion tool too if you want to extract audio from YouTube videos. We recommend using Audacity. Audacity is an excellent software choice; Audacity records sound in 192 kHz/22.05 kph using VBR (variable bitrate) encoding and can also export as MP3s and OGG Vorbis files. More importantly, though, its interface is friendly enough that even neophyte musicians will have no problem finding their way around. Here's how you can use Audacity to download YouTube Music.
The input audio should be on by default, but if you switch it off, make sure you do so at the start of your editing session. The types of inputs that Audacity accepts are listed in the "Full Name" box. Audacity supports four types of microphone inputs.
How to Record Music from YouTube Video using Audacity:
The process of recording music from YouTube using Audacity is relatively simple. The following steps are the quickest and most efficient way to do this: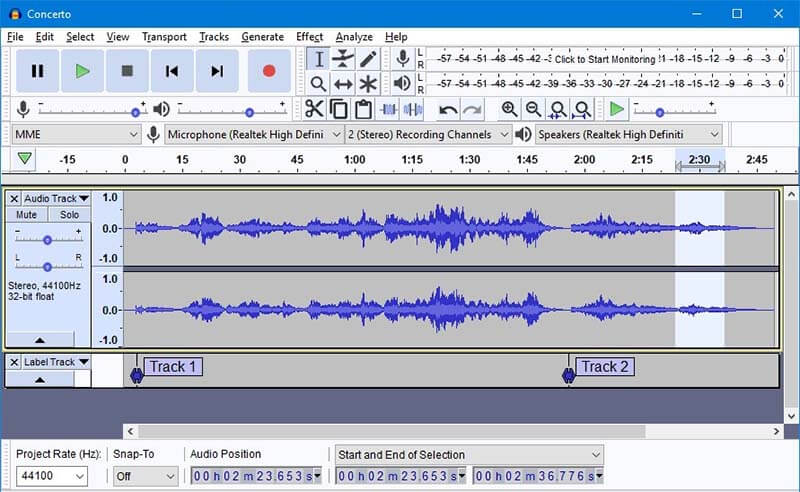 1. Go to Audacity's website and download the latest version of the software and install it on your computer.
2. Download FFmpeg (Optional) - This is required if you want to use an MP3 recording format with a higher bitrate than what Audacity provides with its default settings, or if you want more control over audio encoding parameters like sample rate, channels, etc.
3. Open YouTube and navigate to the music video or song you want to record.
4. Press Record on the Audacity software and now click play on the YouTube video and play it back fullscreen within Audacity. Audacity should now be recording the sound from YouTube as you listen to it!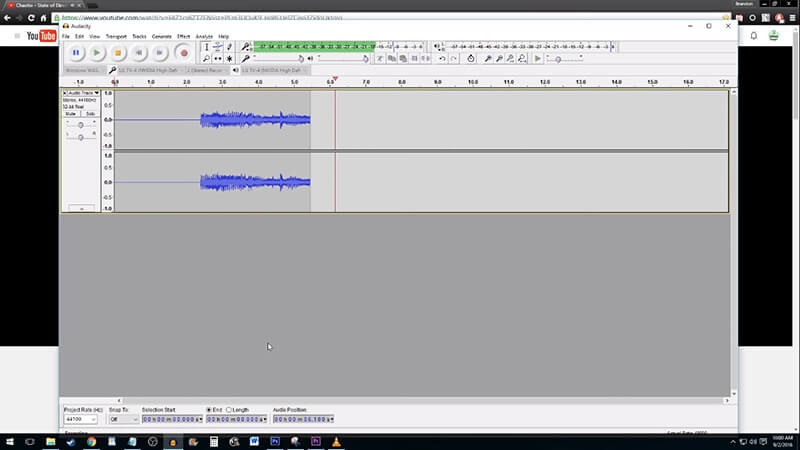 5. Select the Edit menu and then select "Cut" from the submenu to save your clip to a new track inside Audacity with a .wav extension (note that if you also download FFmpeg, you can select "Edit > Convert > Wave (to FLAC)" from the Edit menu to preserve higher quality audio when finished using Audacity).
6. Export your WAV file using Save File As... (Audacity's default export format).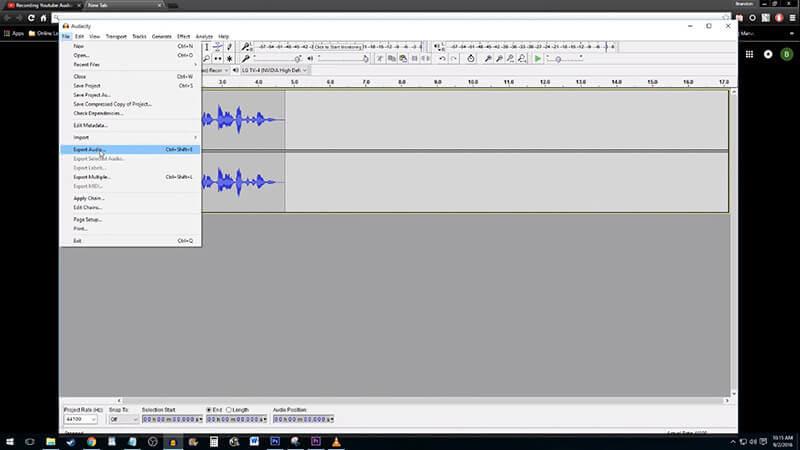 7. Upload your song to your music streaming website (e.g. SoundCloud) or email it to yourself so that you can listen to it from anywhere and share it with friends.
How to Record Music from YouTube with Free Sound Recorder
Free Sound Recorder is another amazing free recording tool that you can use to download any YouTube videos in Mp3 format. Simply download the software and copy your desired link. You can also use the software online if your browser supports it.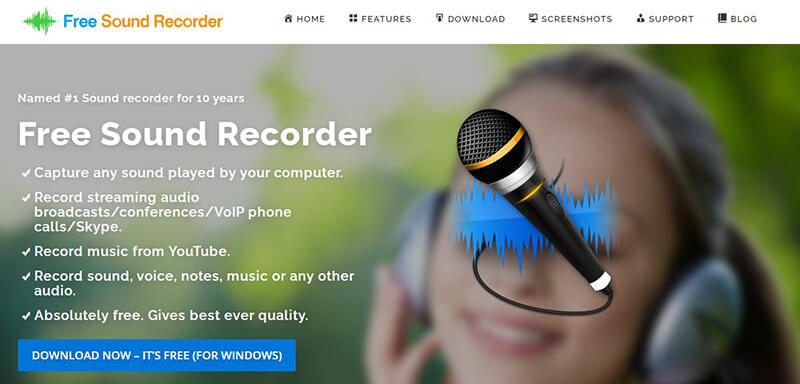 The software offers easy steps to record music from YouTube videos, manage sound events, edit recorded sound files, and share them in different ways.
1. Download and install Free Sound Recorder. Launch the program.
2. Add a new recording event or open an old recorded sound file by clicking on the 'Recording tab' of the top menu bar, then choose "New Recording Event" or "Open/Playback File" from the drop-down menu.
3. Click the "Record" option in the top menu bar, then select the source from the drop-down menu, which is Sound File.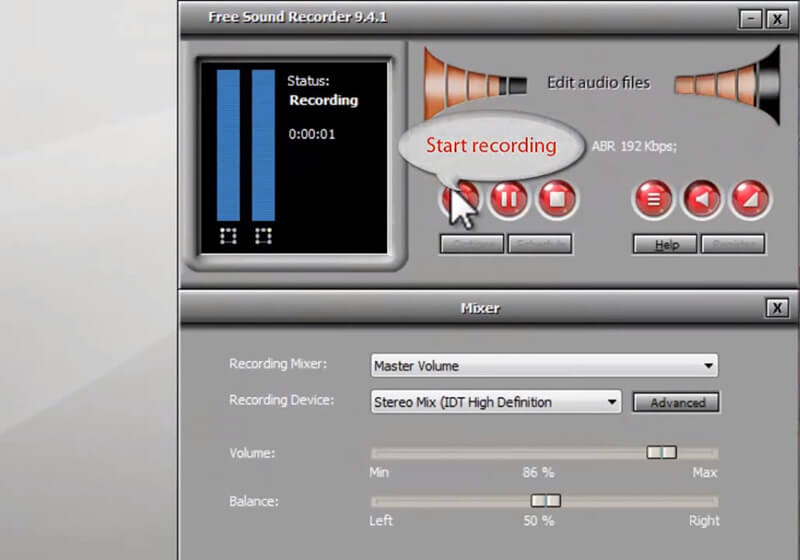 4. Start streaming music records. After recording begins, you can choose different options and adjust sound effects like volume, reverb, and Echo as you like them.
5. Start streaming music records. After recording begins, you can choose different options and adjust sound effects like volume, reverb, and Echo as you like them.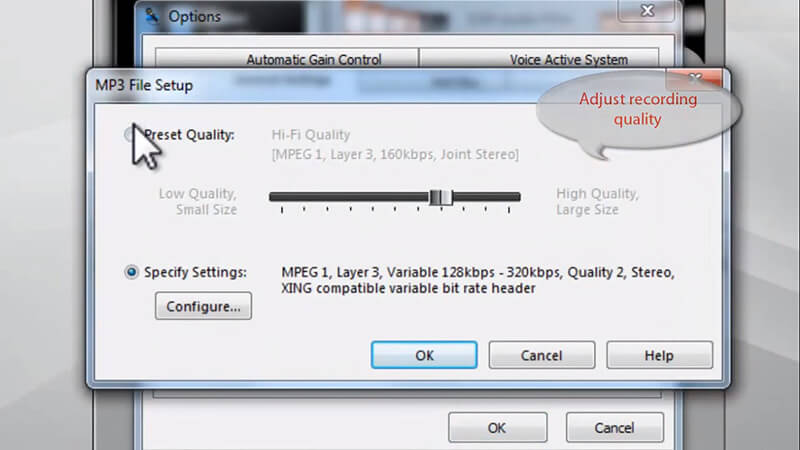 Noted:
There are a lot of other websites where you can record music online. There are free websites that allow you to record music and then upload it to YouTube, other websites allow you to register an account and then record music from YouTube without downloading them first.
You can also search for songs using the text of lyrics or just a title on Facebook, Twitter, Google News, etc. You can also search for song lyrics on Google by typing in 'The Addicted' or 'The Addicted Lyrics.' There are often links that take you to the original video on YouTube.
Conclusion
In this article we have shared with you all the basics of downloading and storing your music from YouTube, saving you a lot of time as you search for the next viral video or favorite video series. If you want to learn more video editing tips using video editor, you can reach out to us. Keep visiting our website for more tech articles, tips, and tricks.