Voice Memos is the built-in audio recorder application on the iOS device that can help you record your audio with minimal effort.
However, the audio outcome format is M4A, and you can't change it. Hence, you'll face difficulty playing M4A format audios on non-Apple devices. You can consider turning voice memo into MP3 to make it compatible with all the devices.
But, finding an appropriate converter is still a hectic task for anyone.Luckily, we'll introduce you to the best mp3 converters that will help you to convert voice memos to MP3.
Part 1: Top 3 Mp3 Converter For Voice Memo for PC/Mobile
1. Filme
If you don't find an appropriate tool to convert voice memos to MP3 format, you've got an unbelievable tool in the shape of Filme.It is a video editor that can make your video look top-notch.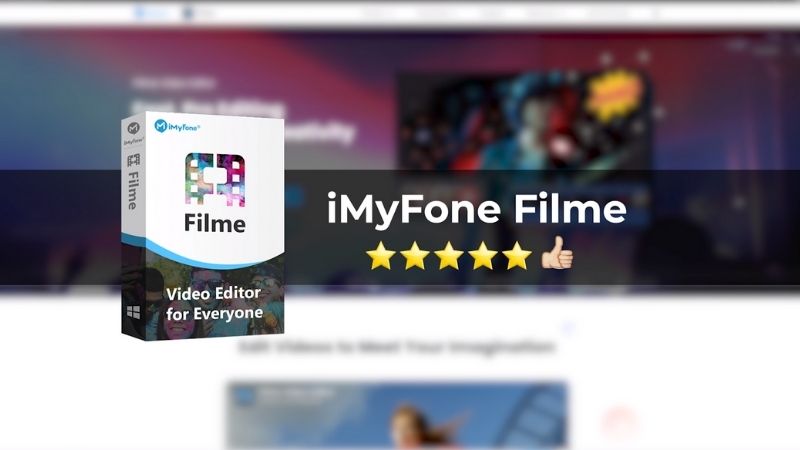 Filme comes with advanced and professional features that make your job easier than you think.Using iMyFone Filme, you can also convert multiple files simultaneously, courtesy of its batch conversion feature.
OS: Windows and Mac
Features:
It comes with a pretty slick user interface; you can edit your video without getting any prior knowledge.

It enables you to convert your files into multiple audio formats.

Filme doesn't cause any audio quality loss.

It is easy to use.
Steps to convert voice memo to mp3 with Filme:
Step 1: Download iMyFone Filme
Visit Filme's website and then download the software afterward. Next, you'll need to launch the software after installing it.
Step 2: Import voice memo files
Now, you'll need to navigate to the ''File'' icon and tap the ''Import Media'' icon. Next, you need to hit the ''Import'' icon and upload the voice memo file there.
Step 3: Convert your file
After dragging the clip to the timeline, you'll need to navigate to the ''export'' option and then try to export the file as MP3. Later, you'll need to download the file after hitting the ''Export'' icon.

2. Readdle
Readdle launched Documents, and it changed the life of iOS device users. It offers multiple functions for iOS users, and converting your files into other formats is sure of the best feature of Documents.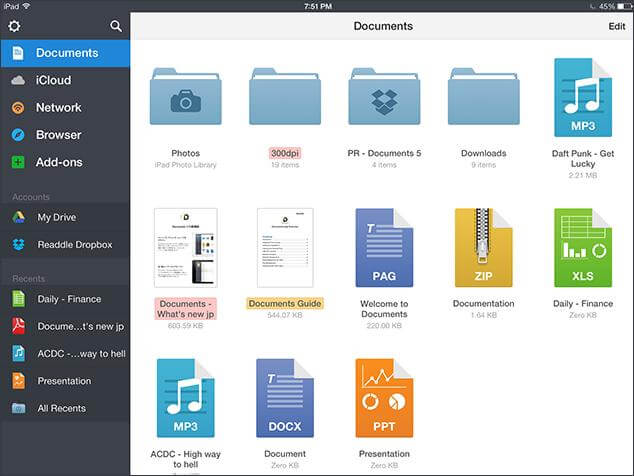 If you're looking to convert voice memos to mp3, you can get your job using Documents by Readdle. Even though it offers many functions for you, its speed is encouraging and doesn't take long to serve your purpose.
OS: iOS
Features:
It allows you to download PDF files with minimal effort.

After downloading a music video, you can easily extract audio from it.

It also helps you to extract MP3 format from voice memos.

Documents tend to get updated frequently.
3. WonderFox
WonderFox video and audio converter won't be a bad idea to convert voice memos to MP3. It is an extraordinary tool that offers an immense ability to convert audio and video files in original quality.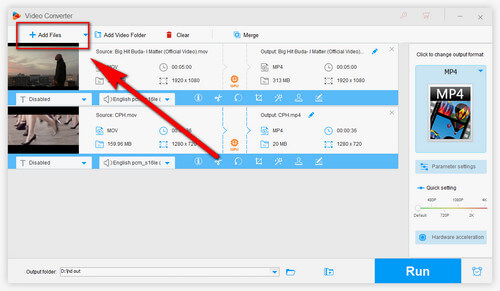 The procedure to convert your files is more than easy. You'll only need to throw your file into this tool's interface and then convert your file after selecting the output format.On top of that, WonderFox also has a hard acceleration feature, meaning it won't long to convert your files. Instead, you'll only need to wait for seconds before getting your video or audio converted.
OS: Window 7/8/9/10
Features:
You convert multiple audio or video files simultaneously using a WonderFox converter.

It offers nothing less than a user-friendly interface.

It supports about various audio and video formats.

It comes with a hard acceleration feature to speed up the conversion process.
4. MagicMic
MagicMic is a popular voice modulation software that allows users to modify their voices in real-time during voice calls or while recording audio files.
One of the features of MagicMic is the ability to record voice memos and convert voice memo to mp3. This feature is particularly useful for those who want to create podcasts, voiceovers, or voice notes with a modified voice. With Voicemod, users can apply various voice effects to their recordings, including helium, robot, deep voice, and more.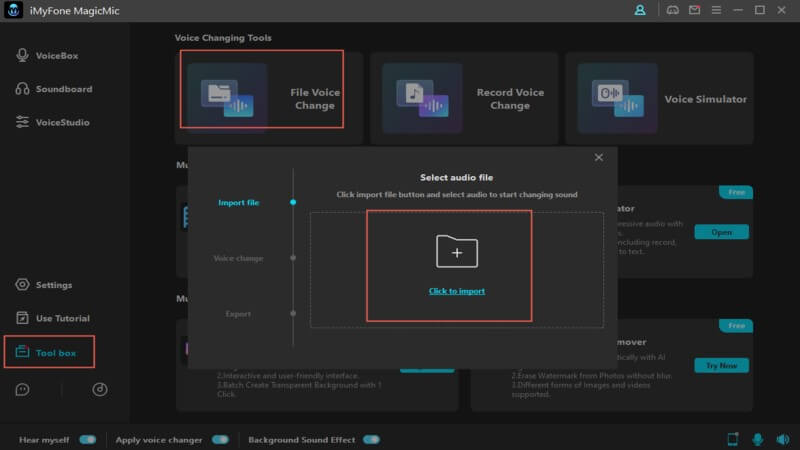 The procedure is very easy. Click on the "Import" button and select the pre-recorded voice audio file that you want to modify. Once the file is imported, you can use the various voice filters and effects available in MagicMic to modify the audio. Play the audio file to test the modifications you have made. If you are satisfied with the changes, you can export the modified audio file by clicking on the "Export" button. Select the desired audio format and save the file to your computer.
OS: Windows and Mac
Features:
It has 400+ voice effects and 150+ voice memes to Use .

You can change your voice with 125+ ai voice filters in real-time.

The operation is very easy and quick, you can convert voice memo to mp3 in a short time.
Part 2: Top 3 Mp3 Converter For Voice Memo Online
1. Zamzar
If you're looking for an online MP3 converter as you don't want to download software to convert voice memos to MP3, Zamzar can be ideal. It is a terrific online converter that can convert both video and audio without charging any penny from you.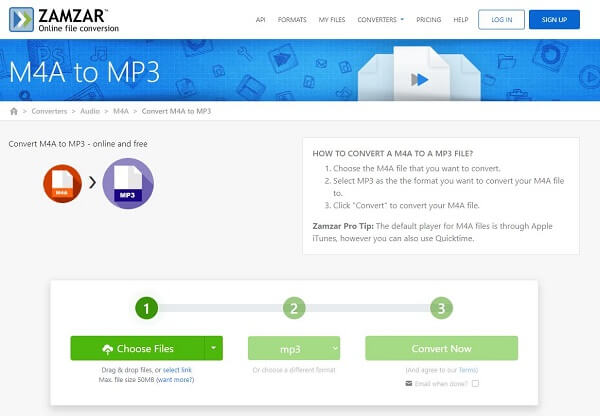 Although it doesn't support batch conversion, it can still get your job better than many other converters.On top of that, the best thing about Zamzar is that it doesn't take long to convert your M4A files into MP3 as you'll only need to follow a couple of simple steps to put the things in order.
Features:
Zamzar allows you to convert your audio and videos into different formats.

You can also download videos by pasting the URL to Zamzar's interface.

Besides being super easy to use, Zamzar offers a pretty intuitive user interface.

It enables you to convert videos up to 100 MB.
2. Online converter
The online converter is a massively underrated converter when converting voice memos to MP3. People don't know about the value this online tool can add as it allows you to convert audio files of up to 200 MBs.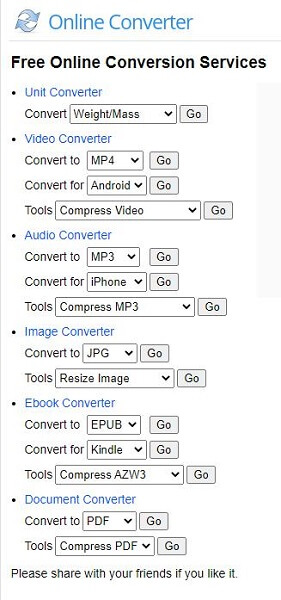 This thing speaks volumes of the credentials of this wonderful tool. On top of that, it doesn't cause any sound quality loss as it ensures you download the audio in original quality.Moreover, this tool's user interface is more than satisfactory as it enables you to M4A to MP3 files within seconds.
Features:
It allows you to convert audio into almost all audio file formats.

You can convert audio of up to 200 MB.

It comes with an effortless user interface, making it easy for newbies to serve their purpose.
3. Online-audio-converter
Readdle Using Online Audio Converter, you can easily convert voice memos to MP3. Online Audio Converter is a flawless online tool that allows you to convert your video files into an audio field quicker than you think.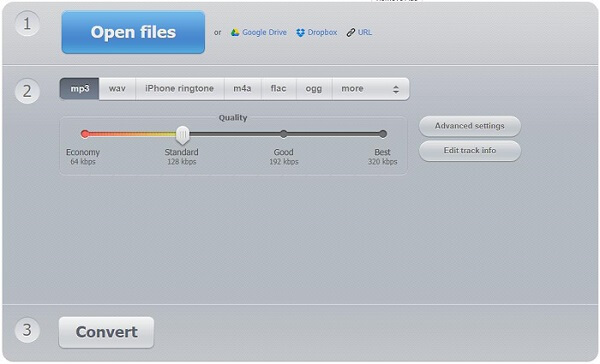 On top of that, you don't need to install any application to put things in order. Instead, you need to visit the tool's official website and import an audio or video file you'd like to convert into any audio file format.
Features:
It supports all file formats, including WAV, MP3, M4A, OGG, FLAC, etc.

You can also extract an audio file from a video using Online Audio Converter.

Online Audio Converter supports batch conversion, meaning you can convert multiple audio clips simultaneously.

It also enables you to alter the name of your track.
Conclusion
If you want to play voice memos to mp3 on non-Apple devices, you'll need to convert voice memos to MP3. To help your cause, we've mentioned the ways to tell you how to convert voice memos to MP3. After reading this guide, you can find the outrageous online and desktop or mobile-based applications.
All the tools are worth your time, but Filme has more to offer than any other tool, courtesy of its brilliant features.On the other hand, we've also mentioned iMyFone MagicMic, which might help you change your voice in real-time.