Audio is an essential aspect of any video; your video will be excellent if it is up to the mark. Sometimes, we need to mute the original audio for various reasons. You might need to replace the existing audio or want to keep it muted. If you have gathered multiple videos from different platforms, then you need to join them and remove their original audio to have common audio. Thus, there can be various reasons to remove/mute audio from a video.

For removing or muting a video, you need a video editor or a tool that can do the job with perfection. There are many online tools, Android/iOS apps, and online tools available, but choosing a suitable one is pretty difficult. Therefore, we are here to solve your problem. In this article, we will discuss some of the best tools and video editors that can help you remove audio from a video with perfection. We will show you the step-by-step method to mute video for YouTube/TikTok/Instagram so that you can do it on your own without any hassle. Let's begin.
Part 1. How to Mute Video for YouTube/TikTok/Instagram with iMyFone Filme
When it comes to professional video editing, desktop tools are always preferred. There are hundreds of online tools and applications available, but they cannot compete with a desktop tool. Desktop tools have a complete range of features, and there is no limitation on the file size or anything else. The best part is perfection; desktop tools do the job with perfection and offer optimal results.
There are a variety of desktop tools available to remove audio from video files. But if you like to get it done without any hassle and with lots of other video editing features, you must use iMyFone Filme. It's a solution to all your video editing-related problems.
iMyFone Filme is not like other tools that undoubtedly offer a range of video editing features, but they are too difficult to use yet do not provide a complete solution. You don't need a certain knowledge or skill to do it yourself. Also, you don't have to go anywhere else to apply other features. From video editing and audio removing to effects, transitions, and filters, you can do all within Filme. You can cut, trim, adjust speed, change color, rotate, add effects, and make other changes. It offers every tool you need to create a perfect video; from the basic to advanced, it has got everything.
Filme is also perfect for audio editing. You can trim, split, adjust speed, set volume, apply effects, change the voice, and edit the audio as you like. You can also remove and mute audio from YouTube/TikTok/Instagram videos using Filme. You can either mute it or delete the audio. All you have to do is to follow the steps, and you can enjoy your work.
Steps to Extract the Audio from Video Using iMyFone Filme
Step 1: Open Filme on your computer. Click on Editing Mode for editing your videos.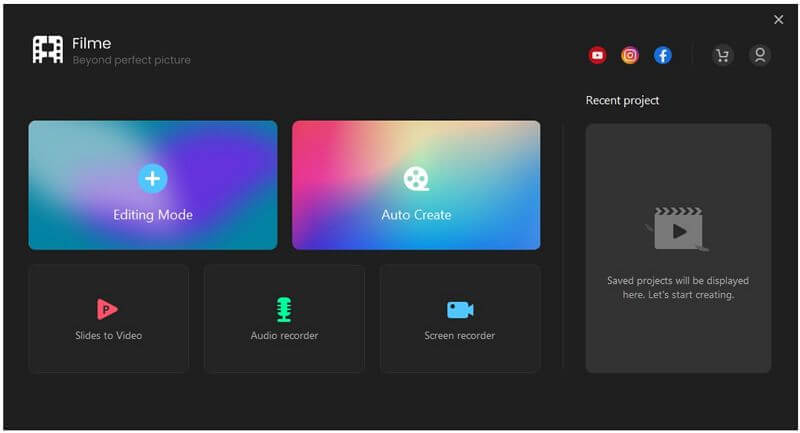 Step 2: Now, you will be in the video editor and ready to edit your videos. First, it is recommended to create a new project. Go to File>New Project and select an aspect ratio.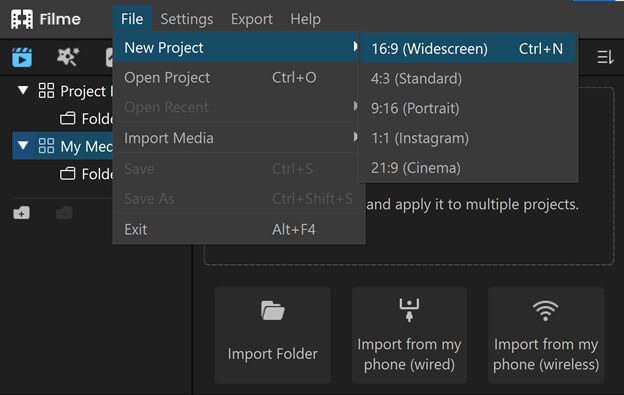 Step 3: From the media menu, you can import the video. After importing it, drag it to the timeline.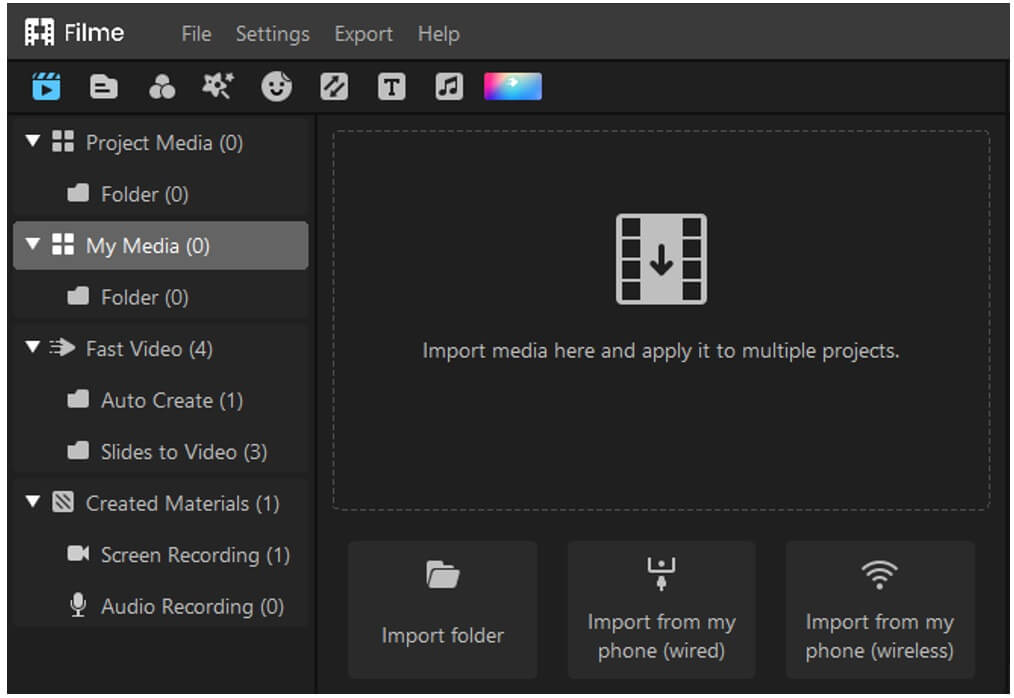 Step 4: If you just want to mute the audio, it is pretty simple. Double-click on the video on the timeline. You will see a new panel on the right. There will be a volume option. Reduce the volume to 0, and you are done.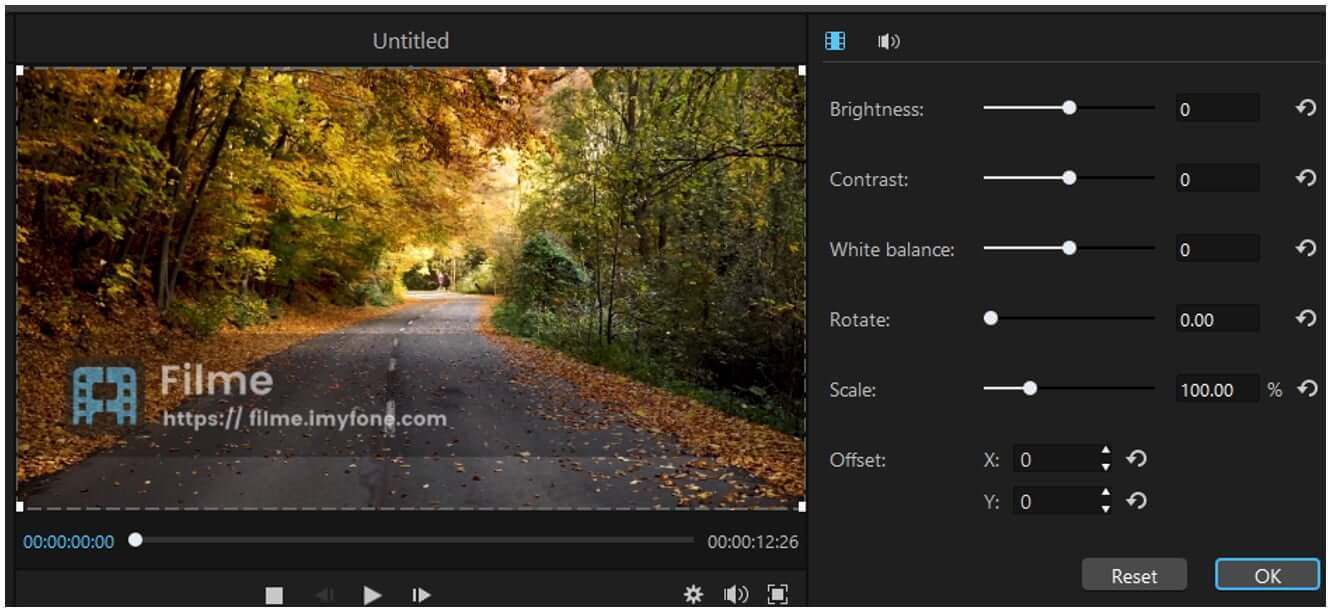 Step 4 (Alternate): If you want to delete the audio permanently from the video, you can also do that. On the timeline, right-click on the video. You will have several options. Click on Detach Audio. It will detach the audio from the video, and then you can delete it or do whatever you like.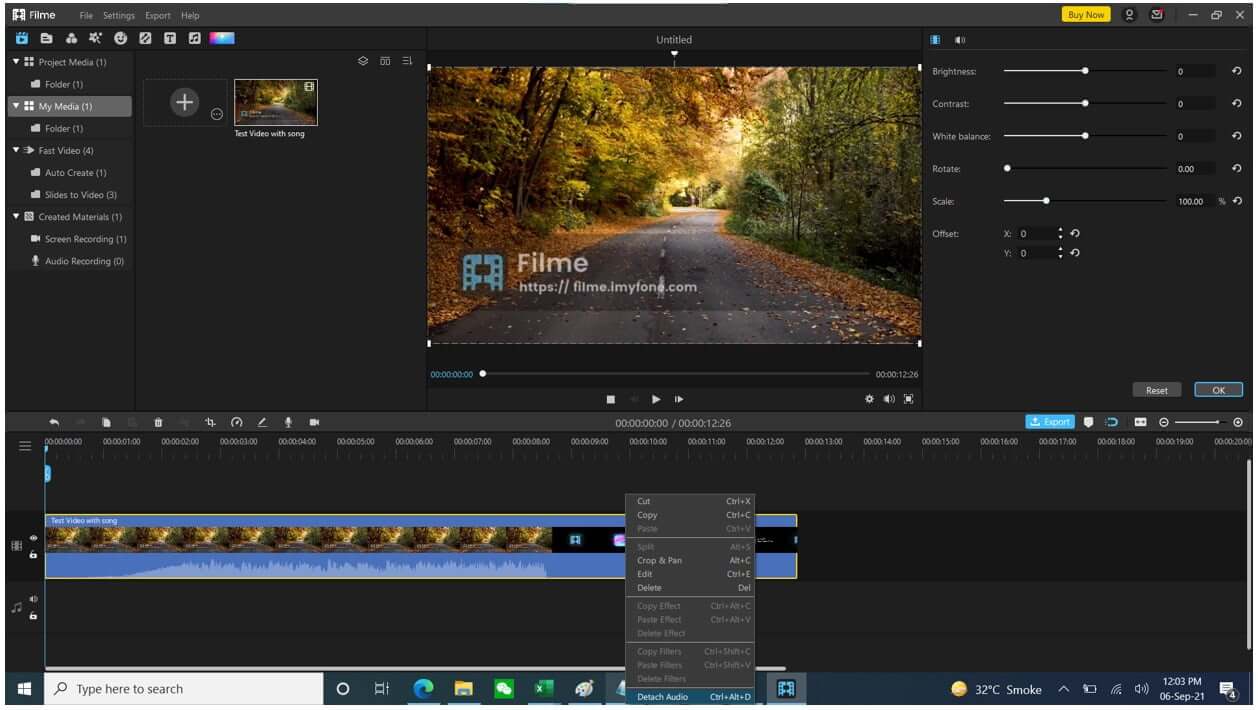 Step 5: After audio editing, you can also do video editing to make your videos more attractive. You can add text, effects, transitions, stickers, or anything you like.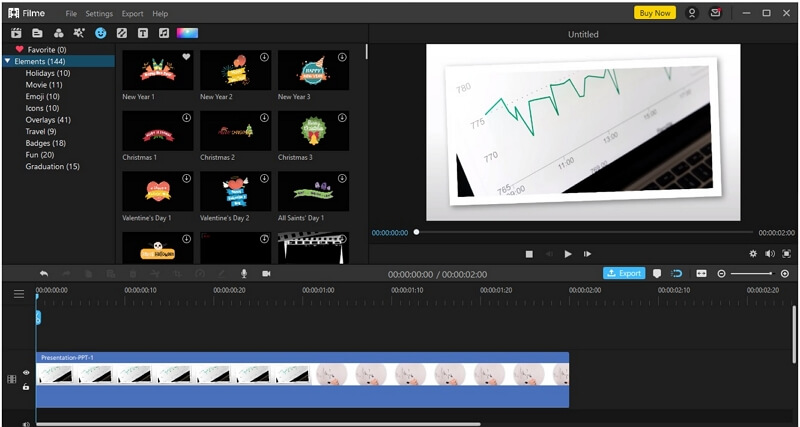 Step 6: Finally, click on the Export button. Adjust the settings according to your needs. Click on the Export button.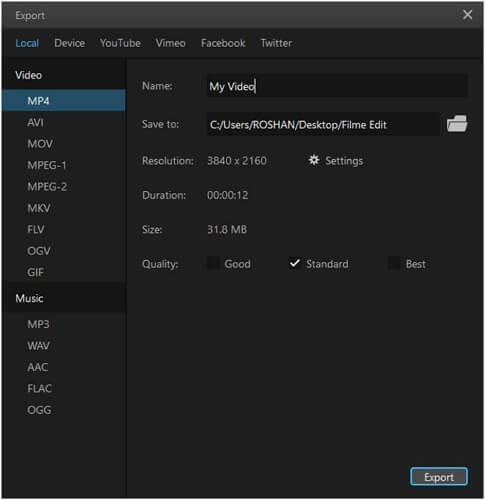 Part 2. How to Extract Audio from YouTube Video with App on iPhone/Android
Suppose you are working on iPhone/Android and you want to remove audio from video without going anywhere else. In that case, you can use a mobile application. There are dozens of applications available on both platforms, and you can easily use the app.
Here, we will see an Android app, Video Sound Editor. It is the best app to mute or silent video and to add or mix audio to video. Just type Video Sound Editor on Google Play Store and install the app on your device. You are then required to follow the sequence of steps that are mentioned below.
Steps for Using Video Sound Editor to Mute Audio
Step 1: Install the mentioned app from Play Store.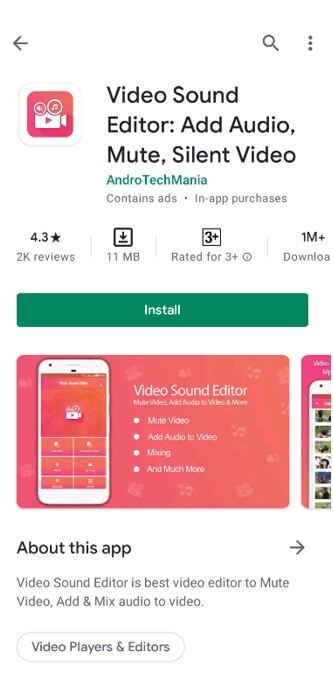 Step 2: After installation, when you open the app, you will see three main features, Mute Video, Add Audio to Video, and Mixing on the main screen of the app. By using this app, you can not only remove audio from video, but you can also add your favorite audio to video. For now, you should tap the Mute Video icon to get rid of unwanted audio from the video.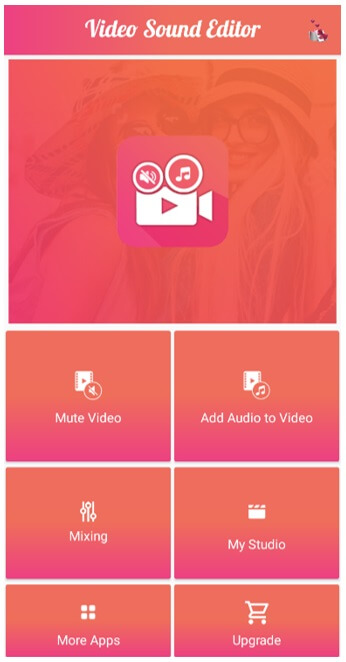 Step 3: As you tap the Mute Video, you are then required to select the video from which you need to remove the audio. Once you browse the video file, you will also be able to trim your video here besides muting it. If you need to only mute the audio, you will see a Check Sign inside the Mute Video option at the right, and tap on it.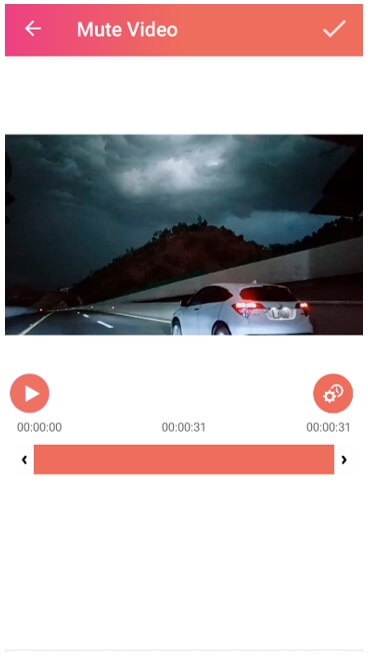 Step 4: It will bring you two options, Mute with Trim Video and Mute without Trim Video. If you haven't trimmed your video before, you should press the Mute without Trim Video button before clicking OK.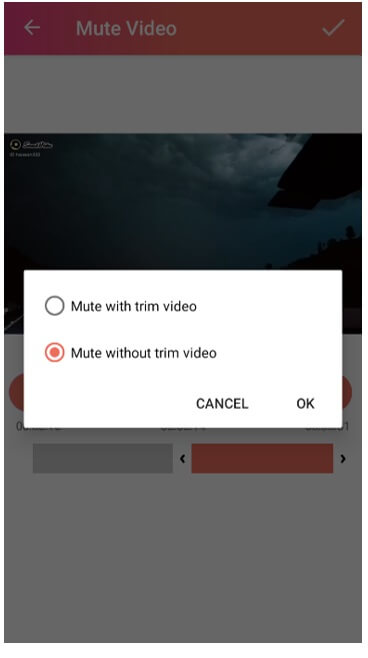 Step 4 (Alternate): If you want to trim the unnecessary part of your video, you can do that inside the Mute Video option. For this, use the video length bar below by seeing the screen to get rid of unnecessary parts and then tap Mute with Trim Video before clicking OK.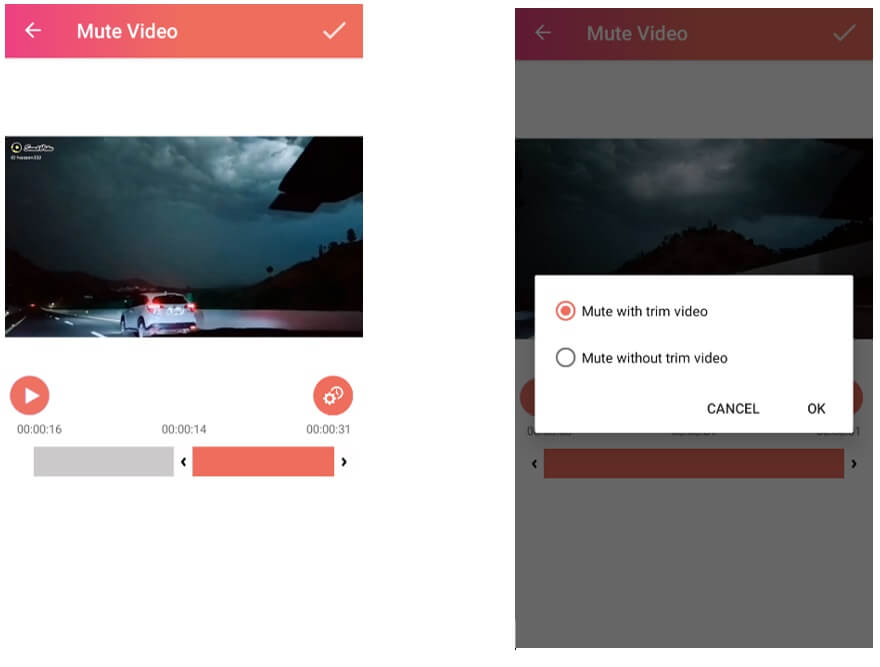 Step 5: After a little bit of processing, you will see the muted video. You can play it here for your satisfaction and to check the trimming (if you did). You can save it by clicking the Share icon.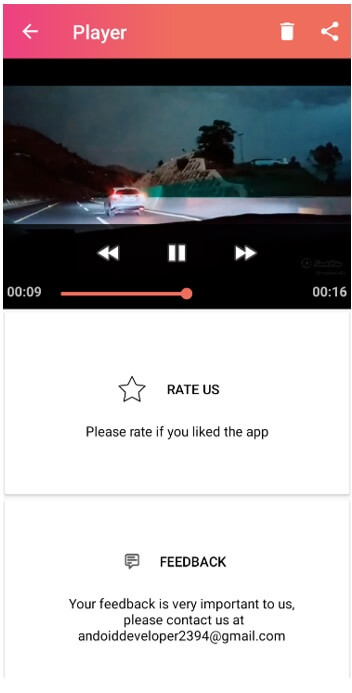 Part 3. How to Remove Sound from YouTube Video Online
If you want to save yourself from the hassles of downloading and installing applications, you can go with an online tool that will remove sound from your video in no time. You just need to head over to the website, upload your file, and mute the audio. It is pretty simple. However, keep in mind that online video editing tools have some limitations; you can only upload a video up to a limited size.
Clideo is a well-known and trusted online video editor. Usually, online tools retain your files and data, and they can't be trusted. But Clideo is a reliable tool. It is a paid tool, but you can use its online audio removal tool for free. However, it will have a watermark on the video. The best thing is that you just need two steps to remove or extract the audio. It hardly takes a few minutes and clicks to get what you need. You can also upload/download files from/to Dropbox and Google Drive, which is a good feature.
Let's have a look at the steps to remove sound using Clideo.
Steps to Remove Sound Using Clideo Online
Step 1: Open any internet browser on your computer and follow this link. After opening the website, you will see the Choose File button; click on it. You can also choose Google Drive, Dropbox, and URL options to upload the video. Select the video from your computer.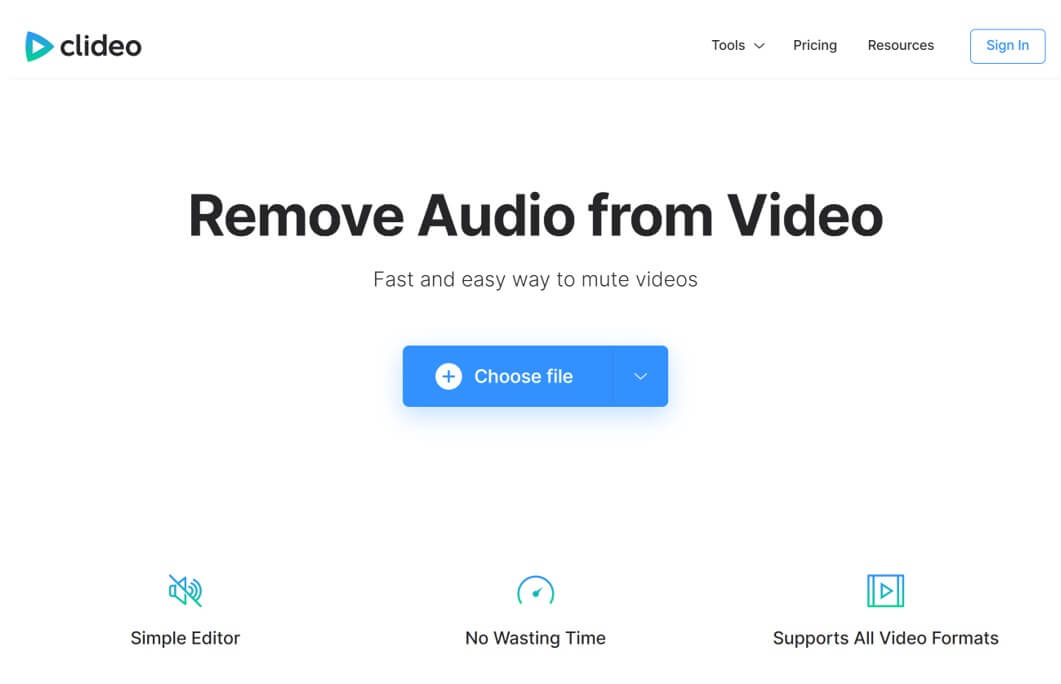 Step 2: It will take a few moments to upload the file. After uploading, you will just need to download the file. You can play the video to your satisfaction. Finally, click on the Download button. You can download the file to your PC or Google Drive/Dropbox.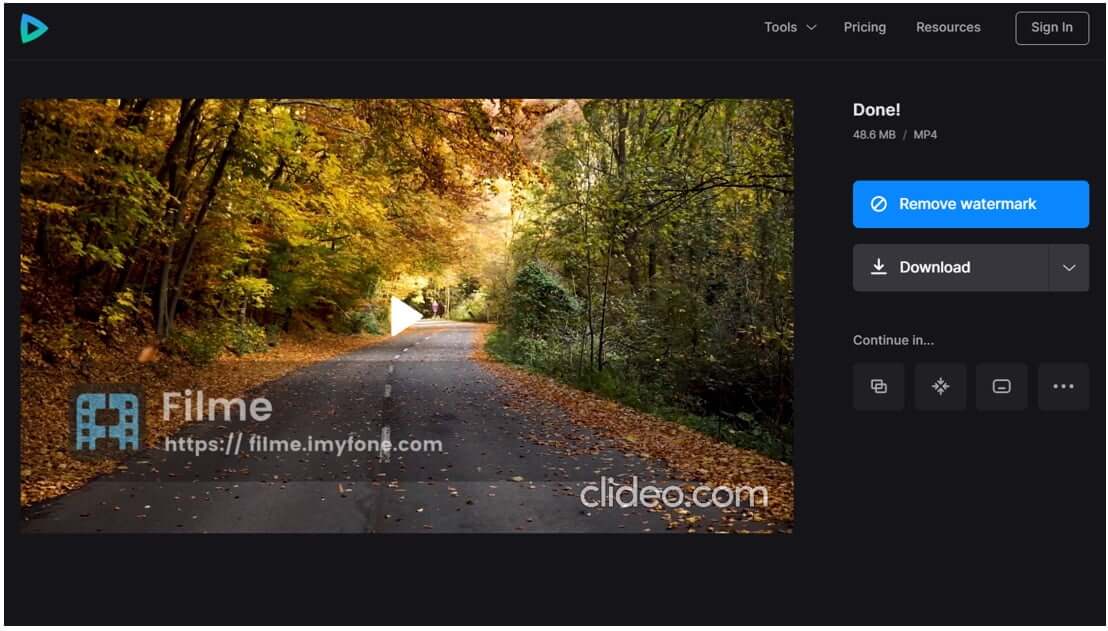 Conclusion
There can be various reasons to remove audio from a file. It could be for replacing the original audio, joining various clips, or creating a sound-free video. Beginners and experts find the easiest, quickest, and best way to remove audio from video. We have solved their problem in this article. We have discussed a few tools that can be used on your mobile, desktop, or online. Mobile and online tools are excellent for quick results and when you don't care about the quality. For optimal results, we recommend using a desktop tool.
We have discussed a commendable desktop tool, iMyFone Filme. It not only provides the feature to mute a video, but you can also detach and extract the audio file. Besides this, it offers various other video editing features such as transition, filters, text, voiceover, voice changer, slideshow templates, effects, etc. So, if you are looking for a single tool for all video editing-related tasks, iMyFone Filme is the best option.
iMyFone Filme Key Features:
Fast Video Mode: Fast create videos with multiple templates of different themes.
Effects: Filme looks like a typical video editor. It has a timeline, an effects library and a preview window. The effects library has 172 effects. 43 of them are filters, and the remaining 129 are GIFs of various themes.

Transitions: There are 112 video transitions. Video transitions are effects that enable smooth transitions from one video clip to the next. 25 of 112 transitions are designed specifically for slideshows.

Text: There are 45 text types in Filme. You can find texts for titles, subtitles, end titles and titles that appear on the lower third of the screen. Some of these texts are animated.

Audio: The library also contains 51 audio clips that you can use in your slideshow. The audio clips belong to different genres, and you get 28 sound effects.
134524 people have Download it.